Review: Buckton SD100
---
The Buckton SD100 is a quality-built machine that subscribes to the KISS (Keep It Simple, Stupid) philosophy, delivering performance without any unnecessary fuss
With so much complex machinery on the market today, it's something of a welcome relief to spend time with a quality-built machine that subscribes to the KISS (Keep It Simple, Stupid) philosophy. Equipped with everything necessary for accurate feedout of supplement feed, there's nothing unnecessary here, resulting in design and performance success.
Keeping things simple is exactly what this month's test machine, the Buckton SD100 silage wagon, is all about. Silage wagons have been the go-to machine for feeding bulk pit silage of both grass and maize varieties for years on farms throughout the country.
Although mixer wagons have been appearing around the countryside for some time now, they can't compete with a standard silage wagon for ease of use, and this can be an important factor on farms where staff are animal people and machinery is a necessary evil to keep the animals fed.
Test time
Catching up firstly with Mike Kitching from Piako Tractors in Morrinsville, we headed out of town to check out the latest addition to the Buckton collection on the dairy farm of Mark Sing and family. Originally bought as a back-up machine for the existing nine-year-old Buckton silage wagon, Mark has found the benefits of running the two machines a huge time saver, particularly when they are up to eight loads a day through the peak of feeding out.
Stress levels associated with the possibility of a breakdown has also decreased, knowing there's another machine to cover the job if necessary. That being said, breakdowns are few and far between and have usually been associated with operator error and feed conveyors being damaged.
With 1000 cows to feed, the simple-to-operate Buckton has proved a winner, especially as a number of different staff operate the wagon to feed the cows.
Having opted for the addition of scales, Mark has the confidence in knowing that his herd are getting the right kg/DM of supplement to go with their grass for the day. Also, given that a lot of the feeding is done on a feed pad, it helps minimise wastage.
Feeding into bins is not going to work with a silage wagon, I hear you say. Well, a simple additional block between the wheels and chassis, and underneath the drawbar to keep the wagon running level, give the extra height required to get the job done. This works well, without having the extra cost of additional hydraulic rams and conveyors to achieve the same result. You do need to run right on the bin edge, but it does feed a nice even row into the bin, easily reached by the cows without wastage on the ground. 
Talking with Piako Tractor's Mike Kitching, I was interested to know what the biggest seller in silage wagons is for them, as they sell and service three of the major New Zealand brands and a variety of models. Mike says the Buckton appeals more to those who want a simple no fuss, and not too heavy machine that will get the job done, whereas some of the other brands produce a heavier wagon with more options and bells and whistles. These come with a higher price tag, too, but it's all a matter of matching the most suitable machine with the most appropriate farming system.
Buckton wagons are produced in nine different models and range from 8.3 to 20 cubic metres. The smaller 8.3 cube model is available in tandem or single axle. The rest of the range is tandem axle with tyres size to suit. There are also side delivery models like our test machine, or even simpler again: centre feed.
Operation
Using the Buckton SD100 is completely straightforward, with the easy connection of two rear hydraulic remotes, with one lever in the tractor to start/stop feeding. The only adjustment is through hydraulic flow on the tractor or on the wagon's hydraulic controls.
However, once set up, this shouldn't need to be touched, as the patented hydraulic system is designed to give even feed distribution, with auto load sensing floor conveyor and feed elevator to eliminate blockages.
Full-width floor slates ensure a good clean out of the bin every time, even when feeding the likes of maize or PKE. Mark has found that used in conjunction with a quick hitch on the tractor, and the investment in a higher capacity bucket for the tractor, loading time for the 10 cubic metre machine and feed out times are extremely efficient.
Solar smart
Mark's wagon was equipped with optional weigh cells and monitor to ensure cows get the right amount of feed on a daily basis, no matter who is operating the machine and feed-out programme each day.
In the past, a downside with scales on the silage wagons, which aren't usually left connected to the tractor, has been keeping charge in the battery day-to-day. Piako Tractors had one of their clients suggest a simple, cost-effective solution to this problem: a small solar panel fitted above the monitor. Connecting the +/- terminals to the solar panel solves the potential flat battery issue perfectly.
Solar panels have been used for electric fences, wireless tanks, and water monitoring systems as just a couple of examples, and now they have another use. Piako Tractors now offer this system on all weigh cell fitted silage wagons they sell.    
Construction
The Buckton SD100 wouldn't be the heaviest silage wagon around for its capacity (10 cube), which may have you questioning how long it will last. However, that weight is also one of the benefits of this particular wagon and its design.
The pressed steel chassis provides torsional strength, with some flexibility, which keeps the overall weight down at 2320kg (our test wagon had a couple of extra features so probably weights more like 2500kg). This is a great benefit if operating on rolling or hilly terrain, and even on the flat, it allows the user to operate from a smaller horsepower. As well as saving fuel, even if it's only running between the bunker and the feed pad, an old 2WD would be quite adequate for the job.
On test day, Mark was running with the Buckton with a John Deere tractor, of 110hp, which, with a quick hitch, was responsible for loading and feeding out tasks. The sides of the bin on the Buckton wagon are stainless steel, so they aren't going to rust from feeding minerals or juice from the grass silage being fed out. The hardwood floor should last so long, as it's looked after and – as with all machines – so long as things that don't belong in a silage trailer don't go in. Again, as with all machines, it's preferable to store in a shed when not in use to prevent weather from doing damage over time.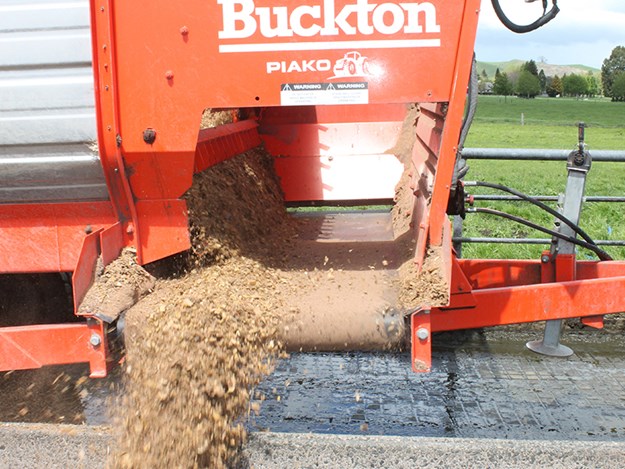 Given the simplicity of the running parts, there isn't the need for such consuming services.
At bare minimum, I'd imagine just a couple of adjustments and tightening the feed conveyor or floor and feed elevator chains requiring nothing more than some sockets
and spanners. Other than that, there are a few grease nipples to tend to keep things moving – it's all pretty straightforward.  
Summary
What's not to like about a well-built machine that's also no-fuss and easy to operate? There's certainly something to be said for not overcomplicating things unnecessarily. The Buckton SD100 is designed to do a job and do it well. Don't confuse simplicity with basic either – I'm sure it's taken plenty of time and research to get to the Buckton silage wagon of today. And small additions, tweaks, and refinements such as the solar panel for the weigh scales keep them performing as a useful functional machine on farms of all sizes.
Buckton SD100 specifications
| | |
| --- | --- |
| Capacity | 10 cubic meters |
| Hydraulic requirements | 1 set of rear remotes |
| Length | 6.5m |
| Height | 2.70m |
| Width | 2.60m |
| Bin Size | 3.82m x 1.22m x 2.14m |
| Axies | 2 |
Pros
Solar panel for weigh scales operation
Easy to operate
Feed bin feeding no worries with simple modification
Easy to maintain or fix if something does break
Cons
Lighter construction than some (but suits lower hp tractors)
Find new and used farm machinery for sale in NZ
Keep up to date in the industry by signing up to Farm Trader's free newsletter or liking us on Facebook