Review: Manitou MLT-X 732 telehandler
---
Farm Trader test-drives the Manitou MLT-X 732 and discovers just how versatile this machine is on a Waikato farm
Humans are creatures of habit and often don't like to change. However, this month we prove that to be only half true, as we catch up with Harrison Dairy Goats. The business is changing its telehandler (this makes for its fourth machine) but sticking with the same brand: Manitou.
Although Manitou has released new models since Harrison Dairy Goats purchased its first machine, the Manitou MLT-X 732 is still the machine of choice for the Harrison team. It's a case of 'when you find something that works and ticks all the boxes, why change it?'.
After a decade in the New Zealand market, this model continues to be supremely popular. I think there are a number of factors behind this. Offering 100hp with up to three-tonne lift and seven-metre reach, it's big enough to handle all the loading jobs around the farm, as well as be used potentially as an off-road forklift in construction or horticulture situations.
Another reason for its popularity is most likely partly down to its simplicity of operation, with the four-speed gearbox, torque converter transmission, and all key functions controlled by the JSM joystick controller.
And then finally the price most likely also comes into play – the Manitou MLT-X 732 with all of its safety features for a dedicated machine is still comparable to a similar-sized tractor with a front-end loader.
Engine
Not as common as they once were and used by a number of tractor brands in the past, the Perkins Tier III engine has proven reliability and performance. Tier III, no AdBlue, you beauty!
Service intervals are 500 hours. The hydraulic oil has a filler behind the cab and sight glass by the door. The engine oil filler and dipstick are found under the engine cover on the right. A great feature is the push button to reverse the fan and clean out the build-up of material on the radiator, which, if left undone, can significantly affect the cooling ability. This is particularly helpful on the likes of goat farms where the machine is working in sheds with shavings and straw or cleaning out barn waste – basically in potentially dusty conditions with minimal airflow.
A couple of small things that could make life easier would be larger drain holes for cleaning out the engine bay of wood chips and the like, and the other would be a drop-down/removable lower engine bay panel to make access to changing filters and belts easier.
Transmission
Being a base model compared to some of the latest and more highly spec'd telehandlers now on the market, you may not expect a four-speed gearbox, lever mounted on the dash with clutch button on the back to change gears. However, the set-up of this unit honestly works perfectly well. First gear is ideal for heavy pushing and operation in tight areas, second gear is ideal for everyday loading, while a third gear is suitable for getting around the yard and farm. Fourth gear is only used as a transport speed (although at 32km/hr max, it does feel a bit like driving a snail compared to 50km/hr tractor). Coupled to a torque converter system, you still just put it in gear, select direction with the paddle switch, put your foot on accelerator to go and brake pedal to stop – easy peasy.
Operation/Useability
As mentioned above, these machines are straightforward to operate. As with all telehandlers, you do feel a little as though you're in a glass fishbowl, but the upside of all this class is the exceptionally good visibility. Plus, there's a sunshade to cover the roof when the beating sun gets too much (without losing visibility).
Windscreen wipers on all but the cab door help keep the windows clear. Although air-conditioning keeps the machine at a workable temperature, whether hot or cold, window tints may help on those days when the mercury is hitting 30 plus degrees.
I found the seat comfortable and there should be enough room within the cab for operators of all sizes. Although the factory plastic seat cover protects the seat from new, it's no long-term option. An after-market cover would be a better option to protect the seat.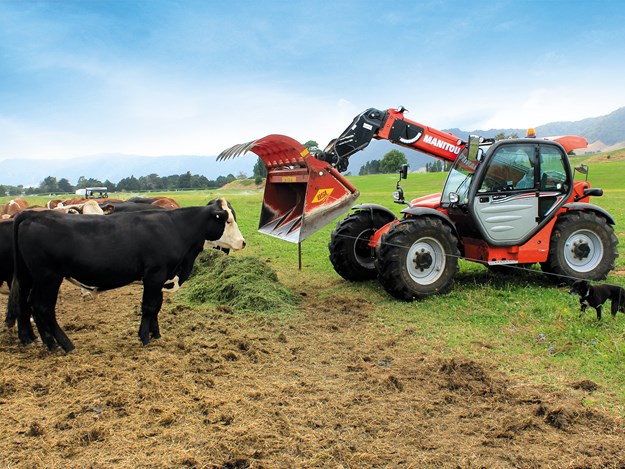 As is pretty standard on most telehandlers, there are three steering modes. It's easy to switch between the three with a small lever. To realign the wheels, there's a dash switch that lights up when the wheels are in line. To allow for more versatility of the telehandler, a rear hitch comes as standard, with lighting for trailer connection – handy for collecting bales. Hydraulic couplers can be added as an option, however, towing and hauling is not its natural forte.     
Hydraulics
At 104 litres per minute, hydraulic flow is more than adequate for this size machine (and is similar to that of a 100hp tractor. Speed and smoothness of operation are good.
One of the key factors of this machine for me is around how user-friendly the hydraulics are. Manitou fits an ergonomic joystick (JSM) to its telehandlers, and while it might be a bit different looking to what you're used to, it's certainly functional. Everything is in the palm of your hand: boom in/out and third service controls are on toggle switches, easily controlled by your thumb. Boom raise/lower and bucket crowd/dump are on the joystick. And forward-reverse shuttle on the top is controlled by your forefinger.
There are three hydraulic function modes for different tasks: standard (for forks, etc), bucket/dig, and lifting. Part of the safety system of this machine is the fact there's a light system that lets you know when the telehandler is reaching its limit. If you get to red, you may have to boom back in or lower to get back within the operating parameters. Obviously, there's an override button that will let you override the machine's sensors and continue what you were doing.
One of my favourite features is the pressure-release button in the cab. Hold it until it beeps and pressure in the third service lines are dropped, which should save a few curse words. You can still get pressure build-up in the attachment's lines on a hot day, so a tool is available to safely release this without damaging couplings.
Options/extras
Our test Manitou was pretty much as standard with one major addition being weigh scales from RDS for weighing each bucket load. While these wouldn't be essential for a lot of operations, where products are being loaded and need to stay within limits to avoid overloading, they are helpful.
As you would expect from a quality brand like Manitou, a variety of attachments are available. The Manitou forks and dig bucket were both used on the Harrison farm test machine. Utilising a Manitou/Euro hitch adaptor means standard farm attachments can be used.
The go-to telehandler tools for this property are a Strautmann grab bucket (a Swiss army knife-type attachment that proves handy for all sorts of jobs) and Pearson bale grabs.
Another option available is hydraulic locking pins instead of the manual, standard bar system attachment of buckets, which would be handy if you had all Manitou implements or also if you didn't have third service functions on the buckets requiring a hydraulic connection.
Summary
While the Manitou MLT-X 732 is not the newest kid on the block in terms of features and bells and whistles, it's still more than capable of getting most jobs done and makes a great addition to a farm where significant amounts of loading are done. With this machine, loading tasks are piece of cake. After driving a telehandler, like the Manitou MLT-X 732, you'll probably wonder how you ever did without it.
Manitou MLT-X 732 Specifications
| | |
| --- | --- |
| Engine | Perkins 95hp (70kw), 4-cylinder, turbo |
| Stage | Tier IIIA |
| Max lift capacity | 3200kg |
| Max lifting height | 6.9m |
| Overall length to hitch | 4.74m |
| Overall width | 2.34m |
| Overall height | 2.30m |
| Ground clearance | 0.45m |
| Unladen weight (including forks) | 6845kg |
| Standard tyres | 460/70 R24 |
| Hydraulic pump type | Gear pump |
| Hydraulic flow/Pressure | 104L/min 250 bar |
| Brakes | Oil-immersed, multi-discs front and rear axles, manual park brake |
| Hydraulic oil capacity | 128L |
| Diesel tank | 120L |
Pros
Easy to operate, well-designed controls/joystick
Reliable Perkins Tier III engine
3rd service pressure release button
Good lighting (not LED) and boom lights to help see past attachments
Reasonably priced
Grouped grease nipples
Cons
My preference is for larger drain holes under the engine bay for ease of cleaning
I'd like to see an extra drop-down or removable panel for servicing
Find new and used farm machinery for sale in NZ 
Keep up to date in the industry by signing up to Farm Trader's free newsletter or liking us on Facebook