Cover story: ROC RT 1000 merger
---
With efficiency and pasture quality top of list for most farmers when it comes to harvesting, the mighty ROC RT 1000 merger rake is proving its worth
One of our goals at Farm Trader is to keep farmers and contractors informed around the latest machinery on the market. However, thanks to global shipping delays and COVID issues, we haven't been able to see a lot that's brand spanking new recently. So, the opportunity to see the ROC RT 1000 in action was definitely a bit of a heart pumper – a singularly impressive machine, of which there are few in the country so far. 
We first spotted this bright yellow unit displayed at Webbline's Waikato yard near Hamilton airport – a handy spot that's become quite a showcase for travellers arriving by air or road of some of the newest European machinery arriving in New Zealand.
The ROC RT 1000 Merger machine challenges the way we have traditionally harvested delicate crops such as lucerne. The emphasis with this machine is on forage quality and efficiency. While rarely seen in New Zealand until recent years, these machines have been operated overseas, particularly in Europe for a few years now.
However, the day spent with the ROC is the first time I've managed to get some solid time with a merger and see how it operates first-hand. The main difference is obviously the fact the pick-up system differs from a traditional rake option. The continuous merger lifts the crop to transport it onto a conveyor belt, avoiding the sometimes-damaging action of a rake dragging crop on the ground.
The RT 1000 is the first machine in New Zealand from ROC, an Italian family business established in 1996, which specialises in mergers for forage dehydration of silage, hay, and straw products. The ROC brand of mergers is being brought into New Zealand by Webbline, adding another string to their bow with their already wide range of grass harvesting and handling equipment.
Test time
Heading first to the shores of Lake Taupo, I then headed inland to catch up with Winston Smith from Webbline and some of the Pritchard Agricultural Contracting team. With a three-year-old stand of lucerne cut and ready to bale, the ROC merger was the ideal machine to handle the delicate and valuable (due to its high protein content) crop.
The leaves are where the highest percentage of digestible is stored, so ensuring as much of these leaves makes it into the bale is key. To achieve the throughput required, most would normally use a four-rotor rake for the job. However, with a machine like the ROC merger, you can cover between nine and 15 metres (depending on the model) leaving a central row.
The ROC 1000 RT can pick up nine metres (basically three mower widths) leaving a one- to 1.2-metre swath. The beauty of this type of machine is that you can then turn around and add another nine-metre swath to the windrow from the opposite direction or reverse the direction of the belts to achieve the same result, giving a total covered ground of up to 20 to 21 metres.
To further increase productivity, the lifting and carrying of the crop provide the option of bringing an extra swath from either side without contaminating the crop to give a total area covered of about 40 metres. Utilising a machine like this, while the initial outlay is somewhat more expensive than a rake, does pay dividends when it comes to protecting crop quality, minimising handling of the crop and maximising efficiency in terms of paddock area covered with one pass.
Depending upon crop type and quantity, there is the option of splitting the belt's direction of travel 2:1 in either direction from the in-cab controller. The speed of both the pickup tines and side delivery conveyors are also both adjustable to suit different crops or offer fine-tuning depending on the crop.
I can definitely see the potential of these machines as a cost-effective alternative used with a tractor versus a self-propelled windrower, particularly down south where they grow more specialised crops and seeds are harvested.
Although hooked up to a Fendt 720 (200hp) on test day, ROC suggests that as little as 90hp with 60 litres per minute hydraulic flow is all that is required to operate this model. I'd personally suggest somewhere in between, given that this model weighs in just under five tonnes (4980Kg) and would more than likely be operated on a variety of terrain, not just expansive flat ground often found in Europe.
The ground we had for the merger on our test day was pretty easy in terms of contour and allowed the machine to comfortably work at around 15km/hour. If using their traditional four-rotor rake, the guys from Pritchard Ag said 12km/hour would be maxed out, as fast as you could go, and slip clutches would be going off.
It's another strong case for the quality build and design of the ROC merger. Small environmental gains in terms of minimal plant population damage, soil compaction, or loss all add up over time. With the crop being lifted by the pickup and shifted across on the belts, soil erosion is minimal, and due to the fact that the crop is not contaminated with soil/dust etc., bales and quality is maintained.
Under normal circumstances, baling directly behind the rake creates issues with dust, particularly in these dry times. Operating the merger means baler operators can actually keep baling without issues – good for productivity and helping keep the show running during the busy harvesting season.
Another benefit of the merger's pick-up action is minimising picking up other undesirable things into the windrower, such as stones, sticks, and steel tines – one of which go well with expensive harvesting equipment.
Despite its revolutionary raking system, the basic operation of the ROC merger is pretty easy to get under control, thanks to a simple-to-use in-cab controller. I reckon you wouldn't need anything more than a couple of hours operating it to get comfortable and have you getting the best out of this capable machine.
Construction
I'm pretty sure no one would argue if I said construction of the ROC RT 1000 was on the heavy-duty side of things. Weighing in just under the five-tonne mark is a pretty good indication for starters. A machine like this is designed to stand the test of time, with a life expectancy of around 40,000 to 50,000 hectares, which is substantially more than their equivalent quad rotor rakes. Given the mergers initial purchase price, which may make potential buyers pause for a quick breath, it's worth considering the benefits and cost savings that come from consistently good quality crop, consistently efficient operating, and having a well-built machine designed for longevity.
Our test ROC machine was also equipped with an auto greaser to make sure things get greased on time. I'm sure whoever is on rake driving duties would surely appreciate this time-saving feature.
Like most machines, the main wear item is pickup tines, which are easily sorted, and potentially the bands – all pretty straightforward so time and dollars spent on servicing and maintenance over the life of the shouldn't be too bad.
The main frame of the ROC mergers is also utilised as oil storage for three hydraulic motors (one to run each section). With the PTO hydraulic pump mounted between the linkage, it is still plenty manoeuvrable, and with an overall length of only five metres and transport width and height both three metres, it's much more compact than a quadrotor.
The RT 1000 is the first merger I've seen offering a full-width merger, as opposed to two-piece units that have the option of central swath delivery along with side delivery. ROC does make smaller units with those features. The RT 1000 is a higher capacity machine, with three equal three-metre sections, which give it the ability to fold down to three metres for road transport in less than a minute.
Something else ROC have streamlined and found unnecessary in their design is a feed roller above the pickup – one less opportunity to damage the delicate leaves of the lucerne. Adjustment of the pickup and belt speed, when matched to ground speed, seemed to be sufficient for ensuring a clean pick up of crop. Each of the three sections has adjustable, spring-loaded boggie-type wheels underneath, set up at each end to ensure outstanding ground following and minimal damage and wear to the tines. The large transport wheels use an accumulator system to further help ground contouring; it would be good to have seen it operating through some uneven contours across the width of the machine to see its full range of movement, but given the robust design and performance elsewhere, I'm confident it would perform.
One pivotal feature that has probably had a lot of tweaking over time to perfect is the belt. A sectional belt has been chosen, which, as the name suggests, can be replaced in sections should damage occur.
Also, the sectional belt gives positive drive and simple adjustment. Steel teeth on sections of the belt provide good carrying and release of the crop, no matter how heavy or light. It's paying attention to these little details that place machines like this into the great category. 
Summary
I can say that my time spent waiting for the opportunity to check out a merger was worth it, as the ROC RT 1000 definitely lived up to expectations. The handling of lucerne is where these types of machines just cannot be beaten. A large portion of conserved feed in New Zealand is grass silage, and it was good to learn these machines are not just expensive one-trick ponies and can be just as effective as large quadrotor rakes on grass silage crops, with efficiencies through ground speed and the ability to put two passes of the merger into the one row for harvesting, helping maximise the capacity of the large modern forage harvester. It's exciting to have the ROC brand of mergers in New Zealand, and I look forward to seeing a few more of the different models operating around the country in the not-too-distant future.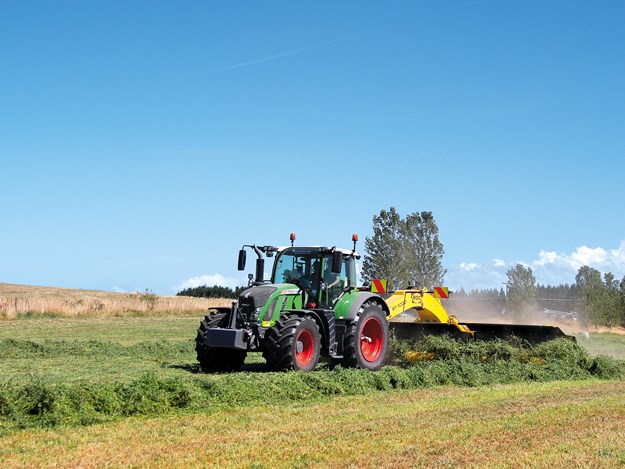 ROC RT 1000 Specifications
| | |
| --- | --- |
| Overall length | 5.12m |
| Overall width | 8.9m total machine width |
| Working width | 10.0m including swath  |
| Transport width | 3.0m |
| Transport height | 3.0m |
| Unladen weight | 4980Kg |
| Standard tyres | 520/50R 17 |
| Minimum hydraulic flow required | 60L/min |
| Minimum recommended hp | 90hp |
| Brakes | Dual air/hydraulic |
| Importer/distributor | Webbline  |
Pros
PTO-driven hydraulic pump to run the hydraulics for the pickups and belts
Careful handling of forage, with minimal soil contamination in bales/silage
Auto greaser takes care of daily greasing
Low horsepower required to run
Ability to pick up and shift short part rows to make more efficient harvesting
Designed to be low maintenance/long-life machine
Cons
About ROC
ROC is an Italian company started 26 years ago (1996) by the Ubaldi brothers, Denis and Raffaele. Over the years, ROC has become specialists in the design and construction of mergers. With a company motto of "we aren't pleased with the construction of a good product; we want to build the best one!", it seems the company is achieving what it set out to do. Of the company's manufacturing mergers, ROC has the most extensive range, producing a full range from the RT 380 (3.8 metres) right up to the RT 1220 (12 metres) machine. Exporting to over 40 countries around the world, it's great to have these quality machines now available in New Zealand through Webbline.
Find new and used farm machinery for sale in NZ 
Keep up to date in the industry by signing up to Farm Trader's free newsletter or liking us on Facebook