Review: Donnelly 16T trailer
---
With design features specific to New Zealand, the 3-in-1 Donnelly trailer can earn its keep year round
Through product testing in the paddock and feedback from Kiwi farmers and contractors, the latest trailer off the Donnelly production line has modifications on previous models to make this multipurpose trailer more user-friendly and give it higher performance in the field. Gavin Brownrigg from Brownrigg Agri Gear has worked with Donnelly trailers for seven years to bring what he reckons is the most versatile trailer to the New Zealand market.  
Brownrigg Agri Gear started importing Donnelly Trailers about seven years ago. Gavin Brownrigg had been looking for a quality brand of trailers, built specifically for agriculture and the Donnelly brand ticked all the boxes.
With the 14- and 16-tonne models proving immediately popular (weight based on the load they can hold), flash forward to today and the benefit of having a great relationship with the Irish manufacturer, which has allowed for additional details to perfectly present a trailer specifically designed for New Zealand farmers and contractors.
A lot of trailers these days are almost single-purpose trailers, with a limit to what tasks they can perform. A trailer's efficiency can transform the ease of a job. Nine times out of 10, they are loaded to capacity. The Donnelly is a true multipurpose trailer, with the versatility of being able to perform as a flat deck trailer (plus a bale extension can be added), along with dirt sides for carting material, and a silage bin for maize or silage.
Features
When it comes to trailer shopping, there's a lot to consider. From the job you're doing to what sort of weight you're going to be hauling, you want something that's going to do it well and get the job done reliably.
Features that come as standard on the
new Donnelly trailer include remote grease lines and a set of 10 stud, braked, high-speed commercial axles in a walking beam configuration. These hold the weight of the load and stopping it when required isn't an issue. An all-new single tipping ram is a big advantage in relation to previous models, allowing a steeper tip angle to 60 degrees. With 29 cubic metre and 33 cubic metre silage bins on the 14- and 16-tonne trailer respectively, they bring in a decent load for an easy-to-manoeuvre trailer. Empty weight is 4500kg on the 14-tonne and 5500kg on the 16-tonne, keeping horsepower requirements down. This also saves lugging around dead weight, so improves overall efficiency. A few litres of diesel saved here and there add up, especially at today's prices.
Loads piled higher than the sides prove no challenge for the up and over hydraulic tailgates on both the silage and dirt sides. I particularly enjoyed the fact that the tailgate didn't pull the top off of the tipped heap. The maize gets left in a nice short dense pile. There really isn't anything worse than a trailer tailgate that tries to drag the load halfway back to the paddock. Perhaps the hydraulic fittings for the tailgates could be better protected as they looked a bit vulnerable. Brownrigg has mentioned though that it is in the pipeline to improve this.
Being wider than most European trailers, tapering back to 2.65 metres at the rear, stability at both the stack site and in the paddock was impressive. Another nice touch that improves longevity is that the rear lights are built into the deck, protected behind steel. The only thing that would break a light lens would be backing into a perfectly aligned branch or stick – doubtless, some clever operator will have a go. With LED lights all round as standard, they certainly look the part once the sun goes down. And let's be honest, it's rare to be finished in daylight, particularly when it's maize season.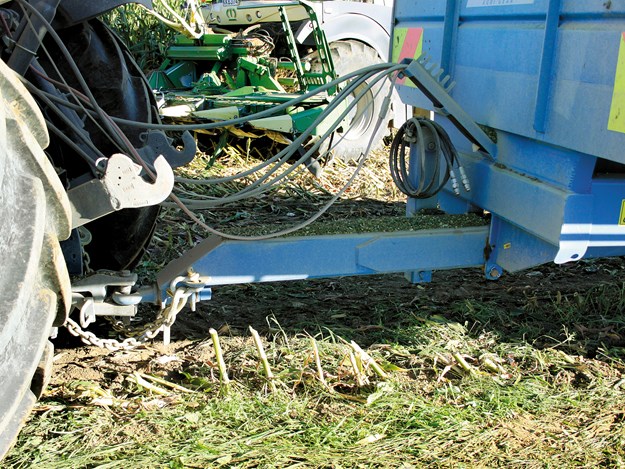 Unfortunately, in New Zealand, pickup hitches are not common yet, so to make hitching and unhitching easier, Brownrigg has had hydraulic jack stands fitted as standard. You can thankfully wave goodbye to winding up and down the trailer on and off the drawbar of the tractor. It does, however, mean an extra set of hydraulic spool valves are required, bringing it up to three sets of hoses. For most tractors, it shouldn't be an issue, as hydraulic three valves are becoming a much more common minimum spec.
Dirt sides have been improved on the 2022 models as well. Being able to remove them as one piece via a 'drop in' style bin improves durability, creates ease of trailer change over and reduces the physical effort to fit them. 
Optional extras
Whether you want to stand out from the crowd or need something more specific to your requirements, Brownrigg Agri Gear has a range of extras available for the Donnelly trailer. New models are available in Hardox, reducing wear from abrasive materials and ultimately leading to a longer service life of the trailer. A bale extension is also on the options list. Allowing extra capacity when it comes to shifting bales, reducing the number of loads required, increasing overall efficiency. 
Performance
Out near Hinuera on the outskirts of Matamata, Phil Hawke Contracting has four 16-tonne Donnelly trailers in his fleet. We went and had a chat with son Ollie Hawke about them and took them for a spin on the maize cart.
"The first one showed up about six years ago on a demo for grass and we loved it," says Ollie, who's definitely a fan of the new 16-tonne Donnelly, particularly the fact the axles are slightly further forward, which makes tipping into an ag bag machine "perfectly fine". He also mentioned that changing over from maize bins to dirt sides is "really easy".
For our Farm Trader trailer test, we had the new 16-tonne hitched up to a Massey Ferguson 7726, which had a decent bit of power to pull it. The tractor felt the loaded weight of the maize with it being a touch on the green side. In my opinion, 150hp would be the minimum for a 16-tonne depending on terrain. The sprung drawbar took the shock out when carting, which reduces fatigue on both operator and machine.
The 650/50r22.5 tyres certainly don't lack in size, keeping ground disruption to a minimum whilst making it easy to tow. It was quite impressive how well it pulled up hills. With the axles being near the back, a phenomenal amount of weight gets transferred onto the tractor's drawbar, giving the tractor ultimate traction. You would have no worries up hills fully loaded in your average paddock.
The single tipping ram wasn't hesitant to tip a load either, tipping up to 60 degrees. The maize came out pretty quickly, aided by the tapered body design. Manoeuvrability was exceptional for a big trailer on a tight farm with narrow winding races.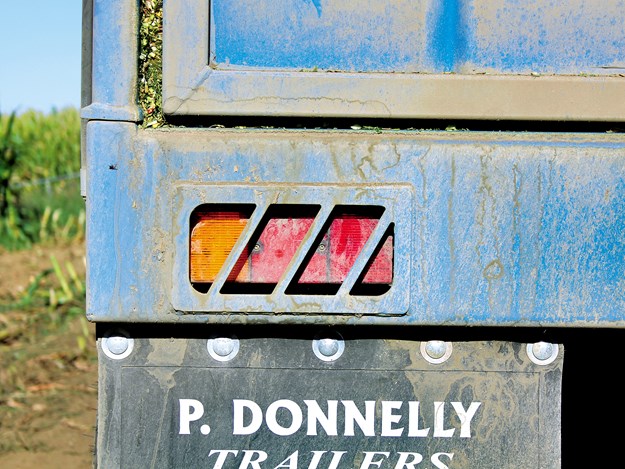 Mesh on the right-hand side of the trailer and solid steel on the left-hand side give unhindered visibility into the trailer from the harvester. You can see exactly where you're shooting the crop while not losing out on capacity, making the chopper operator's life easier.
The sloping front adds extra capacity and reduces the need for an extra set of hydraulic hoses to drop the front for back shooting. The harvester had no troubleshooting over the Massey and filling the trailer via the convenient sloping front. The Bullet Cover system fitted is an optional extra and did a beautiful job of quickly and effortlessly putting a cover over the load. 
Having four Donnelly trailers, which look rather impressive on Hawkes modern fleet, it didn't take long to move some tonnage from paddock to stack. 
Summary
Everything about this trailer seems to lead to efficiency. Being a 3-in-1 trailer, from the set-up to going out and doing the job, it has the ability to carry big heavy loads and is equipped with the hardware to do it time and time again, no matter whether it's a contracting or farming situation.
With strength where it's needed, a good set of tyres, and a sprung drawbar, towing them is a dream. With many cross members under the deck, handling harder materials like dirt and stone, the deck will hold its shape. Being such a versatile, easy-to-change-over trailer, there's no hesitation to do a job with the Donnelly. It's consistently reliable with few drawbacks. A Donnelly will slot comfortably into any business – an affordable trailer that gets the job done, with pre-ordering being the best way to secure one for the coming season.
Donnelly 16T trailer Specifications
| | |
| --- | --- |
| Loading Capacity | 16T |
| Body Width | 2650mm |
| Drop Sides | 600mm high |
| Body length | 5500mm high |
| Running Gear | 10 Stud |
| Tyres | 650/50r22.5 |
| Max speed | 50kph |
| No of wheels braking | 4 |
| Ram Size | 5 stage |
| Silage bin capacity | 33m |
| Tie rails | Standard |
Pros
Well-made trailer with strength where needed
Tow well and smooth and stable
Easy to change from silage to dirt sides
Big tyres
Manoeuvrable
Hydraulic jack stand
Multi-purpose
Remote grease lines for the axles
Cons
Hydraulic tailgate fittings look a touch vulnerable (next models will be updated) 
Hydraulic hoses could be labelled to ease hitching up
Find new and used farm machinery for sale in NZ 
Keep up to date in the industry by signing up to Farm Trader's free newsletter or liking us on Facebook