Review: Moore Uni-Drill 32R Trailed
---
The Moore Uni-Drill is well worth considering for those looking for a machine that's straightforward to operate and performs reliably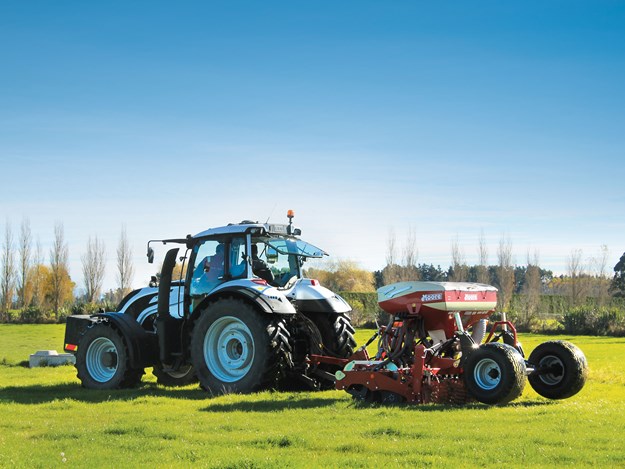 Although we're staring down the barrel of the coldest wettest months of the year when most machines should be serviced and put away until more favourable weather arrives (not that autumn has been particularly kind), it's also a good time to consider investing in a new machine that adds some versatility to your operation.
Having recently caught up with Anthony Murray and the FarmChief team at their on-farm Southland Field Day, among the impressive array of gear being showcased was the versatile Moore Uni-Drill range.
Packed with good features, I think it's definitely worth considering, particularly if you're a smaller contractor wanting a machine that will be in high demand, or perhaps a larger farm wanting to have control over your own planting.
The beauty of the Moore Uni-Drill is that it's a reliable and effective performer, while still delivering a simple-to-operate, no-fuss machine without unnecessary bells and whistles. These days, with rising fuel (and everything) prices, contractors and farmers are having to get smarter and somehow strive to produce more for less. Enter our test machine, the Moore Uni-Drill – a key tool for cost-effective and reliable grass and crop establishment.
Test time
With a well-attended Field Day packed with machinery, the Moore Uni-Drill was undoubtedly one of the star attractions. Weighing in empty at 3000kg, our test machine was the trailed 32 run 90mm spacing model, with a three-metre working width.
A minimum of 110hp is recommended to operate all four Moore Uni-Drill models. Having run a linkage mounted one in the past on my 180hp tractor, I would suggest maybe a well-weighted 130+hp would be what you're looking for on the trailed version.
For our test day, however, this time around, we had a Valtra 194hp, which was more than up for the task. Hydraulics required for the trailed version are two double-acting for wheels and disc depth adjustment and one set for the fan, going back to the free flow return.
We had existing pasture to drill into, which the discs (mounted running on a five-degree angle), tungsten carbide tipped coulter, and Guttler packer roller left an extremely tidy finish on the paddock. Being relatively compact, it's also able to handle short, sharp undulations.
Perhaps the only concern I would have with the narrow row spacing and compact overall dimensions is how well it would handle planting into ex-crop ground (maize/wheat/etc.) with high residues and trash, without blocking up, although, the same challenge applies to most drills. While I haven't tried the Moore in those conditions, it has been extensively used in the UK in all sorts of conditions with great success, so maybe I'm unnecessarily concerned.
In terms of design, notched discs help provide tilth and a cultivated slot for the seed to be placed in – the job of the wavy disc of a triple-disc drill. The system adopted by the Moore Uni-Drill uses hardened steel in the seeding coulter to handle abrasive soil wear. Aside from the discs, the other main wear part of the drill is the disc bearing hubs, of which there are less than half for an equivalent three-metre triple-disc, keeping the overall running cost of the machine down.
The simple rubber torsion coulter mounting provides flexibility for the planting units across rough paddocks, also keeping maintenance costs low, a reason why Moore and a host of other machinery manufacturers are now using this system.      
Operation
Calibration is straightforward, making use of a manual handle to count the rotations and using the table to achieve the desired sowing rate. Using a Kverneland Accord seed box and metering system will be familiar to many already. A simple cog change system allows users to change between large seeds/high kg per hectare (like oats), right down to 1–2kg/ha rates (of turnips, etc.) with good accuracy and very little seed left over at the end of the job.
A fold-out ground-driven wheel on the left side will drive the metering system when ready to get planting.
On the standard model, the electric device is a fan speed sensor to allow you to set the hydraulic flow, with a shaft sensor and in-cab monitor – very little to go wrong. Depending on the model you have, seed depth is controlled by hydraulic rams on the rear Guttler roller for the linkage mounted version. In the case of our test machine, the rear roller was fixed, with the two gangs of planting discs adjustable, controlled via one double-acting hydraulic remote. A simple but effective pendulum arrow lets you know when you have the machine at the right level.
A simple idea to get greater manoeuvrability out of the trailed version would be making use of a quick hitch like many New Zealand machinery manufacturers make, allowing sharper headland turns and making setting-up easier for tractors of different sizes (and different horsepower, tyre size, drawbar height, etc).    
Construction
With 45 years of fine-tuning the design, Moore drills are known for their strength and longevity. In the throwaway world we live in, back in the UK where Moore is manufactured, they still stock parts for their original models – a testament to the build quality and reliability of the brand. Powder-coated frames keep these machines looking good for years. Heavy 100mm x 100mm x 10mm box section steel is used in the frame to give some of the weight to the machine for ground penetration. Depending upon the ballast of the machine, 94kg of ballast/coulter is standard with an empty bin.
On to the hopper: this is a well-proven Kverneland hopper with Accord metering.
A fold-up step with a hopper lid on gas struts makes filling easy and adding to
that the hopper height overall is only 1.5 metres (approximately).
The distributor head is mounted inside the 700-litre hopper, again keeping the overall size of the machine down and giving a nice, tidy appearance. Should you need to empty the hopper, an easily accessible drain point is located on the step side of the hopper. In fact, the steps should almost work as a holder for the bag while you fill it.
Aside from the four different models, there are other options available to suit your specific situation, such as an extra bin for small seed/slug bait, RDS control and radar, and bin extension to increase your hectares between fills.
Standard fitment of LED lights is handy for road use between blocks or jobs, and with the metering wheel folded up for transport, the overall machine width comes in at under three metres.
Summary
The Moore Uni-Drill is a simple well-built machine. So good is this design that I have become aware of at least two other brands recently making drills very similar, using the angled disc and boot planting system. Neither, however, offers the option of the same narrow 90mm planting width of the Moore Uni-Drill (Moore being one of the early adopters of this seeding system) or the long-standing reputation of Moore.
Offering a similar finish on the paddock, with fewer moving parts to replace than an equivalent triple disc drill, the Moore Uni-Drill is well worth considering for those looking for a machine that's straightforward to operate and performs reliably.
As we all know, nothing made to last is cheap. Steel prices, in particular, have rocketed skyward lately along with fuel. However, that just makes it even more important to carefully choose the right machine to allow you to have control over your planting programme and to get things done in what seem to be getting tighter weather windows.
Moore Uni-Drill 32R Trailed Specifications
| | |
| --- | --- |
| Runs | 32 (90mm spacing) |
| Working width | 3m |
| Weight | 3000kg |
| Min hp Required | 110hp+ |
| Capacity | 700L |
| Metering/hopper | Accord/Kverneland |
| Planting system | Rubber-mounted coulters, Serrated 410mm disc/tungsten/carbide-tipped coulters |
| Other options | In-bin cameras/RDS drive/bin extension/extra bin for small seed-slug bait |
| Tyres | BKT 500/50-17 |
Pros
90mm row spacing for good seed spread, and less opportunity for weeds to establish
Air seeder accuracy, great for working on hills for even seed application
Guttler roller provides the firm seed-to-soil contact without blocking up
Trailed and linkage mounted options to suit different size tractors
Most of the benefits associated with a triple-disc with far fewer moving parts
Cons
Trailed version is not quite so nimble, but using a quick hitch (found on most farms) would get around this
Find new and used farm machinery for sale in NZ 
Keep up to date in the industry by signing up to Farm Trader's free newsletter or liking us on Facebook