VIDEO: Honda MUV
---
Honda's Big Red takes the side-by-side market to a whole new level
A smooth ride with plenty of power and highly responsive brakes
Top speed is around 65kph
The chassis delivers a smooth and stable ride
Safety features include fuel system shut-off, moulded high-impact half doors and side body netting, multi-reflector headlight system, sealed 12-volt 12-amp battery
Durable, comfortable, easy-to-use ergonomic intuitive controls with mechanical lock positions
Honda has resurrected the Big Red moniker for 2009, a workhorse intended to be as confident towing a trailer during lambing season and hauling a tray-load of feed as it is exploring challenging topography - and with a wet weight of 649kg, a towing capacity of 544kg and bed weight capacity of 226kg (with gas assist-tilt as standard), it's ready for heavy-duty work and fun.
Big Red has a wide stance and appears to be slightly lower to the ground as compared to other side-by-sides. It measures just over 1.6m wide, with 26.2cm ground clearance at its lowest point.
The basic dashboard on the Big Red has all the indicator lights (reverse, 4WD, high coolant temperature, engine malfunction, neutral, differential lock, parking brake and low fuel) placed directly in front of you - where they can be seen at a glance.
The gear shift lever is located just to the right of the steering wheel and is flanked by the drive mode lever. The driver can select from either 2WD (with open rear differential), 4WD with the rear diff locked, (giving you essentially three-wheel drive) and 4WD with both front and rear diffs locked together, which equals true 100 percent 4WD.
A 12-volt power accessory plug has been fitted between the seats so you can charge your cell phone, GPS, iPod, etc. Cup holders for both driver and passenger as well as storage cutaways are also incorporated into the dash.
Propelling you forward is a 675cc OHV (overhead-valve) Single, basically an ATV engine reworked for the rigors of a larger vehicle. Engineers cleverly mounted the engine in the middle of the chassis, near the vehicles center of gravity, in order to aid handling and make it more stable when traversing off-camber terrain.
A three-speed automatic transmission utilises a hydraulic torque converter and shaft final drive that has the ability to propel you up to a claimed top speed right around 65kph.
Hydraulic disc brakes, with 200mm rotors and single piston calipers are featured at all four corners, plus the patented Honda scrapers to prevent debris build-up. Furthermore, the transmission allows for some level of engine braking and there's also a mechanical fail-safe built into the braking system so even if one of the brake lines is damaged you'll still have maximum braking capabilities.
Honda NZ invited us to trial the Big Red on the Sunset Farm, 5km south of Port Waikato. Although the single-cylinder engine isn't exactly a screamer, it does offer a heap of low-end torque that pulls Big Red up and over almost any hill we could find.
We conquered sloping muddy grades, descended steep hills using all three drive modes, and articulated over uneven terrain - mostly at crawl speeds. The Big Red beast felt incredibly stable during low-speed, off-camber manoeuvres. And those steep downhill slopes were negotiated with billy-goat-like ease. Engaging the parking brake at extreme angles held Big Red firmly in place.
And, thanks to three-point seatbelts and handhold, passengers can be sure of a certain level of confidence.
Sound levels on the Big Red at idle and under light throttle application isn't too disturbing.
The 30 litre petrol fuel tank is located underneath the passenger's seat with the screw-on fill cap located just above. Although we didn't keep track of running time or mileage, after a full-day of play the low-fuel light never came on.
Additionally, if you feel like you need a bit more sport or utility, Honda has a large selection of accessories including a windshield, hard top, additional under-carriage protection, and heaps of other bits and bobs that allow you to tailor your machine to your type of use.
Priced from …$27,995 ex GST (standard model)
To read the full review, see August's issue of Farm Trader magazine, on sale now.
Engine type Liquid-cooled Semi-dry sump, OHV single-cylinder four-stroke
Displacement 675cc
Bore x stroke 102.0mm x 82.6mm
Compression ratio 9.2:1
Carburetion Electronic fuel injection (PGM-FI), 40mm throttle body
Ignition CD with electronic advance

Transmission Starter Electric
Gearbox Automatic
Final drive Longitudinal engine with direct front & rear driveshafts

Suspension front Independent double-wishbone; 150mm travel
Suspension rear Independent double-wishbone; 180mm travel
Brakes front 200mm hydraulic disc with 51.1mm caliper
Brakes rear 200mm hydraulic disc with 30.3mm caliper
Tyres front 25 x 10.0 -12 (2 ply off-road)
Tyres rear 25 x 10.0 -12 (2 ply off-road)

Wheelbase 1922mm
Ground clearance 262mm
Kerb weight 649kg (includes all standard equipment, required fluids and a full tank of fuel – ready to drive)
Fuel capacity 30 litres, including 5.7 litre reserve
Colour Red
Dimensions 2913 x 1625 x 1953mm
Video 2 - Fieldays launch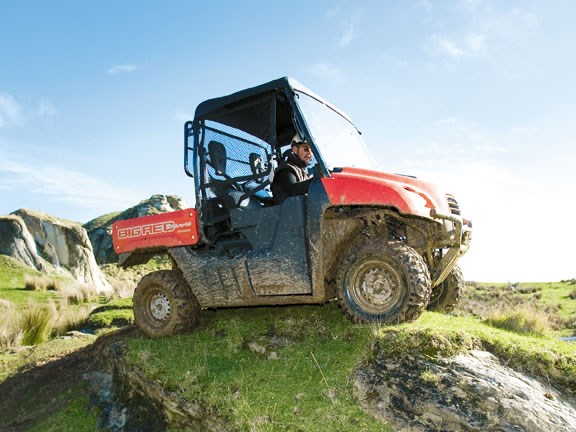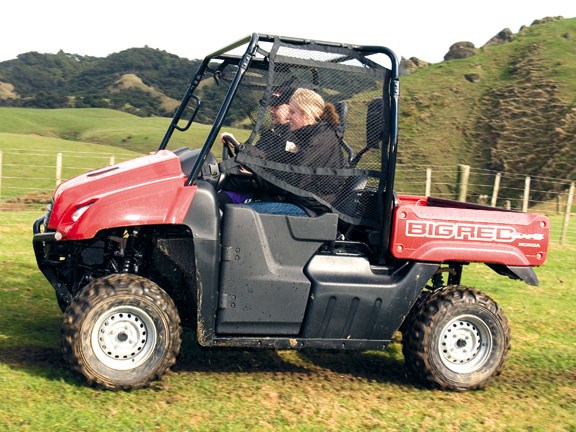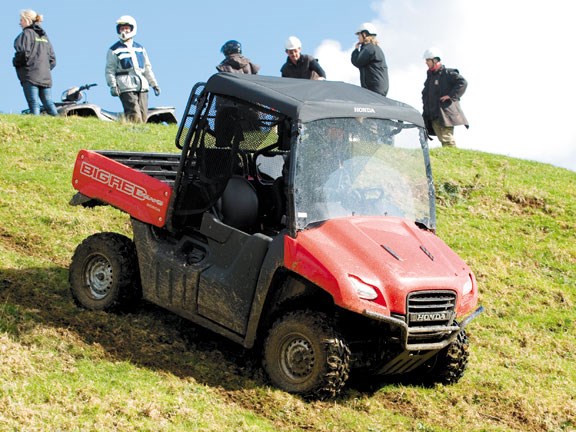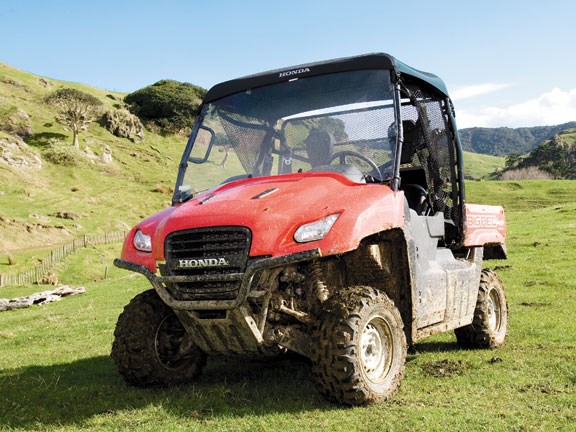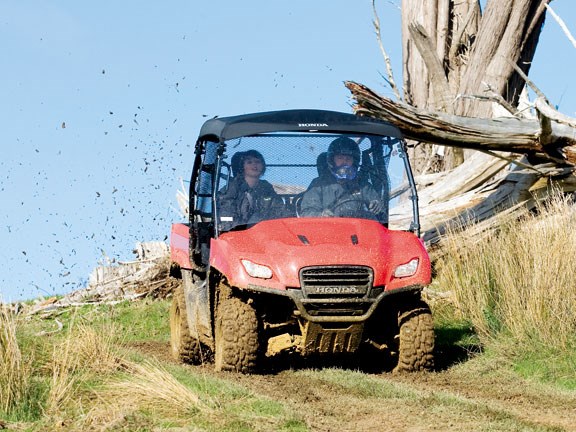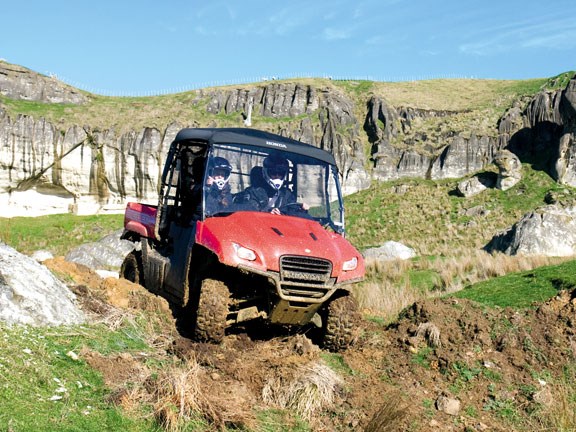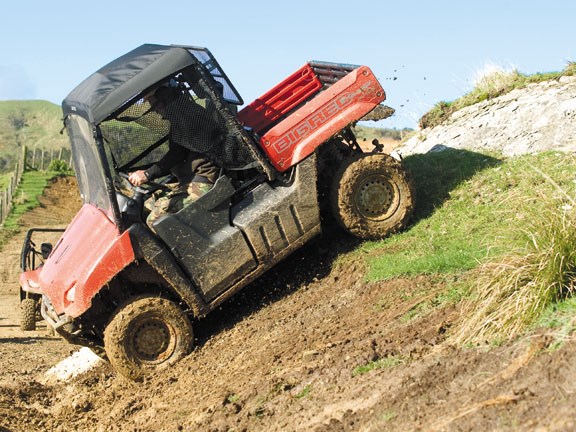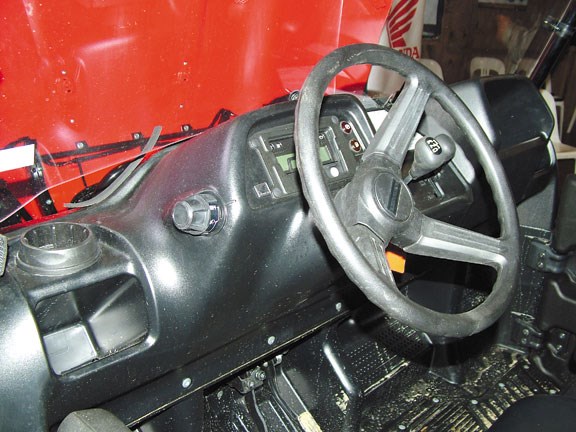 Keep up to date in the industry by signing up to Farm Trader's free newsletter or liking us on Facebook