VIDEO: Polaris ACE 570
---
In what could be just the answer for the safety-conscious farmer, Polaris has released a potentially game-changing new ATV to the local market in the form of the Sportsman ACE.
The all-new Polaris Sportsman ACE is the perfect combination of an ATV and UTV. It's similar in size to a 4x4 quad and rides almost exactly like the new Polaris Sportsman 570 4x4, but it's equipped with a single bucket seat, steering wheel, and a roll cage that provides an uber-safe platform for both work and play. This easy-to-use, nimble machine has the easiest learning curve of any ATV or UTV I've ever tested. If you're used to driving UTVs, you'll feel right at home in the ACE.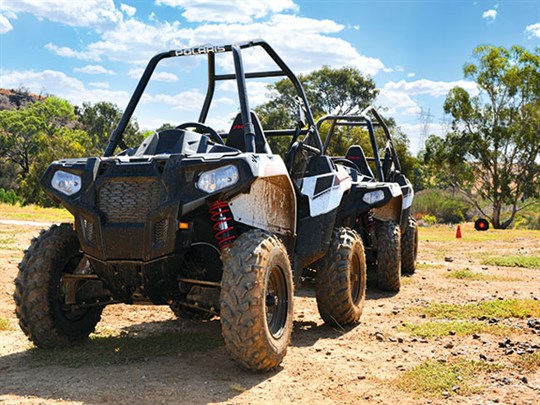 Safety
The Sportsman ACE is covered by a ROPS (roll over protection system) cab frame that's similar to the roll cages found on the brand's RZR lineup, and offers an ergonomically-friendly cockpit that's both easy to get into and out of for small or large riders, perfect for the older farmer or those that struggle to swing a leg over a standard quad. The secure, high-backed, adjustable bucket seat is paired with an adjustable steering wheel. It's also equipped with a three-point seatbelt and has side bolsters to keep the operator properly positioned in the center of the machine. The steering wheel offers 89mm of tilt adjustment, and the driver's seat slides back and forth by 102mm to customise the fit for the rider. There is an integrated dead pedal for your left foot to rest on and an integrated heel pocket for your right foot, with an easy reach for both the gas and brake pedals. Branches and the odd sheep are kept out via dual side nets that feature a metal rod to easily secure for clipping and positioning the nets to the back of the vehicle while exiting. For added protection there's a range of optional accessories like doors, front and rear brushguards, rock sliders, and a variety of custom wheel and tyre packages. To protect the driver from the elements, a Lock & Ride roof, windshield, and rear panel install in seconds to offer a quick solution for all climates.
The ride
Beginner to expert riders will appreciate the ACE's comfortable ride and nimble handling characteristics. The suspension feels stiff, compared to standard Sportsman ATVs, but it soaked up the rough, rocky test loop and was difficult to bottom out, even with my substantial weight in it. The machine felt stable, even around quick, 90-degree corners and at top speeds you always feel in control.
Features
The Sportsman ACE 4x4 is equipped with a new Polaris ProStar electronic fuel-injected powerplant. It's a dual-overhead cam, single-cylinder, four-stroke design that is similar to the 570 RZR and Sportsman, which Polaris released last year. Its displacement is in the sub-400cc category, and it packs a solid 32hp with a top speed of around 70kph. It didn't hit hard out of the hole, but its power range is wide and very easy to adjust to. The motor provided plenty of excitement, the power doesn't overwhelm or scare, and it'll provide an excellent platform around the farm, with enough punch to make the odd bit of off-roading a real joy.
Transmission
The transmission is identical to Polaris's 570 RZR's and provides the driver with the option of both high and low range, neutral, reverse, and a park mode that acts as the emergency brake. In high, the 32hp donk pulled the 385kg ACE up and over every obstacle on the technical test loop Polaris had set up for us journos at a big 4WD testing track outside Melbourne, where the company had its full range of ATVs and UTVs for us to play with. I used low range for ascending and descending the steeper sections, just as you would if you were negotiating a back-country hill, and we powered through deep ruts, mud holes, and dusty trails without so much as a scent from the CVT.
AWD
The Sportsman ACE is equipped with the same On-Demand True All-Wheel Drive (AWD) system found on all Polaris ATVs and UTVs. The system eliminates the guesswork by automatically engaging AWD when you need it and then reverts back to two-wheel drive automatically when the AWD is no longer needed.
Brakes
Braking is solid, thanks to four-wheel hydraulic discs with dual-bore front calipers, and the little ACE rides on Carlisle 489 tyres, mounted on stamped steel wheels, that provide great traction on most terrains. I put a good pounding on that rubber and didn't come to close to a flat.
Storage
Storage on the Sportsman ACE is exceptional with its integrated 10.6-litre, semi-dry, front storage compartment and a high-capacity Lock & Ride cargo box with rack extenders and rear tie-down rails that also accept the accessory Lock & Ride cargo box for additional dry storage, can carry up to 260kg of gear, and can tow up to 680kg. The ACE is also pre-wired for the installation of a winch with up to 1587kg of capacity, and Polaris offers more than 25 accessories for the Sportsman, including doors, winches, cabs, and storage to suit their driver's needs.
Verdict
Like it or not, these UTVs are transitioning from a fad to the future of ATV-ing. Since the release of the original RZR 800 seven years ago, Polaris has been the leading UTV manufacturer of such machines, and for an RRP $11,995 incl. GST, the Polaris Sportsman ACE is sure to be a hit for both farmers/contractors and trail riding enthusiasts alike.
Positives
Exceptionally easy to get in and out of
Confidence inspiring
Great handling characteristics
Negatives
Is a little underpowered but does have a good mid-range
For the latest reviews, subscribe to our Farm Trader magazine here.
Keep up to date in the industry by signing up to Farm Trader's free newsletter or liking us on Facebook