Shed & shelters: Woolaway
---
The old yards still work well with the new woolshed, giving optimum stock flow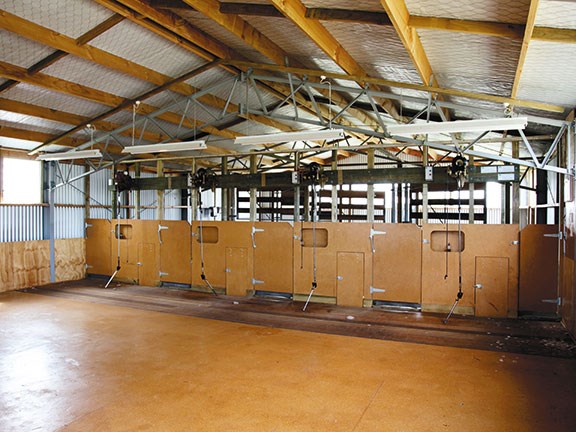 The four-stand shed is light-filled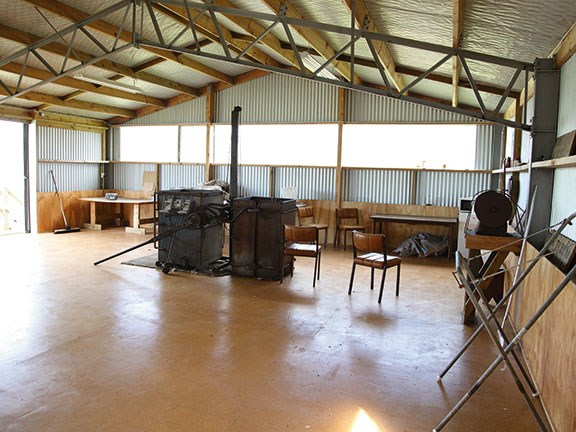 Wool presses and wool classing table are handy to the bale load-out area on stair landing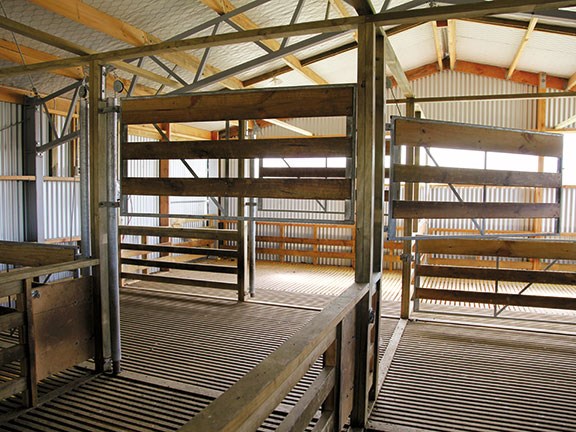 Gates in the holding pens move upwards and are designed for easy movability: stock can be sectioned off and organised accordingly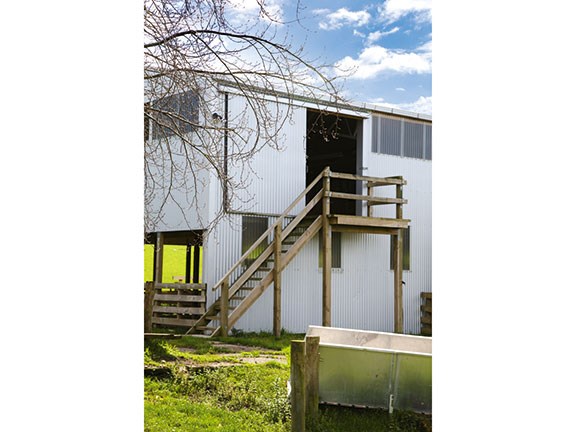 The wooden bars on the landing are removable to allow for loading out onto the truck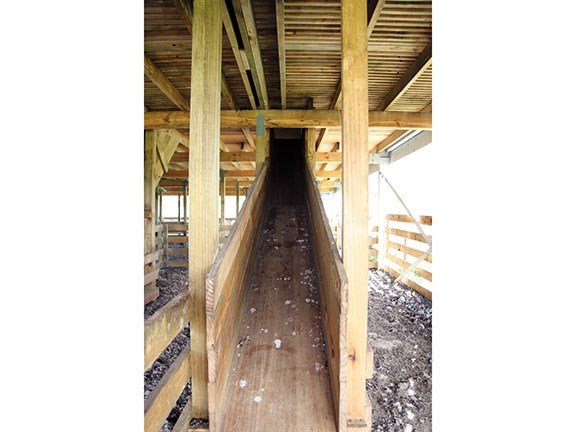 After processing, sheep exit from these chutes down to the yards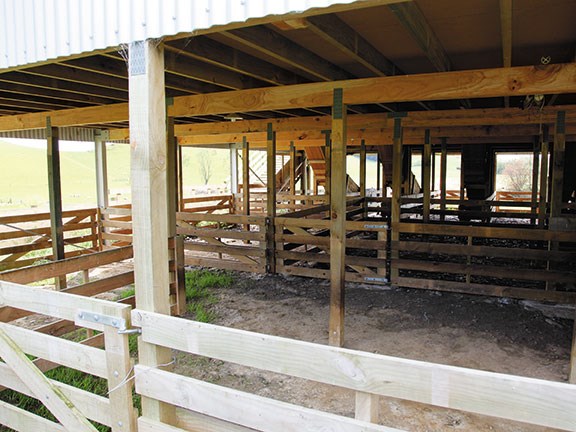 Covered yards come in handy in bad weather, as well as during shearing time

The New Zealand countryside is dotted with rustic old woolsheds that, while they may make a great photo, are far from practical or safe.
Building a completely new woolshed is a large capital expense, so farmers are keen to get value for money when they do make that big decision. Steve Wyn-Harris, a sheep and beef farmer in Central Hawke's Bay was faced with that decision a few years ago.
"I had a 100-year-old woolshed that was starting to fall down. I kept patching it together with four-inch nails and bits of plywood. But in the end, it was becoming something of a health and safety issue, so I had to pull it down."
Steve and Jane Wyn-Harris farm at 'Marlow Hill', near Waipukurau. The day Farm Trader visited, the landscape looked a picture of spring growth — lush green paddocks with ample cover and lambs frolicking beside their mothers, with some seeking shade under groups of trees on gentle slopes.
In 30 years, Steve has planted around 50,000 trees on the property and he's proud of what he has achieved. "I have turned an average hill-country farm into a productive and profitable business. There is nothing more fun than development if you are in a position to do it."
In 2013 he and Jane won the Hawke's Bay Farm Forester of the Year award.
They also won the Ballance East Coast Beef and Lamb Livestock award in 2011 and were the Ballance East Coast Farm Environment Supreme Winner the same year.
Steve also hosts a twice-weekly radio show — The Cocky's Hour — on the local radio station and for the past 17 years has written a column for Farmer's Weekly.
The fact that his woolshed is used only two or three times a year pains him a bit but there is no denying it's an essential commodity. "It is hard to justify the cost, but if you are a sheep farmer, you've got to have a woolshed."
He points out that if he were a dairy farmer he'd use a shed twice a day for nine months of the year.
When it came to deciding on the type of shed he wanted, he went to Woolaway as "it's a well-known brand and has a good reputation."
The double-height woolshed is slightly different to what he had in mind when he first approached them. "I left the design up to them but also asked for a quote for a smaller woolshed and a larger covered yard. However, that combined was over our budget."
Woolaway then came up with a design for a two-storey structure with the woolshed on the top and yards beneath. This construction cost an extra $6000, which is basically the cost of the extra steel beams required. This kept Steve's bank balance in check. "It didn't take much persuading to spend the extra money and it is cheap cover as you've already paid for the roof." Compare this to the $50,000 he would have had to spend if he'd gone for separate covered yards…
The four-stand woolshed, built in 2011, is a light and airy space with steps up one side and a fairly steep loading ramp on the other.
The first time he ran sheep up the ramp happened to be when Country Calendar was at the property filming an episode. It added a bit of pressure, but to Steve's relief, it all went well.
The only downside of the ramp is animals can balk at light coming through the slats at the top. To counteract this, Steve has placed sheets of corrugated iron directly underneath the ramp. Another detail he may add in future is lightweight cladding on the sides of the yards for protection against the weather. Moveable rails on the upper storey landing make it easy to load out wool.
Gates on pens behind the shearing stands work on a pulley system, making it easy to move sheep from one pen to another. Once shorn, sheep exit down wooden chutes into yards below and out to the paddocks.
Steve thought he'd give the shearing boards a nice finish with polyurethane but then realised his mistake. "The shearers turned up and said, 'Why'd you do that? It will be as slippery as hell,' so I had to take it all off. "
When Steve's parents farmed here in the 1960s, wool comprised 60 percent of the gross farm income. When he started farming 30 years ago, it was 18-20 percent and today it has dwindled to just seven to eight percent. Therefore, he sees shearing mainly as a management tool.
"I am a meat producer first and foremost and wool is a by-product. The sheep are shorn mid-May so I can save as many ewes and lambs at lambing as possible. We use cover combs at that time of the year. If the ewes are a little bit cold they will seek shelter and that way, save the lambs.
"If you have a six-month shearing programme, you don't need to crutch them because they are shorn and they are less likely to get cast with the wool off."
"When we shear again in November it is also to do with management — you have to take the wool off at some stage and they are less likely to get fly strike over summer."
One advantage of having yards underneath the shed is sheep stay dry prior to shearing. There is also the option of using it in severe weather. "There's nothing worse than lying in bed worrying about your animals. You may as well be organised and have them in the shed just in case."
Has the new woolshed made life easier? "It certainly makes it more pleasant. I could have spent another $10-20,000 on the old woolshed and kept it going for another 10 years but it would still be an old woolshed. Eventually it would have needed replacing. I do get satisfaction out of this new one. It is nice to have a well-built building."
And in keeping with his love of trees, Steve has planted a row of native species beside the woolshed.
For the latest reviews, subscribe to our Farm Trader magazine here.
Keep up to date in the industry by signing up to Farm Trader's free newsletter or liking us on Facebook