Profile: Scag mowers
---
As spring growth rockets on farms and lifestyle properties, Farm Trader takes a look at the Scag zero-turn mower
Made in the US since 1983 and fast becoming a favourite on New Zealand farms and lifestyle properties, Scag is the zero-turn mower winning users over for its superior build quality and performance.
In the middle of the rolling dairy country of Wisconsin (think of it like the Waikato of America), you'll find a small town called Mayville. It's here that one of the world's most renowned zero-turn mower brands Scag has been manufactured for more than 30 years.
Offering build strength and component quality of the highest level, Scag is the epitome of US manufacturing excellence. From the cast iron spindles the company makes in-house to the top-of-the-line Ogura clutches, this is a machine designed to work hard and last for many years.
Scag is also one of only a few remaining commercial power equipment companies that manufacture its own components. Others are simply assemblers, bolting together parts that have been made for them somewhere else.
The Scag Velocity Plus™ decks are fully fabricated from triple-layer steel and are among the toughest in the industry, with nearly half-inch total steel thickness in the centre of the deck.
Included in Scag's line-up is the Turf Tiger II – an industry top performer and Scag's flagship model with petrol and diesel options available, all with shaft drive to the deck for ultimate performance.
The line-up also includes Cheetah II, which, as the name suggests, is Scag's fastest mower with speeds up to 26km/h so operators can get the job done quickly.
For smaller lawns, the same Scag manufacturing quality and plenty of power is delivered but in a smaller package with either the Patriot or Liberty models.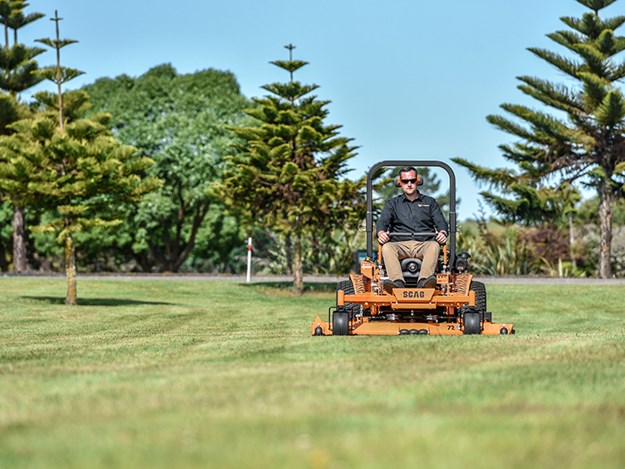 A range of attachments and accessories are also available, including the Hurricane Plus™ mulching system or the operator-controlled discharge chute (OCDC) that enables operators to shut off the chute and raise the flap with one simple lever.
Until recently, these mowers were only available in New Zealand via the Australian distributor. However, upping the ante for New Zealand customers, OMC Power Equipment now offers access to the Scag range through a local and more accessible channel.
As the country's sole distributor, OMC Power Equipment supplies the Scag range to New Zealand contractors, farmers, and homeowners directly.
Scag is available nationwide and OMC Power Equipment are available to provide more information on the model best suited to individual requirements or to arrange for a free demo.
Find new and used farm machinery for sale in NZ
Keep up to date in the industry by signing up to Farm Trader's free newsletter or liking us on Facebook