Review: McCormick X8 680 VT-Drive
---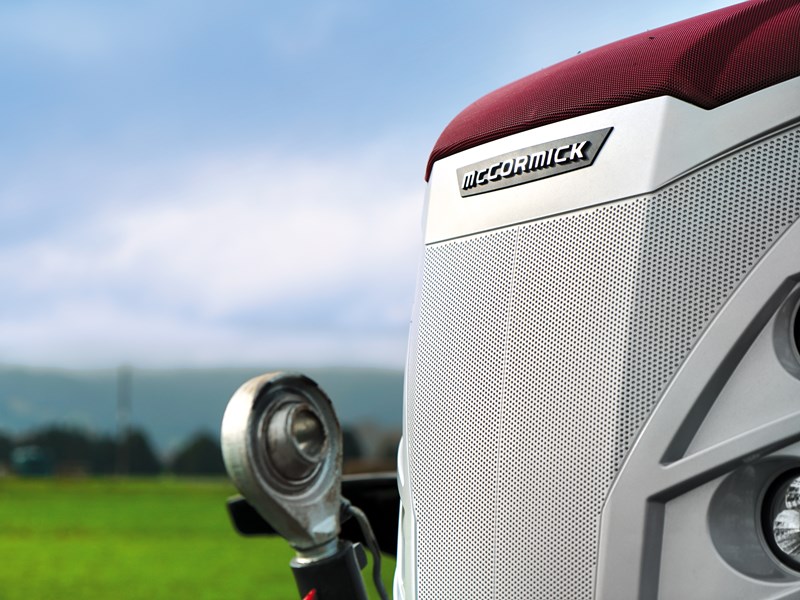 Aggressive/modern styling of bonnet and grill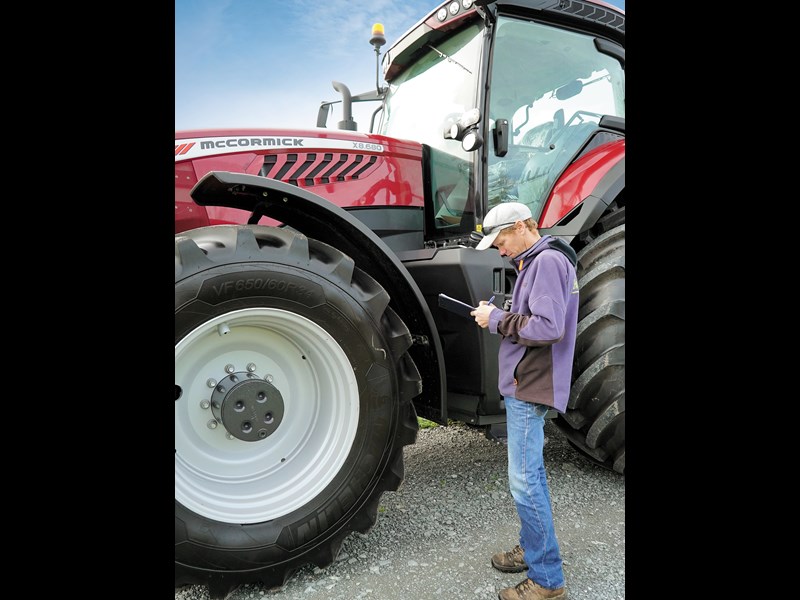 Mark Fouhy almost dwarfed by the 650/60R 34 front tyre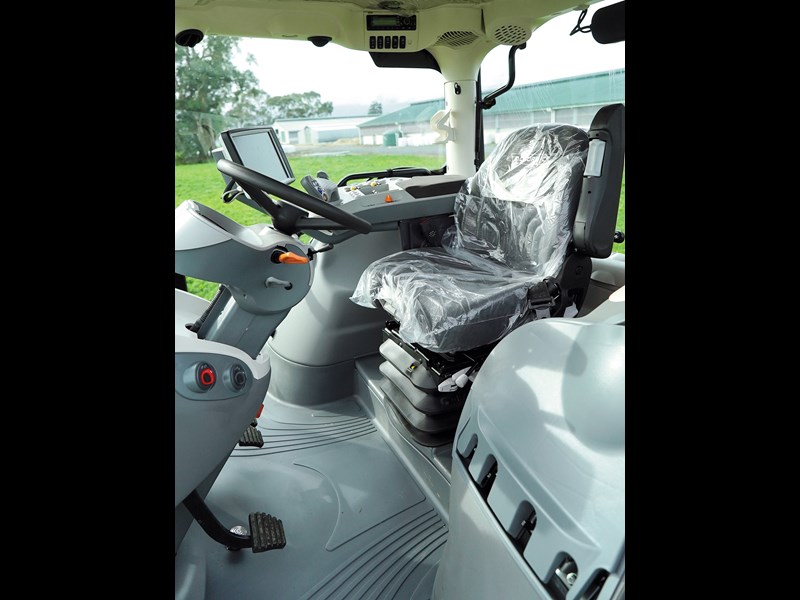 Four post cab (notice trainer seat folded out of the way)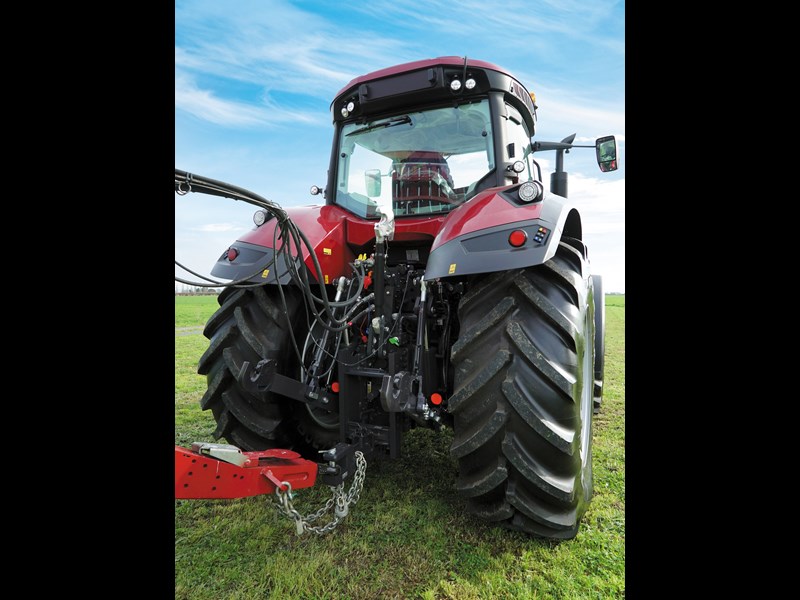 Impressive 12T lift on rear linkage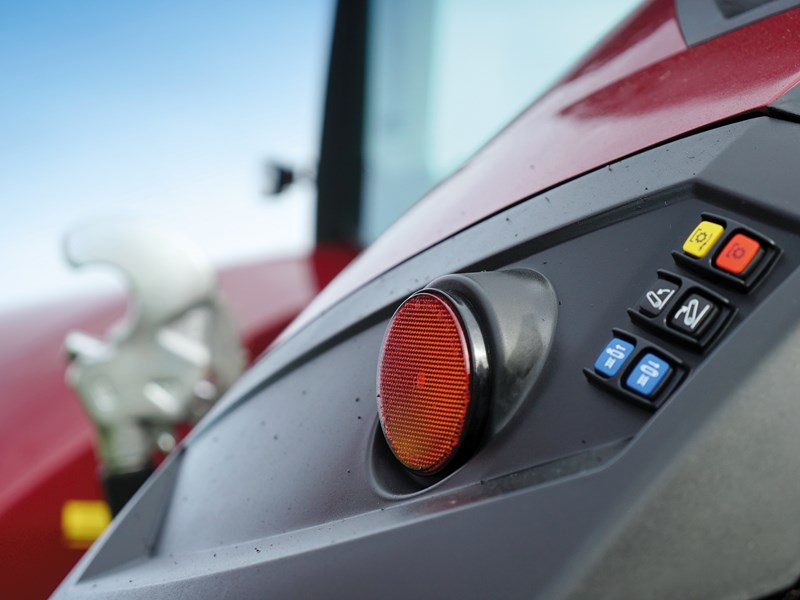 Close up of left/right rear fender controls

Delays with machinery arriving on these shores have become almost standard over the past year, so it was a sense of relief that the McCormick X8 680 VT-Drive was finally unveiled
The latest McCormick release, the X8 680 VT-Drive tops out the X8 range at 310hp and 228kW max at 1900rpm.
Introduced to the big red beast by Steve Workman, from Te Aroha Tractors, he proudly showcased this Special Edition Red – the first McCormick X8 to be sold in New Zealand.
Initial impressions were a big thumbs up: as expected of any tractor in this class, it's large, with LED lights aplenty, and on quality big rubber – what's not to like? While 'blacking out' tractors seem to have become a recent trend – with dark wheels, panels, and windows – McCormick has stayed true to its bold red aesthetic. However, rather than its usual fire engine red, this special edition is more of a classy metallic red. Ironically, it almost perfectly matched the Strautmann Magnon loader wagon we hooked it up to for our test drive.
Operating on flat ground and without being loaded due to the availability of grass and terrain options on the day we visited, it's a little hard to truly say just how much boogie the McCormick X8 has under full load. However, FPT engines are known for having plenty of torque through the low to mid-range, where they tend to be operated most of the time.
In terms of get up and go, there was no disputing its ability in this regard. It can reach 50km/hr at a low 1600rpm and tow up to 40 tonnes safely, thanks to the engine exhaust brake, as well as air and hydraulic brake connections for trailed implements.
Although appearing big in stature from the ground, it actually measures three meters long and has a turning radius of five metres and turning circle of 11 metres, so is considerably nimbler than you would expect for a tractor of its size. Weight has been spread to give a weight distribution of 45% front and 55% rear and the overall weight is 10,800kg, helping keep soil compaction down while providing optimal traction.
Transmission
Like most tractors this size, a CVT transmission is the way McCormick has spec'd its X8 tractors. Opting for a four-stage CVT allows the best match for speed and power, as well as optimum fuel efficiency. Control of the transmission is made easy via the VT pilot control with functions grouped together. With a total of four different drive modes: auto, manual, PTO, and cruise, there are plenty of options to suit a variety of tasks.
Hydraulics
Plenty of hydraulics and hydraulic flow are important to run big modern implements on high horsepower tractors. A closed centre hydraulic system with a variable pump system (flow rate of 157l/min and the option to take 212l/min) is the best way to do this effectively, using oil flow only as required.
Up to 11 electro-hydraulic remotes are available: six rear, two mid, and three front. Using a front buck rake with hydraulic top link, the test tractor makes the most of its front linkage with 5000kg lift capacity. This comes as standard on a McCormick X8 tractor. Rear lift is an impressive 12 tonnes with electronic control. Working with the three-speed PTO, PTO can be programmed to start/stop at set linkage heights.
Engine
Although there's certainly a push towards having us all start driving electric vehicles in this country, we're still allowed to operate higher emission tractors (at this stage). While the X8 is available with a stage 4/Tier4 Final engine, you can still get them as Tier3, which doesn't require AdBlue or exhaust treatment (like our test tractor for the day). Even better also is that where the 70-litre AdBlue tank should be located, this tractor had a steel lid – great for standing on to clean windows and also providing a lockable toolbox which is handy.
Back to the engine details: the Betapower 6.7-litre turbo (FPT) engine run in these tractors is similar to what you would find in a New Holland T7.310, so between McCormick/Case IH/New Holland dealerships, you shouldn't need to go far to find filters for servicing.
Scheduled servicing is the same as other machines running FPT engines: 600-hour engine, 1200-hour transmission. Daily servicing is straightforward, with the engine oil dipstick easily accessible from the ground and a clear sight glass for transmission oil at the rear. The bonnet lifts up out of the way for engine access and is secured by heavy-duty wire rope. Radiators release and fold out for easy cleaning. These are designed to be cleaned in just five minutes, so you can crack on with work and hopefully finish your day sooner. Engine air filter and cab filter are both quite away from the ground but still accessible.
Cab
McCormick has designed a premium cab, and I've seen some of the features previously on a McCormick X7 tractor. However, the X8 Premium cab version is another level again and pretty much ticks all the boxes for what you'd hope for in terms of comfort and features.
The new four-post cab has been completely redesigned over the offerings of past generations. The cab is pressurized to help keep dusty conditions outside the tractor. Inside the cab, climate control air conditioning keeps this working environment just how the operator likes it. Even better is the well-sized fridge compartment for keeping lunch and drinks cool for the day.
Like all manufacturers, McCormick has come up with its own functional controller. The VT-Easy Pilot controller is an ergonomically designed unit where you can rest your hand with key functions within easy reach. One of the standout features for me was the large 12-inch touch screen, offering plenty of room to display tractor functions and set-up. Factory-fit GPS for McCormick is Topcon. However, this test machine was being fitted with Trimble to match other tractors in the fleet where it was headed. Something I hadn't seen before is an electric button for steering column and central display adjustment, and this works well.
One thing I did feel was a little out of place in such a modern, up-to-date cab was the mechanical handbrake. However, this was something specifically requested by the client, who has a preference for simplicity in this case. The only other issue I found was that the steps to the cab, which is relatively high, are quite steep, but this is often the case in a tractor this size as to avoid losing cab space the steps need to be quite vertical.
Summary
300hp tractors are not sold every day in New Zealand, although, they certainly have their place within contracting fleets and larger farming operations. I believe McCormick has done the right thing in making use of the best components for its X8, from electrics and hydraulics to axles and tyres, etc. This should make getting parts and servicing easier, with components being familiar to technicians working on other brands.
After spending the day behind the wheel, as well as testing and installing the GPS system, the big McCormick was headed to the Manawatu where it will be put to use on heavy cultivation in spring. There are also plans to fit it with a buck rake on the front so it can spend some of the summer months on silage stacks: both jobs well suited to the McCormick X8 in my opinion.  
McCormick X8 680 VT-Drive specifications
| | |
| --- | --- |
| Engine | Betapower 6.7L Tier III, 6-cylinder turbo |
| Engine rating (hp/kW) | 310hp 228kW |
| Diesel Tank | 550L |
| Transmission | CVT, 4 Range |
| Max speed | 40 and 50km/hr options |
| PTO | 3-speed 540/1000/1000E |
| Front suspension | Electronic controlled hydraulic  |
| Max steering angle | 55 degrees |
| Hydraulic system | Closed centre circuit |
| Max hydraulic flow | 157L/min (212L/min option) |
| Steering pump | 115L/min |
| Remote valves rear | 4 or 6 optional |
| Remote valves mid | 2 optional |
| Remote valves mid | 2 or 3 optional |
| Rear linkage lift capacity | 12,000kg |
| Front linkage lift capacity | 5000kg |
| Tyres front | 650/60R 34 Axio bib |
| Tyres rear | 710/70R 42 Axio bib |
| Max length (with ballast weights) | 5150mm |
| Wheelbase | 3000mmm |
| Height over cab | 3400mm |
| Ground clearance | 520mm |
| Weight (without ballast) | 10,800kg |
Pros
Tier III 6.7L beta power (FPT engine)
Smooth, easy-to-operate 4 stage CVT transmission
12-inch touchscreen display monitor
Well-spec'd machine using quality components
Cons
Steep steps to the cab
Mechanical handbrake feels out of place with the rest of the modern cab
Find new and used farm machinery for sale in NZ 
Keep up to date in the industry by signing up to Farm Trader's free newsletter or liking us on Facebook