Top of the hops
---
Having grown up in a tradition of livestock farming, Nelson farmer Will Prouting opted for a recent change of direction, choosing to take a punt on hops growing
As Will Prouting's crop rapidly approaches harvest time, his rapidly expanding infrastructure is set to crank into action, hopefully increasing productivity and efficiency. Despite the fact his focus is firmly on managing hops these days, Richmond-based Will Prouting has livestock farming in his blood.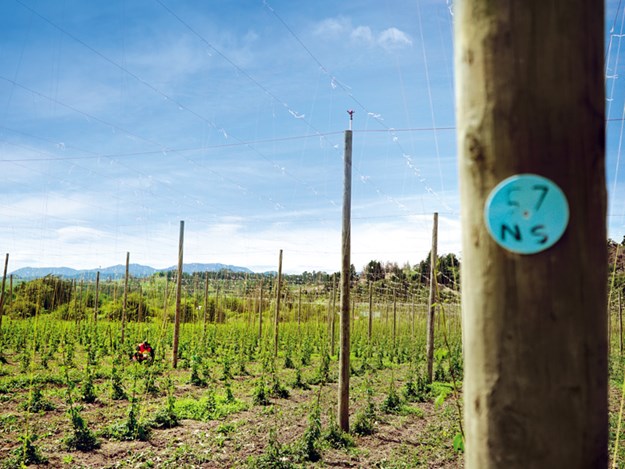 Will was born on a High Country station. His dad, Frank, ran merino, deer, and cattle on Mesopotamia Station, at the headwaters of the Rangitata Gorge, during the 1970s.
Frank, who was also a bush pilot during the era that shaped aircraft usage in the High Country environment, flew a Cessna 180. He still lives nearby and helps Will out where he can.
For Will's part, after some time spent on the land, he went off and became a mechanic. He stayed on the tools for a decade before deciding to return to farming, but with a horticultural focus.
Over the last four years, he has transformed an ex-cattle stud farm near Wakefield into a thriving hop growing business.
Centre of success
With the hop industry so dominant in this part of the country, my first question is an obvious one: what makes the rolling hills and valleys south of Nelson basically the only region in New Zealand to play host to hops?
"It's a pretty specific combination of latitude, a lack of big winds, and plenty of water that enables hops to successfully grow here," says Will. "Of course, having such a strong beer industry boasting plenty of history right on our doorstep also makes this region the only game in town."
Will says the industry is very supportive, with the New Zealand Hops Ltd cooperative ensuring that around 80% of annual yield heads for overseas export and the other 20% remains in New Zealand for local supply.
"Even with the big brewers in play, along with the recent surge in smaller independent beermakers, 20% is plenty to keep everyone happy," says Will.
There are 25 hop varietals grown in New Zealand. Will currently grows four, although will look to have planted nine by the end of 2020. Of the hops Will already harvests, varietals such as Motueka Rakau and Nelson Sauvin offer strong returns per hectare.
Flying V
The farm currently covers 31 hectares, although, Will plans to establish a further 10 hectares of vines early this year, taking his total vine-growing area up to 20 hectares. Will recently had a new Alpine Buildings processing shed built on the property, the construction of which was covered in Farm Trader issue 277.
Hop planting commences in September, with an intense, short harvest window of between five and seven days occurring in February, depending upon the specific varietal. The harvesting and drying process all has to happen at once, so it's 'all hands on deck' for this period.
A new processing machine imported from Europe should enable Will and his team to streamline the harvest to a certain point this year, meaning the harvest crew will number only around five (up to 12 have been needed in previous years).
The vines stand 4.8 metres tall. It isn't until you walk among the hops that you realise they are grown in a 'v' formation, ensuring the maximum amount of light can get into the vine canopy from every angle. Once established, the vines have on average a 25-year production life.
"After the vines have been planted, it's all about water, fertiliser supply and weed control," Will says.
"There's no need for sprays, as there's only one mite that can affect the vines, so we just have to be vigilant in the look-out for that.
"But actually, as far as horticultural crops go, hops are pretty robust. After the harvest, we essentially have a four-month maintenance phase."
String thing
Much like hay, the hops need to be dried out, so they don't compost and rot. In addition to the new processing machine – which is designed to automatically and accurately strip the vines of foliage in order to separate out the hops – a large drying kiln is being installed in the new processing shed.
At an operating temperature of 60 degrees Celsius, the hops spend around 10 hours in drying drawers inside the kiln before being baled and sent off to the cooperative for distribution.
The new machine will transform Will's harvest, although, he will still rely upon his trusty 85hp SAME tractor to bring the crops in from the field.
"That little tractor is fantastic. I reckon it does about 80% of the grunt work around here, from stringing the lines to the actual harvest; it's a very good wee machine."
As far as technology goes, though, Will reckons he spends most of his time thinking about string.
"String is crucial to the whole operation, but at the same time it is also a nuisance," he says.
"It's the only non-biodegradable waste product from the hop growing process and you'd be amazed how much of it can amass following harvest.
"But there are some significant advances happening in biodegradable string. I think this year might see some commercially available products that we're eager to try out. We really want to work as sustainably as we can." I'll drink to that. Well, eventually.
Find more farm machinery for sale in NZ
Check out the Alpine Buildings shed here
Keep up to date in the industry by signing up to Farm Trader's free newsletter or liking us on Facebook