An alternative to the ATV
---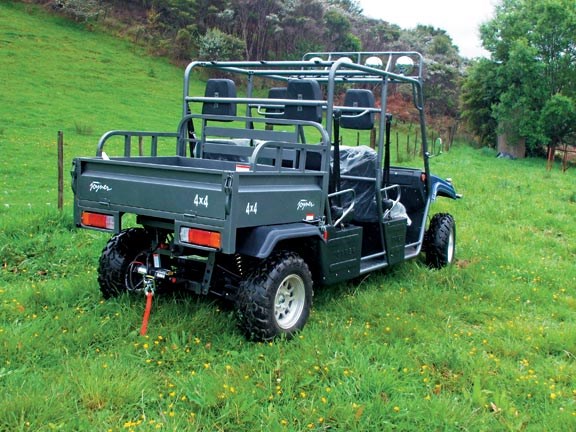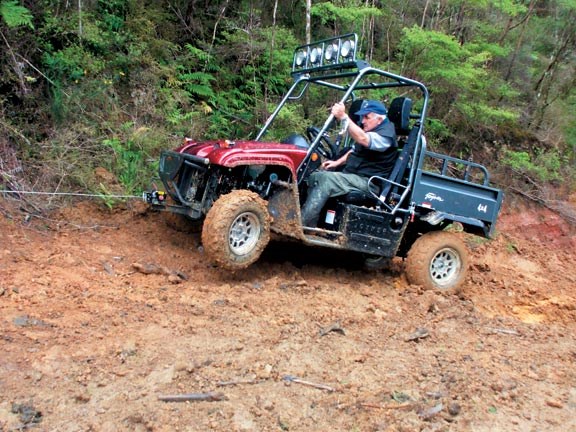 Duncan Munro, a 4WD driving instructor, tests UTV in New Zealand conditions
The ATV has evolved over the years to capture a large rural market – moving from the motorbike to the three-wheeler, to smaller ATV and now the larger, more powerful ATVs to carry more equipment and tow more weight.
A couple of issues have arisen in the ATV design. Primarily they are designed to carry one person, however, over the years the carrying of a second person has become common – this is dangerous and roll bars are not consistent in providing adequate safety performance. Another issue has been the increasing cost.
Is there a market for a vehicle that better suits the job ATVs were designed for and one that's possibly safer?
Mike Pope of Lifestyle Tractors & Machinery, Puhoi, thinks so, and after doing research has started to import a range of Joyner UTVs. 
These are designed in America and manufactured in China. There are two- and four-seater versions with a small rear carry tray, roll cage and seatbelts.
The initial design and tests were carried out in the deserts of Arizona, US. Mike approached me to do an evaluation of them in New Zealand, in our local conditions. He wanted feedback on the concept, performance and any improvements that I could suggest.
I have over 40 years farming experience in the Clevedon/Kawakawa Bay area. I have experience working with 2WD and 4WD tractors, Land Rovers and Jeeps, farm motorbikes, the New Zealand three-wheeled gnat, and the ATV.
Mike brought out the two-seater Joyner 650cc Commando UTV 4x4. We drove it for 2.5 hours in wet, slippery conditions on the open pasture, and on the clay tracks in the forest and native bush areas.
The UTV comes with a winch and receiver hitches and wiring for front and rear use.
Overall impression
It performed very well – as well as I had expected it to and as well as it should for the type of activities that it will carry out. It has the capability to go past that. I believe there is a market for this vehicle.
Layout – external
• It is slightly larger than the largest ATVs, with a good deck at the rear that lifts up to access the motor
• It has two receiver hitches (at the front and the rear) for the winch, which should be able to be used for a tow hitch as well at the front and rear
• The front receiver hitch and the winch bracket require some fine-tuning
• There is room under the lift-up seats to put in some extra storage
• The air intake was quite high behind the seats.
Layout – internal
• It is left-hand drive, with the gear change being right-hand use
• It is quite easy to get into and out of
• The room seemed adequate
• The roll cage appears strong, positioned well to use for the seat belt mounts, and has a good cross-member there for the head restrains
• The seat belt position is about right and easy to use. That's important because it encourages people to use them.
• The seats are very basic, but what I would expect. They don't hold you well, but those types of seats are harder to get into and out of. A basic seat style for a basic outdoor work vehicle.
• The steering is very comfortable
• The dash was under plastic temporary protection so I didn't really get to see what was there. It is digital and quite visual.
• The switches were to the left and within reach
• Handbrake handy
• The gear level nicely within reach
• The clutch, brake pedal and accelerator positions were good.
The drive
• It was wet and slippery
• It was along metal tracks, cross-axled across water tables, across flat land, up and down in the forestry, down to and along fence lines, over a range of contours of open pasture, and ended in the native bush sections clay tracks
• Approximately 6kms of what would constitute the major typical use for this vehicle on high hill country farm work
• The return was down the 4.5km metal road, driven at a speed one would use to get home at the end of the day.
What I expected and asked it to perform was well within its capability. It has good approach, departure and ramp over angles, and has a good ground clearance and suspension. It covered all areas very well, except for two that would test all off-road vehicles.
These two areas were about 5-10m long, on the clay tracks. This clay is very sticky and was about 200mm deep and still not firm at the base.
The tyres just clogged up and wouldn't clear, which didn't surprise me. I only drove those two areas because we were in the bush and had trees to winch off.
Without the winch I would not have tried, because I knew that even good mud tyres would struggle.
The first one I got Mike to push and heave and bounce etc, as we were possibly just out of reach of the best tree anchor points (Murphy's Law). Much effort and we got there.
The second one, manual help wasn't enough so tried the winch. A little winch with not a lot of rope saw us needing to pull twice onto the better (still slippery) clay.
Drive speed, power and torque
• You would probably drive these UTVs slightly slower than an ATV, but they have a good on-road speed. I didn't test that, but Mike has and the manufacturer's figures were higher again. They're not designed to swing your leg over and speed off, but they are no slug either.
• Gear range is very suitable. I drove mainly starting in second gear, and using it and third gear, as I would expect. First is for descending steep slopes and negotiation tricky places; fourth is road and flat paddock areas.
• The gearshift requires getting used to. Being a right-hand shift is one adjustment to make; the other is shifting into third was sometimes hard to gauge, while at times very smooth.
• It has adequate power and torque, although in places there is a lag when you go to accelerate quickly on a slope. Getting the revs up a bit approaching those situations avoids that.
• Mike mentioned that removing the catalytic converter (US requirement) can give 15 per cent more power. This would need to be balanced across a range of issues.
Dry condition driving
• Would be similar to the characteristics of an ATV. Turning radius would be poor because it lacks the open differential in normal vehicles. This gives it the great traction these vehicles and ATVs have.
• I asked Mike to check how the power is directed to the axles. There was one occasion I thought its drive system may be a bit different from the ATVs.
• I drove in wet and slippery conditions. Both these conditions make turning easier than straight, flat, dry surfaces, as it allows the inner wheels to slip.
• On ATVs you can stand and put weight on the outside wheel, allowing the inside wheel to slip in drier conditions, this doing the work of a differential in normal vehicles. Driving technique can help by driving in a way that slightly bounces the vehicle allowing the inner wheels to slip, eg picking rougher ground to turn on; turning on a slope; driving assertively; or all three simultaneously.
Deep water
• Driving deep water is out of 4WD, AWD, ATV and UTV vehicle manufacturers design. They have safety recommendations. Do it at your own risk.
• You would need to check the owner's manual. To drive deep water can be dangerous to the driver and require expensive repairs to the vehicle.
• The air intake is quite high behind the seats. It has a small intake that could quite easily have hosing attached to extend the height. You then need to ensure the electrics are protected adequately.
Manuals
• I only glanced at them. Very large manuals with all the parts listed. Designed for you to have all you need in the field to strip the vehicle and put it back together. They are DIY manuals.
Winching
• Is a whole subject in itself! There is a manual. Read it.
• Murphy's Law says 'your rope is just never long enough', or 'there will not be any anchor points'. Many times he's right, but they have their purposes, and Pukerau 4WD Ltd gives winch and recovery training.
• The first short pull we had a good tree to winch off, so just used the winch to pull the vehicle. (Recommended as driving and pulling can load shocks onto the winch, the vehicle, the rope and the anchor that can damage equipment.)
• The second short pull had only a 40mm diameter tea tree on a bank to pull from. It was going to pull over so I needed to drive slowly in first gear to assist. That required some riding of the clutch to achieve a smooth pull.
• Both pulls were successful. The winch is small, but it did the job and recovered us. There would be larger ones to upgrade to, if considered necessary.
• On the second pull Mike got carried away taking photos, not noticing that the rope wasn't loading onto the winch drum correctly. It jammed but was easily fixed with the supplied screwdriver.
• We noted that a change to the mounting bracket was required.
• Winches for these vehicles and the common ones for 4WD are manufactured for 'periodic use'. At times we go far beyond that. They all have their limits.
• Previously, the front received hitch had become jammed with clay, requiring that to be removed before we could shift the winch from the rear
• The winch switches are mounted on the dash, no external switch
• Great for use in the cab; awkward for loading the rope evenly at the start of a winch or when reloading the winch rope
• An additional synthetic rope (non-stretch) rated similar to the wire rope would be a bonus as a winch extension rope, and a handy rope as well.
Questions for Mike Pope
Q: Is it easily transportable? 
A: It needs a trailer that is at least, 10'x5', and will fit on the back of a small Japanese truck.
Q: Flat rolling terrain or hard, steep, slippery areas?
A: Both. It may not be as nimble as the smaller ATVs, but I believe it should match the larger workhorse ATVs. If there are any disadvantages, they will be made up for in having the two safer seats, the roll cage and the small but good size tray. Stability comes down to driving style on the sides of the hills, and the weight height and distribution, and whether the load will shift. Driven carefully it looks if it should be very stable generally, obviously when the driver is on the downhill side it will be least stable than when on the top-side. You cannot shift body weight as you can on ATVs to help improve stability, but you can shift a passenger's weight very effectively.
My recommendations to fine-tune
• Front indicator lights are vulnerable. Replaced with flush ones would be better.
• Front receiver hitch redesigned to give better approach angle, and designed that earth can be pushed through or plate designed to stop earth entering it
• Winch roller fairlead bracket redesigned to line the winch drum to the roller fairlead for correct line pull
• The gearshift into third requires looking into. I didn't have time to work out why it was not consistent (very good then hard to find at times!).
• For the winch and recovery include: a towing strap (four-tonne) for towing and using as a tree trunk protector; leather gloves (light are OK); 2.5t rated shackle.
Keep up to date in the industry by signing up to Farm Trader's free newsletter or liking us on Facebook