New Holland T6000 series
---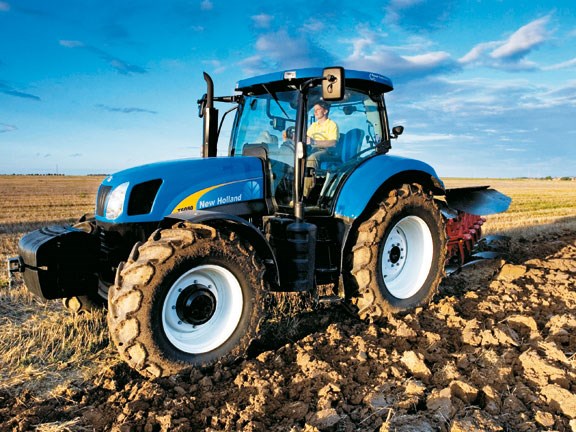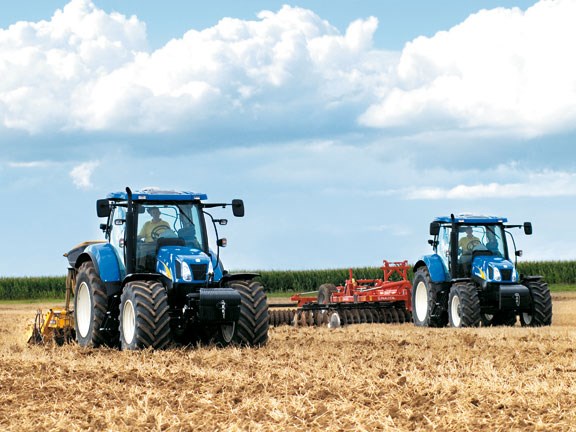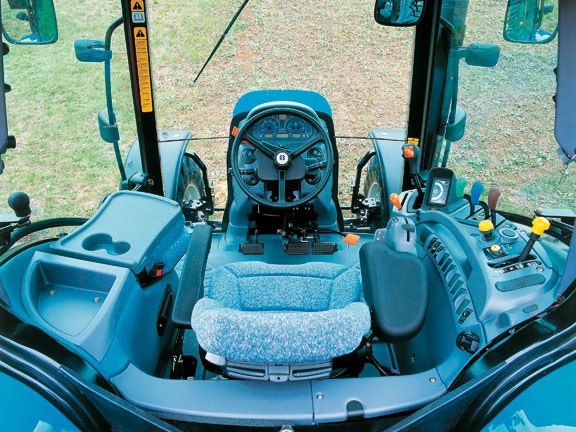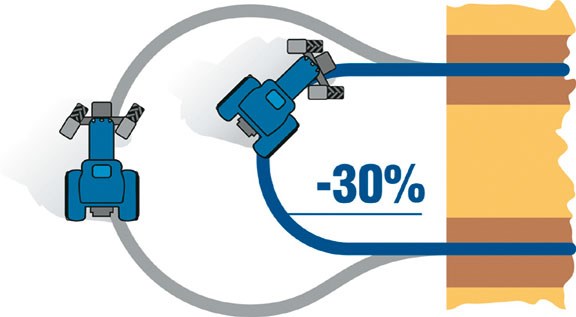 Combining technology and comfort, New Holland's new range of tractors are versatile enough to be used in a variety of situations
New Holland's extensive T6000 series tractors are designed to meet the differing needs of dairy, livestock, horticulture, arable and contracting customers. Each model is packaged to help customers specify their perfect machine.
The entry level T6000 Delta range has four models ranging from 101hp to 126hp, making them ideal for the livestock farmer looking for a well priced, reliable, standard specification tractor.
Moving through the T6000 series is the Plus range, with five models from 101hp to 141hp. The Plus range offers greater hydraulic capacity, greater operator comfort, with the deluxe air suspension seat and the active Electro Command™ transmission with advanced auto modes, and programmable shift points.
Next is the T6000 Elite range, with the new generation Tier III common rail four-valve engines that offer the best in class power boost figures in PTO and transport modes.
The last model range in the T6000 series are the Range Command/Power Command models, featuring the latest semi-powershift and full-powershift transmissions.
Powerful, efficient engines
All engines in the T6000 series comply with Tier III emissions standards. The Delta and Plus ranges both feature four- or six-cylinder turbocharged engines with air-to-air intercooler (except T6010) giving economic fuel usage that helps to lower everyday running costs, along with industry leading 600-hour service intervals.
All Elite models feature the latest electronic common rail fuel injection with internal exhaust gas recirculation, giving impressive power and torque and New Holland's EPM (Electronic Power Management) power boost feature, which gives up to 34hp more to the operator to increase the tractor's output and reduce the power-to-weight ratio – but only if it needs it.
EPM works in both PTO and transport applications, and also for high demand hydraulically powered tasks (only on T6000 Range Command and Power Command models from January '09 onwards). What makes New Holland Engine Power Management unique is that it's not a simple on/off system. The extra power obtained from the EPM is proportional to the load; the higher the PTO or hydraulic load encountered, the more fuel is injected and as load reduces, so too does the fuelling.
Transmissions for all applications
New Holland's proven Electro Command transmission gives eight clutchless gear changes on the move, with single lever control and electro hydraulic forward/reverse shuttle. Speed matching is standard across the entire T6000 series.
The Plus and Elite models also feature Auto Field and Auto Road modes and programmable engine speed shift points so the transmission is always in the right gear at the right time. The six-cylinder Elite models have four transmission options. A 50kph or 40kph 19x6 Eco transmission is available in both Range Command™ and Power Command™ formats and offers an efficient 40kph 19th gear, which reduces fuel consumption and cab noise.
Customers looking for the last word in versatility can also specify creep speeds to create a 29x12 transmission that meets all needs.
Smooth transmission operation is enhanced by auto shifting and IntelliShift™ systems, allowing operators to get the most from these sophisticated transmissions. Auto modes can be set for field or road, with gears changed automatically to maintain a constant speed in varying conditions and terrain. The IntelliShift™ system accurately determines change points dependent on load for seamless changes on the move.
Intelligent PTO power
New Holland's PTO power boost also has an extremely clever automatic 'buffer' memory function (Range Command and Power Command models), working on a 20-second rolling average. For example, when power harrowing, the tractor remembers the average boost required over the last 20 seconds before the power harrow is lifted to execute a headland turn, as soon as the power harrow is re-started (either manually or using the Auto-PTO function), this average boost is applied instantaneously to allow recalculation to begin without losing productivity. The rolling boost calculations then continue as normal and the cycle is repeated at each headland turn. (This buffer also remembers this information even if the tractor is keyed off).
Ultimate comfort
The Horizon cab fitted to all T6000 series tractors offers unrivalled comfort and visibility thanks to no 'B' pillar and a large 5.87m2 glass area. All models also feature a high visibility roof panel, giving superb visibility for front end loader work.
All Elite models and the T6050 and T6070 Plus models also come standard with Comfort Ride™ cab suspension. Low noise levels, as low as 70dB(A), make for a more comfortable working environment during long days in the field. All tractor functions, switches and levers all fall easily to hand.
Maximum productivity
Further features are available on T6000 Plus and Elite series such as Terraglide suspension, New Holland's unique SuperSteer™ front axle, which provides the tightest turn of any tractor of this size and power, and FastSteer™, are available for customers who want the highest levels of performance. T6000 Elite models also feature the HTS Headland Turn Management System as standard, automating many tractor functions at the touch of a button. The combination of EPM, HTS and transmission and PTO auto modes make the T6000 Elite the ultimate performer in its class.
The four ranges within the T6000 series clearly define their own space in the market. The Delta offers excellent value while the Plus builds upon this strong foundation, and the Elite and Range Command/Power Command models make T6000 series from New Holland the perfect choice for versatility, comfort, power and economy.
Keep up to date in the industry by signing up to Farm Trader's free newsletter or liking us on Facebook