Honda MUV700 Big Red
---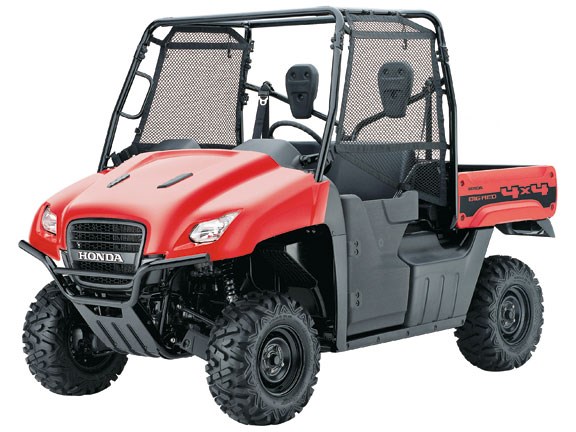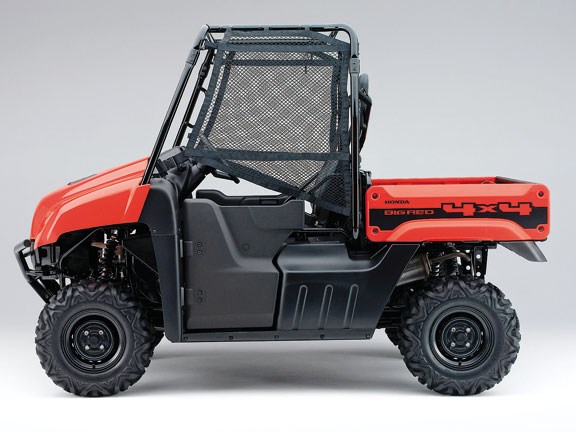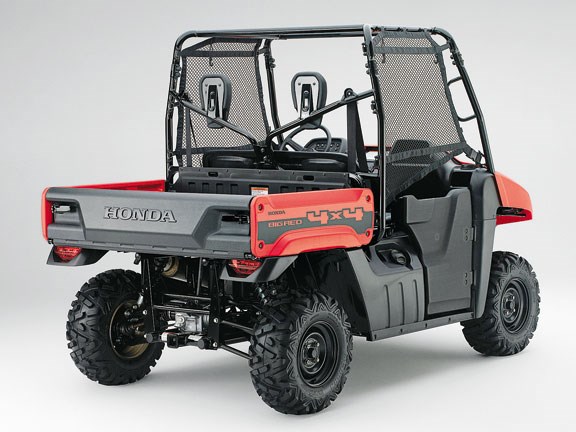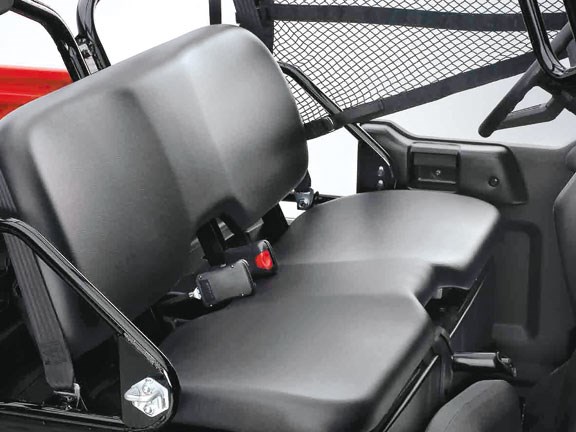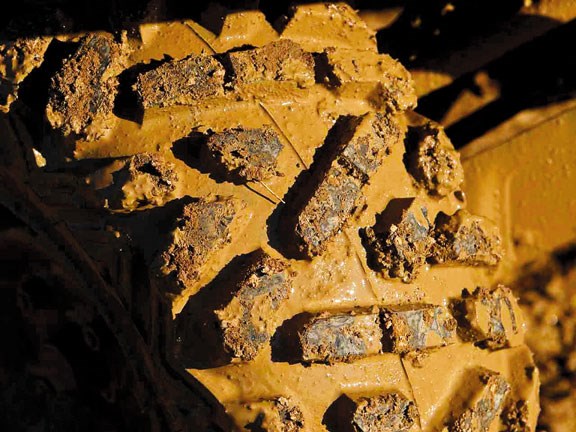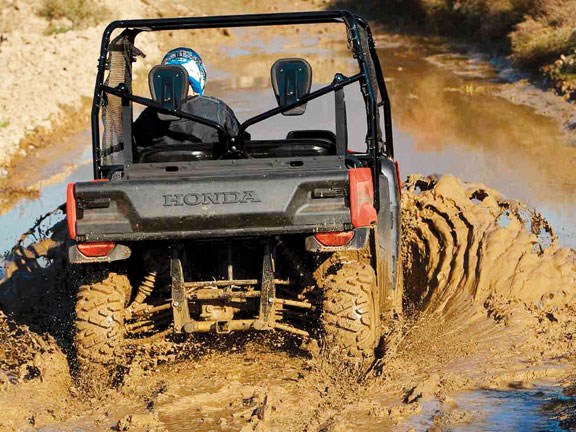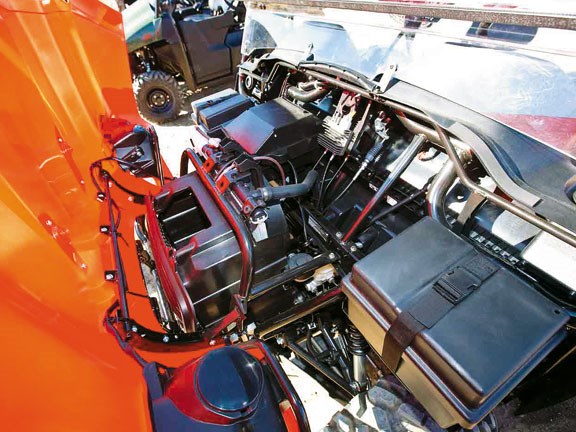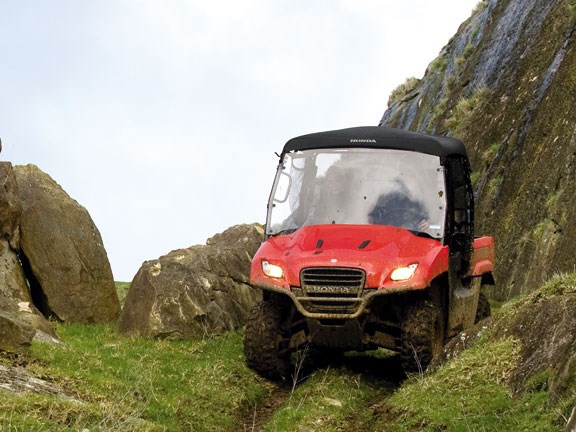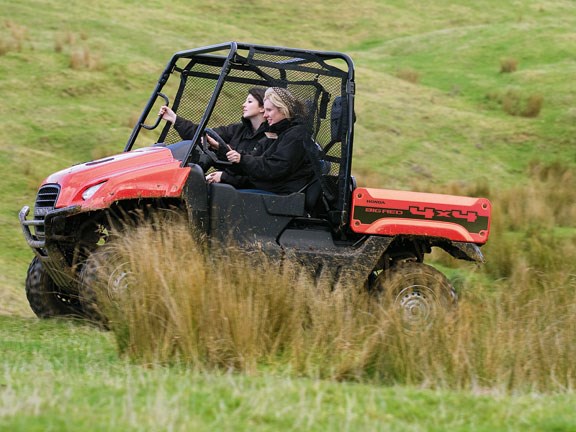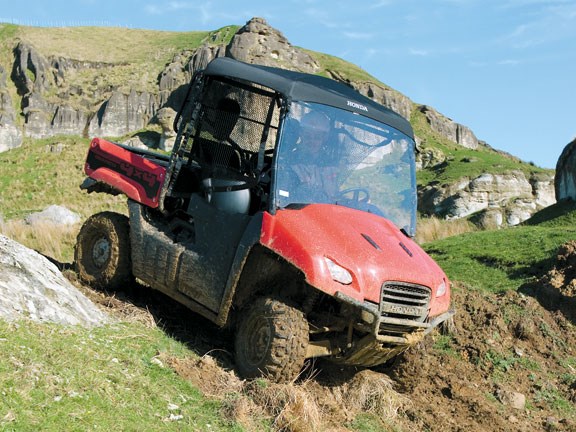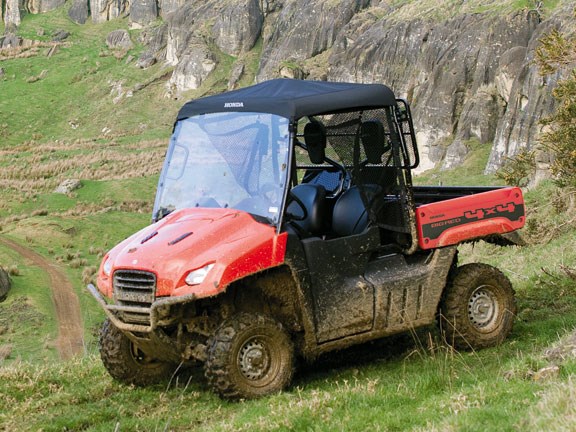 Bridging the gap between a mulish work rig and a razor-sharp sport machine, Honda's Big Red is a comfortable, fun ride – but make no mistake, it leans heavily toward hard labour...
4WD setting with front and rear diff lock provides maximum traction
Increased carrying capacity
Updated cab with contoured bench seat
Tight turning radius
Good top speed and ride quality
Honda's goal for 2011 was to improve the payload capacity and make the MUV increasingly usable for the farmer. The oversized rear box is now rated for 454kg of cargo, double the previous rating. Additionally, towing capacity from the two-inch hitch receiver has increased 136kg for a 680kg total.
The fuel-injected, 675cc single-cylinder engine is unchanged. A 9.2:1 compression ratio squishes fuel mixture fed by Honda's PGM-FI electronic fuel injection with a 40mm throttle body. Stomping the throttle provides acceptable acceleration, and activating 4WD provides enough thrust to push the driver back into the new bench seat. Starting is no issue with the EFI.
Big Red also uses the same three-speed automatic transmission with an automotive-style torque converter. Unlike other UTVs, this system doesn't use a belt that will wear out. Plus, it has the benefits of being sealed, which means maintenance is lower and there's no concern about water getting inside. Also, the engagement off idle is smoother than a '70s action hero.
There's none of that stop-start jerky feeling as the engine spins up. Perhaps the downside is that it actually has to shift gears. The continuous spread of power from a CVT is nice, and Honda's transmission seems to work a little harder. Shifts are lurchy at times, particularly under slow or moderate (normal) acceleration. The three-speed meshed best and didn't suffer from heavy rpm drop when accelerating at full tilt.
In 2WD the rear differential is unlocked, which makes for a tight turning radius and low impact on the soil. Honda even claims that the new rubber creates less damage on turf despite the gnarlier Maxxis tread pattern.
Only issue in 2WD is if the Big Red gets hung up on relatively minor obstacles. At low speeds, lifting one rear tyre off the ground stops forward momentum. A quick shift into 4WD is all it takes to get moving again. The standard 4WD position locks the rear diff but leaves the forward diff unlocked.
For maximum traction, a third setting is available that locks both ends. Turning radius is relatively unaffected in 4WD, but steering becomes harder at the wheel and the corners get wider with the front diff locked.
One of the drawbacks to an open rear diff is that it doesn't want to slide as easily. Drifting the Big Red is still feasible and actually very predictable, but it's a four-wheeled affair. The heavy front end likes to push when driven aggressively.
Narrower front tyres with more bite would likely help, but considering the speeds, there's no real need for improved handling as there's not much reason to be pushing the big Honda. It's a work vehicle after all, so best to drive it like one.
The 65kph top speed is nice when you have to cover ground between paddocks, but the non-adjustable front suspension and limited rear shocks aren't up for hammering through serious rough stuff. They're stiff and built to carry big weight from one point to another.
The independent double-wishbone rear suspension switched out dual rate springs for heavier single-rate coils and the shocks are now preload adjustable. Honda also increased the tube thickness on the rear lower A-arms by 0.6mm. Ride quality on the Big Red is fine. It's not overly comfortable, but with 150mm up front and 180mm of suspension travel in the rear, the MUV covers rough terrain adeptly.
One of the things that Honda is proud of is that the Big Red's handling performance is consistent whether hauling cargo or empty. Even towing a trailer with a full load in the cargo bay, the Big Red remains very well-mannered, though speeds are obviously lower.
Honda has put a lot of safety features into the Big Red. In doing so, it also created a laundry list of tasks to get moving – door, net, seat belt, key, gear select and parking brake. Mostly it's the first two items that take up a lot of extra time. However, I can see the benefits. Some UTVs don't even have a parking brake and the Big Red's is strong and placed where it won't likely be nudged by a rider.
Disc brakes on all four wheels provide great stopping power. Outright binding grip from the hydraulics aren't mind boggling, but the feel is consistent and ample in most situations you're likely to encounter on the farm.
Brake lines are crisscrossed front to rear which means there is always braking force applied to both sides of the machine and to the front and rear, even if one of the lines is damaged.
One of the only gripes about the Big Red is a lack of display features. There is no speedo, tacho, trip meter, hour meter or even a basic clock.
Fortunately, the Big Red has a long list of Honda Genuine Accessories to help make up for some of the smaller items. In stock trim, Big Red owners can expect to pay $23,110 ex GST for the standard red.
Having the ability to head out for an easy trail ride or hunting trip brings extra value to the Honda, but ultimately it's the solid engine, independent suspension, increased payload and comfortable, usable cab that make this the machine one to think seriously about when it's time to go to work.
See the Honda Big Red for sale on Motorcycle Trader.
Specifications
Engine Type Petrol, liquid-cooled, four-stroke, OHV, semi-dry-sump
Displacement 675cc
Bore x Stroke 102mm x 82.6mm
Carburetion Programmed fuel injection
Ignition CDI with electronic advance
Final Drive Direct front and rear driveshafts
Front Suspension Independent double wishbone
Rear Suspension Independent double wishbone
Front Brakes Hydraulic Disc
Rear Brakes Hydraulic Disc
Front and Rear Tyres 25 x 10 12
Dimensions (LxWxH) 2913 x 1625 x 1953mm
Ground Clearance 262mm
Kerb Weight 650kg
Towing Capacity 680kg
Fuel 30 litres, including 5.7 reserve
Keep up to date in the industry by signing up to Farm Trader's free newsletter or liking us on Facebook