Gallagher Smart TSI and EID weigh system
---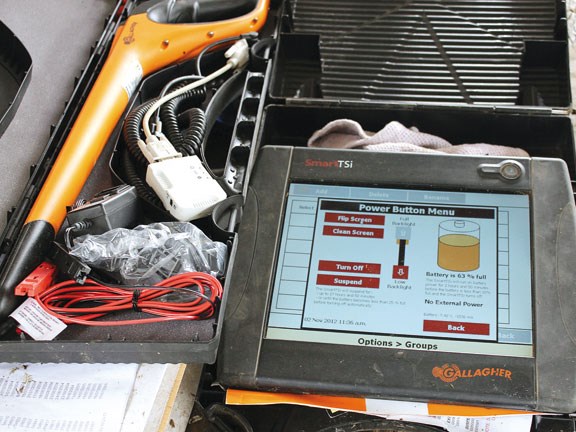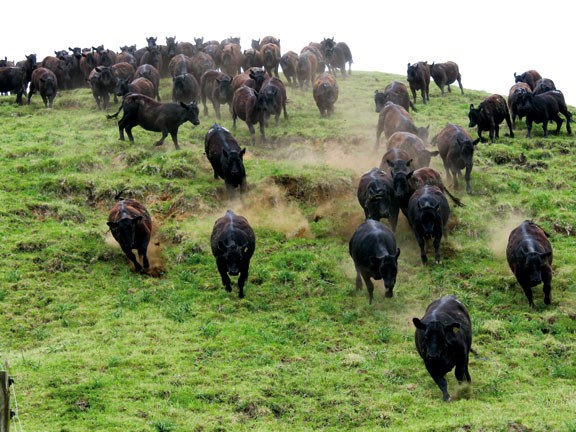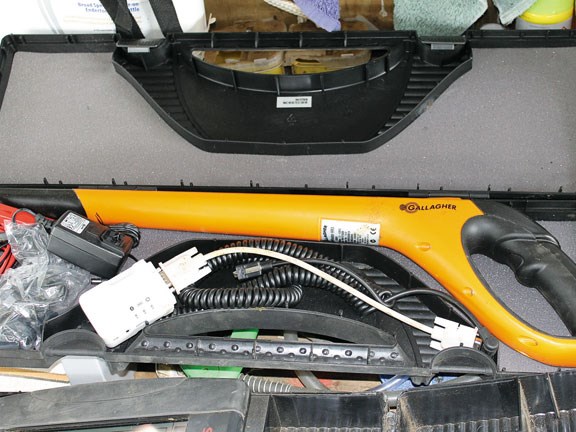 With NAIT regulations in full swing, Mark Fouhy spent some time getting familiar with the Gallagher Electronic weighing and Identification (EID) system and discovered it has a whole lot of potential to make farmer's lives easier.
Up until a couple of years ago, I had only really dealt with Gallagher for electric fencing gear, however after conducting this test and the limited experience I've had with their weighing system, it has become apparent that Gallagher also know more than a thing or two about animal handling equipment.
This month I tested the Gallagher TSi Livestock Manager Weigh Scale and Data system which is made up of an integrated weigh scale, computer and animal management system. The equipment includes a TSi weigh monitor/computer connected to Gallagher heavy duty load-bars, plus a permanent R600 Series Panel Electronic Tag Reader to read EID tags and a portable HR3 Hand Held Electronic Tag Reader.
In the past I had only used this type of equipment for normal farm duties such as weighing and performance recording, but with the introduction of the NAIT (National Animal Identification and Tracing) regulations for cattle back in July - and soon to be introduced for deer in March 2013 - I have discovered the Gallagher system has a lot of potential for gathering and utilising information to better manage livestock.
NAIT regulations recommend all cattle farmers have an Electronic Identification (EID) system to record all information about their livestock. Gallagher offers both a permanent panel and handheld stick-reader for reading and identifying stock. These options don't cost an arm and a leg, are designed to be efficient and not to add to your workload.
The Test
All Gallagher hardware used in conducting this test has been very well installed and set-up on the property of Tim and Kelly Brittain at Maihihi, near Otorohanga. By well set-up, I mean the work area is completely concreted, including underneath the crush. The load bars are also dyna-bolted down and securely fastened to the Te Pari hydraulic crush.
It is important with a system like this that you keep the feet of the load bars level to give an accurate weight, faster. If there's movement because the bars are out of level, it'll take longer for the weight to be locked in, drawing out the whole process.
The Brittain's work area is also covered, which is pretty important, as we all know how much electronics like water. A power supply for charging the internal battery of the TSi and powering the panel reader was also on hand, to help keep things flowing.
For the Brittain's and every other farmer who must comply with NAIT regulations, the investment in equipment like this is not cheap, but rather essential for business.
I have been using this particular Gallagher set-up on a sheep and beef operation for almost two years now, regularly weighing mobs to know whether they are on track to achieve target weights as individuals and overall as mobs. A huge benefit of the TSi system is that it gives you an overall lifetime average weight gain and informs you of the weight gained or lost since the last weigh-in. This is very helpful for quickly identifying poor performers and those that may have an animal health issue. It's also a great way to work out which livestock to breed and not to breed from.
Heavy duty load bars
Tim and Kelly have opted for Gallagher 1000mm heavy duty load-bars mounted under a hydraulic Te Pari Titan cattle crush. These bars have a working capacity of 3500kg, but you have to remember that this is for the pair (1750kg each), which is about 500kg - more than some other brands that are top of the range load-bars, but 1000kg less than Gallagher's top of the range 4.5-tonne Super Heavy load-bars.
The Brittain's TePari Titan crush weighs in at 1090kg. To give you some perspective, our biggest sire bull weighs around 1000-1100kg, so if you manage to jam two 750kg two-year old bulls in the crush, you'd still be nearly a tonne under maximum capacity.
Gallagher load-bars are designed to cope with the harsh New Zealand environment, boasting a galvanised steel chassis construction, a waterproof design and spring-wire protection over the tough polythene cables. It'll provide years of trouble-free use.
R600 Series Panel Electronic Tag Reader
The EID reader you will require will depend on the system you're running. Tim and Kelly's Otorohanga property has the one centrally-located set of well-maintained cattle yards, and another smaller satellite set, with about ninety percent of the cattle work done at the main yard. In this situation - where the power and equipment is all located - the R600 permanent panel reader is a good option, mounted on the front right-hand side of the crush. The R600 is recommended for either sheep or cattle constrained in a weigh-crate, they also make a 1300 panel reader (the number in the name of the reader references the size of the panel in millimetres) for dairy/walk-past applications.
Gallagher R series readers require an external 12v power supply, if your yards are at the back of the farm you can opt for the BR Series which have internal re-chargeable batteries, like the weigh monitors have.
Optional Bluetooth communication from the R600 panel reader to weigh monitor (TSi) works well. When the Bluetooth is on, a symbol appears on the screen. Conversely if your Bluetooth reader is switched off, the Bluetooth symbol will have a cross through it.
When an animal enters the crush and the panel reads the tag, it will let out a loud audible beep to say it has been read, which I found very helpful. Keeping all your EID tags in the same ear (i.e. all in the right ear) makes this job a whole lot easier when using a permanently fixed reader. It's not ideal if the reader is on the right and one of your cattle has a tag in its left ear.
SmartTSI monitor
In my opinion the Gallagher TSi Livestock Manager is like the Rolls-Royce of weigh monitors; a vital component to get the best out of all the other components. Basic setup of the TSi touch screen monitor is easy. Simply follow the instructions on the screen and touch the word of the function you want to set-up - you can't really go wrong. If you hit something you weren't meant to, just touch the 'go back' button and all your information will still be there.
I like that the touchscreen has a full keypad, rather than just numbered files to choose from, so you can label a mob either 'heifers', or 'bulls' or whatever. You then can weigh that mob and six months later the file will still be there, so you can see which mob was which and what the recorded weights were.
Another very good feature of the TSi's keyboard is that you can type in a variety of different animal health treatments you're using, be it drenching or copper injection, for example, and the withholding period of the product. If you're using it in conjunction with your EID unit, the stock can be identified before being loaded on to the truck for the works. Or it can be used for your complete animal health recording, required by most meat processing plants.
The Gallagher TSi monitor has a lot of information on the screen, like the animal's weight gain since the last weigh in, overall lifetime weight gain, mob name, and the animal's current weight.
Set-up functions include Bluetooth on/off and automatic or manual weight record. We almost always used automatic, which seems to make the recording process a lot faster. When a weight is recorded a bright red LED light flashes on the monitor which lets out a beep.
Bluetooth is available in most new weigh monitors now, but you will still require at least your load-bars to be connected to the monitor. The load-bars are mostly compatible between different brands of monitor, but Gallagher/TruTest has the male pins on the monitor, and I believe Iconix/Donalds are the opposite. If you are planning to upgrade a current weigh system it would pay to check, although I think adaptors are available to make them fit either way, which would be far cheaper than a new set of heavy duty load-bars.
Gallagher provide APS software with the TSi system; this loads on your home computer so you can transfer the information you've collected easily, organising and processing your data effectively. There is also the potential to do quite a bit of the processing of data in the TSi system itself if you go into the 'office screen', instead of 'yard screen' mode (where all the set-up and weighing is done).
I have not used the APS software, but I have been in contact with NAIT EID tag supplier Allflex to get all the tag numbers purchased for the year and EID emailed through. This means I can just assign them male/female status without having to enter them all manually, saving me time in the future.
The Brittain's weighing and EID system was only really missing one element that Gallagher offer and that was an auto-draft facility. The TSi system handles this no problem and such a drafting system would be very handy on cattle finishing blocks where you'd need it at least every week or month.
HR3 Hand Held Electronic Tag Reader
The Brittain's have also added a Gallagher HR3 Hand Held Electronic Tag Reader unit to their weighing and EID system. The HR3 is a device that reads the information stored in electronic ear tags, enabling the rapid, accurate identification of individual animals.
I have not had the opportunity to test out the capabilities of this device, but can see it comes with some good features. To operate the SmartReader HR3, the user simply points the reader at an eartag and squeezes the trigger. A beeper sounds, a vibrating device in the handle activates and a super bright LED at the end of the snout flashes to show that the tag has been successfully read.
The bright display screen shows you the basic recorded info for the session and if you are not looking for weights, you can scan tags from a mob for further processing on computer at a later date. This is done with the use of the MyScale Pro software provided with the HR3. The Smart Reader HR3 has enough internal memory to record up to 5000 tag numbers at a time.
Also with the recent addition of NAIT and its requirements I think this system will come in handy when sending stock off-farm. User safety is enhanced by a hand guard that protects the user from knocks against rails on sheep and cattle yards.
Gallagher has further developed an app for use on your Android Smartphone which is useful; you can Bluetooth EID numbers straight from your HR3 to your phone, then use the Gallagher NAIT exchange software to send it off to NAIT. This eases the workload involved in keeping everything up to date and ticked off, avoiding a mountain of paper work at night.
Summary
My experience with the Gallagher weigh system has been really positive. I've found the reliability and quality of the equipment to be excellent, even in the dirty, wet conditions that cattle yards are often in. The range of data recording you can accomplish with this machine makes monitoring the performance of your mobs a breeze and the accuracy of the data gives peace of mind.
With NAIT requirements now in force, there's no avoiding such systems, but you need to make sure the one you buy suits your needs. Before heading into your local rural merchandise store, I'd suggest getting in touch with your local rep and explaining your situation, farm stock classes and policies. He or she will then be able to advise you on what you need for the jobs at hand.
I'd also suggest making the most of the expertise to help you set up the system and teach you about all its capabilities, so you get the most out of your investment. I'm all for new technology that will help keep New Zealand agriculture ahead of the international competition. We still need to keep farming smarter, not harder. I think the Gallagher Smart TSi is a great tool to help achieve this.
Keep up to date in the industry by signing up to Farm Trader's free newsletter or liking us on Facebook