Farm advice: Vigilance needed over stink bug risk in NZ
---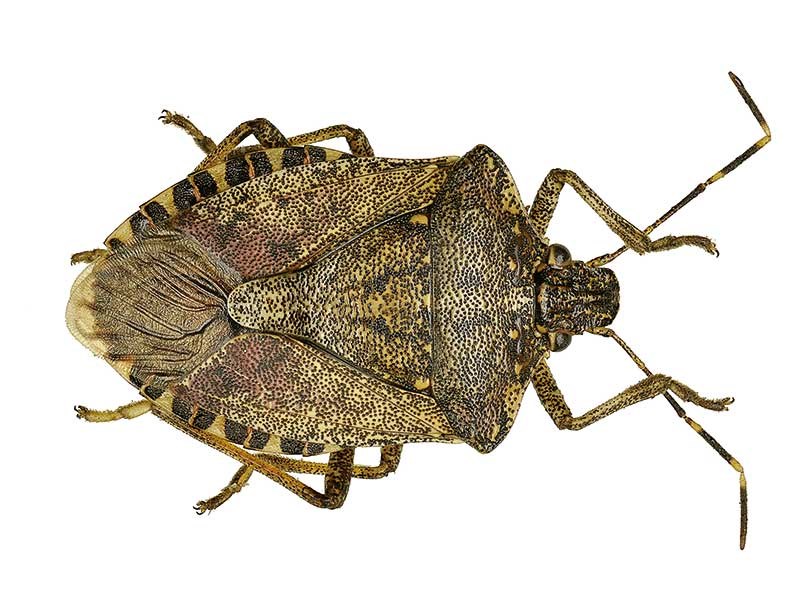 The Halyomorpha Halys

New Zealand farmers advised to be extra vigilant this summer over potential incursions of the destructive brown marmorated stink bug
The NZ Tractor and Machinery Association (TAMA) is calling on the farming community and machinery importers to be extra vigilant this spring and summer over potential incursions of the brown marmorated stink bug (BMSB).
The peak risk season for the stink bug arriving in New Zealand is September through March and the entire industry needs to be on high alert, TAMA general manager, Ron Gall, says.
"The pest can stowaway on imported farm equipment, machinery, and tractors, so it's up to all of us to educate ourselves on what the bugs look like and where they might hide. The hotter summer months pose an even greater risk, so hyper-vigilance is needed in January and February," Ron says.
Stink bug damage to the fruit industry
Native to China, Korea, and Japan, the BMSB invaded the US in 1996 and has spread across Europe, particularly Italy. While not established in New Zealand, 147 of the bugs were intercepted last season. A serious incursion poses a devastating risk to New Zealand's primary industry, as the bug is a voracious feeder.
It feeds on more than 300 host plants, including citrus, pipfruit, stonefruit, berries, kiwifruit, grapes, asparagus, and corn.
It also invades domestic gardens, as it likes plants such as honeysuckle and roses. In winter, the pest tends to gather in large numbers in dark places in houses and other dwellings. They can contaminate food and stain walls and furnishings.
The bugs can't be easily treated with insecticides and emit a pungent odour and excrete chemicals irritating to the skin when squashed.
How to identify a stink bug
Adults are about the size of a $1 coin and have a white banding on the antennae and alternate black and white markings on the abdomen. Eggs are light green, barrel-shaped, and found in clusters of 20 to 30.
MPI has a fact sheet on its website with further information to help identify the bug and differentiate it from similar local species. MPI and Landcare Research have also developed an online identification tool for the bug and other Pentatomidaes (the family stink bugs belong to). MPI asks that if anyone finds what they think is a stink bug to catch it, take a photograph, and report it to MPI's pest and disease hotline – 0800 80 99 66.
MPI Regulations
"Farmers and TAMA members also need to be aware of the particular MPI regulations around machinery and vehicle imports from the USA and Italy, especially the new amendments just introduced," Ron says.
Since 2015, all vehicles, machinery, and parts from the US must be heat-treated or fumigated with methyl bromide before coming to New Zealand.
As of 25 August 2017, specific regulations have been put in regarding imports from Italy during the high-risk periods. Detailed information on the latest import health standard (HIS) is available at mpi.govt.nz/importing/other/vehicles-and-machinery.
MPI intends to further and fully revise the IHS by the 30 April 2018 to include other technical modifications and will consult on this process.
"If machinery isn't cleaned properly, then it not only poses an extremely serious biosecurity risk but could also be seized at our border, and the importer is then responsible for expensive cleaning costs. MPI may demand a dirty machine is water-blasted, which will damage equipment if water gets into the sensor. The resulting costs could run into tens of thousands."
Importers could also risk a fine if declaring any machinery or vehicles as new when, in fact, they are second-hand, he says.
In July, a Christchurch company was fined after it declared a contaminated combine harvester imported from the UK was brand new. An inspection by MPI at the border found it had been used and was heavily contaminated.
Ron says while MPI had effective protocols and procedures to help protect against a serious stink bug incursion, all TAMA members and the wider farming community had to play their part as well.
"Biosecurity protection works best when everyone – MPI and industry – does their bit." 
Keep up to date in the industry by signing up to Farm Trader's free newsletter or liking us on Facebook