New release: Claas Jaguar 990 forage harvester
---
Claas release the Jaguar 990 forage harvester, packed with power and features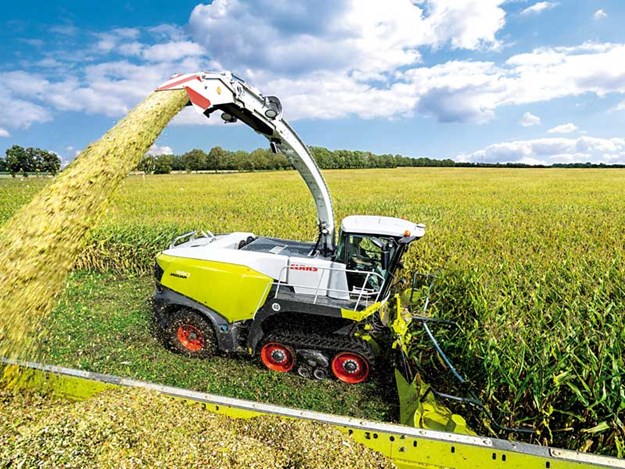 The newly released Jaguar 990 forage harvester is a harvesting powerhouse, according to Claas Harvest Centre product manager Luke Wheeler. The flagship machine features a 24-litre, V12 MAN engine (the same engine found in the 850hp Jaguar 980) and delivers a whopping 925hp.
Power output of the Jaguar 970, 960, 940, 880, and 860 models have also been increased while complying with Stage V emission standards. The 970 now has a 16-litre, six-cylinder MAN D4276 engine that delivers 790hp.
"Displacement of nearly three litres per cylinder promises a stable power curve with sustained torque, and as a result, it has the lowest fuel consumption per tonne of harvested material in its class."
Available with Terra Trac tracked assembly, the Jaguar is equally at home on the road, with the 635mm tracks producing an external width of just three metres and a road speed of up to 40km/h.
"The extended wheelbase results in a significantly larger maintenance compartment and excellent accessibility," says Luke. The pivoting mounting system allows the machine to be operated in even the most difficult conditions.
Track units can oscillate upwards by 10 degrees and downwards by 13 degrees while the headland protection system comes into its own on pastures. "During turning, the support rollers in each unit are pushed down hydraulically while the front drive roller is raised. This effectively reduces the contact area by a third, reducing damage to the grass cover."
Cebis system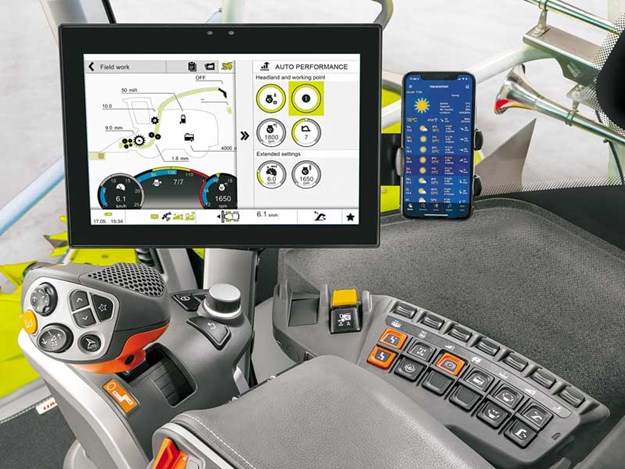 Claas has also introduced its new Cebis touch control system across the entire 900/800 series."This new system gives the operator faster and easier access to all machine functions," Luke says. "It's completely intuitive and up to seven commonly-used settings can be programmed as favourites and accessed by the rocker switches on the CMotion control lever.
Cemos system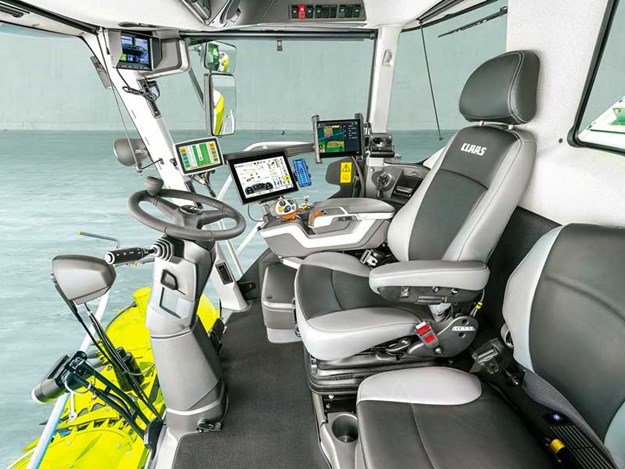 Other improvements include the addition of the award-winning Cemos Auto Performance system, which regulates engine power and driving speed according to harvesting conditions. "As load increases, engine power is increased and forward speed is reduced," Luke says. "Conversely, engine power is reduced automatically if the load decreases.
V-Max
Jaguar 990, 980, and 970 can be equipped with the new V-Max 42 drum. "With 42 knives and a cutting frequency of 25,200 cuts per minute, the V-Max 42 delivers particularly high throughput," Luke says.
"Using the full engine output, it's able to provide top-quality chopped material at short lengths of cut from 3.5 to 12.5mm. "For longer cut lengths, the drum can be operated with a third of the number of knives."
Find more harvesting machinery in NZ
Keep up to date in the industry by signing up to Farm Trader's free newsletter or liking us on Facebook