Contractor profile: MK Contracting
---
Ag Contractor Max Kelly was just 14 when he bought his own first tractor. Just six years later he now runs his own successful ag contracting business with a fleet of Massey Ferguson's
Max Kelly has known what he wanted to do as a career as far back as he can remember. The determined young farmer bought his first tractor when he was just 14 and now runs his own successful ag contracting business at just the age of 20.
It's an impressive achievement in a highly competitive market. Having grown up on family farms on the Hauraki Plains, it's fair to say that Max has been in the industry his entire life. That original first tractor, a Massey Fergusson 4270, which he calls Old Girl set the direction for his future business. Even at the age of 14, Max knew exactly what he was doing and why.
"I paid 30 grand for her six years ago. She has low hours and has still only done 6000 in total. When my dad and I went and looked at her, we knew she was the one," says Max.
"She has six cylinders, 24 on the floor gear lever, 110hp, and a front-end loader.
"Then I went and bought a little square baler, then a mower and a tedder, all of which set me up to start doing more and more work."
The fleet
Max's business has snowballed over the last few years, and he now operates a fleet of four Massey Ferguson tractors, and while he has newer and higher spec tractors, Old Girl still pulls her weight. She runs the rake, the 5.6-metre Massey Ferguson tedder, and does square bales and stacking when needed.
"She hasn't ever let us down," Max explains. "She is the making of all of this and put in the hard yards with me at the beginning. She will never leave. They will have to cart me away before Old Girl."
Old Girl also sparked a friendship between Max and his right-hand man, Logan Bustard, who he met at Hauraki Plains College.
"We're just good mates really. We do everything together. He saw I had a tractor back in college, and he wanted to have a little go in it, and we never looked back," Max says.
After a few seasons of work with Old Girl, Max invested in another Massey Fergusson, a 7615, who he calls Lexi and is his favourite.
"She's the best tractor on our fleet," he says. "Lexi is my one. She was the first new tractor I ever got and is just so beautiful to drive, just an absolute princess. She has excellent power – way more than the others – and I have always loved working in the tractor."
Lexi is 150hp, boosts to 200, 50k front suspension, runs the baler, and does a large proportion of the loader work.
In 2021, Max expanded again and welcomed Kate, a Massey Ferguson 7615. While the whole fleet does a bit of everything, he uses Kate mainly for mowing, bale stacking, and the odd bit of raking.
"She's a great, all-around versatile tractor," he explains.
To complete the fleet, Max purchased a Massey Ferguson 7718 (called Mia) in 2022. Boasting 180hp (boosts to 220hp) with full GPS, LED lights, and 50k front suspension, Max plans to use it as his new mowing tractor, as he can mow doubles and run his new Massey Fergusson 3.1-metre mower off it, as well as pulling his four-axle cattle trailer as well.
Max also invested in a new Massey Ferguson baler this season to replace his original $1500 Vaikon mower, which he calls Jason.
"We have only used Jason once this year, so the new baler has pumped out 15,000 bales and hasn't missed a beat," he says. "The only times it breaks knots is when it runs out of string. We had another one we were using the last couple of seasons. The first year we had it broke the odd bale, and then last season, we had bales break all the time, so that motivated me to get a Massey Ferguson baler. That and I like everything to coordinate. I don't want to have some other brand baler behind my Fergy tractors. If you're happy with a brand, you stick with it, and Massey Fergusons have never done us wrong.
"I like Masseys for a few reasons. Wombat at Piako Tractors has always given me good service and has been good to me over the years. Plus, they are all you want in a tractor really – nice and simple and the service is great. You get a lot more bang for your buck when considering all the features you get on them, especially if you compare them with other brands. You end up with a lot more for less money. We have never had any issues running Masseys."
Max also has fond memories of growing up around the Massey Fergusons his uncle ran in his contracting business.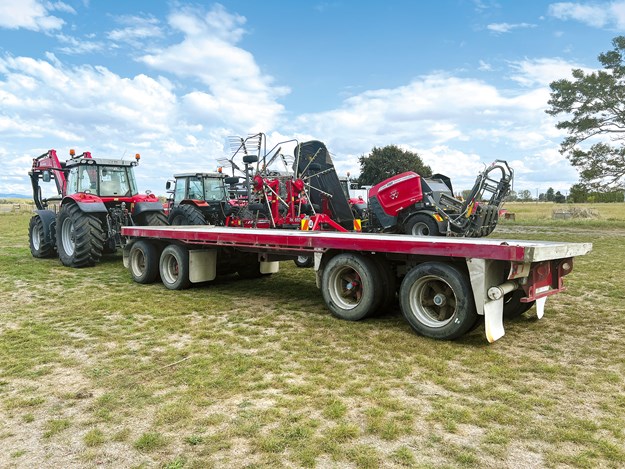 "He always had a great run with his, so I thought I would continue with what I was familiar with," he explains.
Max is happy to report that his biggest business challenge is the weather, much like every other contractor. He doesn't have any significant issues with breakages in gear, which he credits to the service from Piako Tractors and the quality of the tractors he runs.
A shared business
While Max's name fronts the business, he considers it a shared business with Logan.
"He has been around for a couple of years now, and he's part of the furniture. I don't really think of it as my business. It is ours together," he says. "He drums up work, and we both work it together; we synchronise well."
Max's parents, Innes and Mary Anne, also help out, bringing them dinner, fuel, wrap, and anything else they need.
MK Contracting covers Hauraki Plains, Waihi, Ngatea, and as far as Mangatarata.
"We do plenty of hills; a lot of the other contractors don't want to do the hills, but we love to push ourselves a bit and love a challenge," Max says.
Their services include mowing, raking, teddering, big round bales, small squares, and bale cartage. They supply lifestyle blocks, horse studs, and farmers. They also contract out as labour-hire, driving diggers, bulldozers, graders, and stock trucks during the off season. This season, the pair made 12,000 big rounds and 15,000 small square bales, which significantly increased from the previous year when they first offered big rounds and made 5000.
"We have boosted the numbers from our first season. We also did a lot of squares that we have stashed away to sell when the demand increases over winter," he says.
Max and Logan are looking for a larger yard, with facilities to keep all of the fleet undercover, which Max says will keep him happy and sleep better at night knowing Lexi is out of the rain.
Content with their current workload, there are no big goals to expand further. Instead, they strive to keep the gear ticking over and keep their clientele happy.
"We have grown pretty quickly, and this
is a manageable size for the two of us now," he explains.
"We operate by word of mouth mostly. The only advertising we have is on the tractors. Most importantly, our customers are all pleased, so we're satisfied with that."
Find new and used farm machinery for sale in NZ
Keep up to date in the industry by signing up to Farm Trader's free newsletter or liking us on Facebook