New release: John Deere 5ML Series
---
John Deere adds orchard and vineyard specialist to its line-up with the new 5ML
John Deere is set to transform its offering to the New Zealand orchard, tree nut, and vineyard industries with the introduction of its new 100hp-plus John Deere 5ML Series of cab tractors, built specifically to meet the unique needs of growers across the country.
Offering two front-axle configurations for working widths as narrow as 71 inches and down to 61 inches on the 5ML Narrow, the 5ML carries premium features at a size suited to exacting applications. Additionally, it delivers superior operator comfort and a level of precision agriculture technology not usually seen in this class. 
John Deere Australia and New Zealand production system manager, Stephanie Gersekowski, says with 105, 120, and 130 models available, the 5ML will bring unprecedented power to John Deere's orchard tractor offering.
"We're extremely excited to bring the 5ML to New Zealand to respond directly to the needs of growers looking for a low-profile cab, more power, and industry-leading digital capabilities typically only available on machines in larger agriculture production systems," she says.
The 5ML will feature PFC Hydraulics, a load-sensing system, which immediately initiates flow when required. When flow is no longer needed, the pump returns to low pressure and to no-flow standby mode, to improve fuel efficiency by up to 30%.
Both the 5ML and 5ML Narrow come equipped with programmable LED lighting, a front hitch to ensure operators can use heavier implements, and a front PTO for added versatility. There's also the choice of an easy-to-use PowrQuadTM PLUS or Powr8TM transmission. The 5ML's John Deere-built organic cab carries the ideal dimensions to fit down tight orchard rows.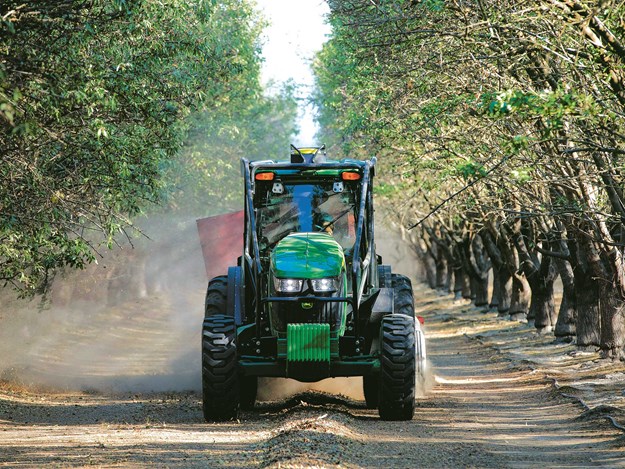 A reconfigurable in-dash, three-screen LCD display allows operators to customise their view and makes it easy to set up guidance lines, make on-the-go adjustments with shift track and establish headlands with the encoder dial.
"The cab also has a flat floor, spacious headroom, and ergonomic, well-placed controls to make them easy-to-use for operators with a variety of experience while giving extra comfort during long days in the driver's seat," Stephanie says. 
A Category IV Filtration System Kit provides additional cabin filtration and pressurisation, preventing external chemical and particulate hazards from entering the operator enclosure and eliminating the need for personal protective wear. 
A new Limb Lifter kit can also be added to gently move away low-hanging branches, reducing the potential for damage to the tree and tractor. 
The 5ML will bring a new level of technology to John Deere tractors in the orchard, tree nut, and vineyard markets, making available industry-leading precision farming capabilities to grow efficiency and production, including JDLinkTM – an industry exclusive in this class – to track machine data remotely. 
The 5ML is Greenstar/ISOBUS-ready for implement connectivity to help more accurately apply liquid and dry products in environments where a GPS signal is not available and to document those applications. 
AutoTRACTM also comes as an option and offers customers the ability to eliminate implement overlap and optimise machine efficiency when completing jobs such as spraying, planting, and mowing.
Find new and used farm machinery for sale in NZ 
Keep up to date in the industry by signing up to Farm Trader's free newsletter or liking us on Facebook