South Otago farmer wins FMG Young Farmer of the Year 2018
---
South Otago sheep farmer Logan Wallace, battled off strong competition to be named the 50th FMG Young Farmer of the Year
The 28-year-old is no stranger to pressure and hard work. Logan runs 2300 ewes on a 290-hectare farm at Waipahi in Southland, which he leases from his parents. The intensive sheep breeding and finishing property also carries 700 hoggets and 400 trading sheep.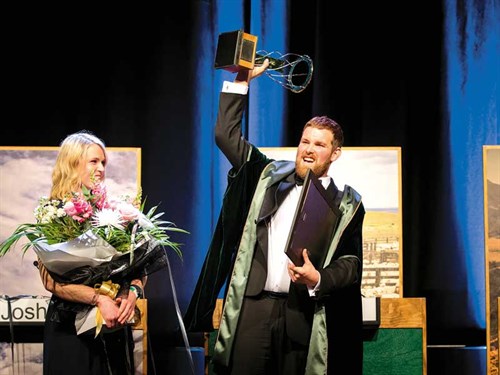 His win was historic in that it coincided with the 50th anniversary of the competition, hosted this year in Invercargill before a 1000-strong crowd. Elated locals cheered as the hometown competitor made his way through a standing ovation and onto the stage.
"I'm absolutely ecstatic. Being named the FMG Young Farmer of the Year has always been a dream of mine," Logan says.
With seven high calibre regional finalists lining up against each other, the competitive sheep farmer convincingly won following three days of gruelling competition, which included tackling fast-paced practical modules, technical challenges, and an agri-knowledge quiz.
"We are immensely proud of Logan. He's put his all into the contest," Logan's father Ross Wallace says. As well as being a busy farmer, Logan is heavily involved in his local community, leading a youth group, and is also a Land Search and Rescue member.
"I used some of those search and rescue planning skills in the competition to ensure I didn't waste any time," he says.
"Logan Wallace is an extremely deserving winner," Andrea Brunner from FMG says. "He has demonstrated the breadth of knowledge, skill, and capability required to be crowned the FMG Young Farmer of the Year.
"The calibre of the finalists this year is a testament to the depth of talent we have in our rural sector."
The win seems a fitting reward for Logan's years of dedication to the rural industry. Logan runs the farm as a one-man operation, meaning he's after a low-fuss ewe with strong mothering instincts. The flock is split into two mobs. The first starts lambing on 28 Augustand the second commences 12 days later.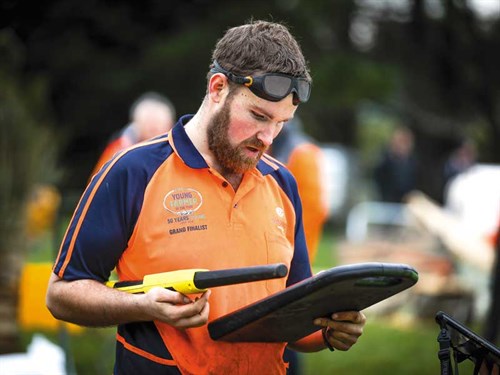 Logan's win in the Otago/Southland Regional Final of the FMG Young Farmer of the Year secured his spot in his second grand finals. "I went into it knowing where my weaknesses are and what I should spend my time studying," he says.
The Clinton Young Farmers member has mild dyslexia, which can make putting his answers on paper a struggle.
"That's a challenge for a lot of young guys. They could ace the practical modules but are put off by the complexity of the theory," he says. "I'd still urge them to give the contest a go, though."
Logan's only piece of advice would be to avoid entering two national competitions at once. His family won the Otago Farm Environment Awards in April, with judges praising their succession strategy.
Logan, who holds a Certificate in Agriculture and a Diploma in Rural Business from Telford, says, "I set up a leasing company with my parents five years ago, which owns all the livestock and machinery.
"It enabled my parents' money to be safely invested and for them to receive a return on it."
"I've recently been able to buy all of the shares in that company, allowing me to grow my business."
Logan has formerly spent two years working in the UK and Western Australia planting and harvesting grain and potatoes.
FMG Young Farmer of the Year results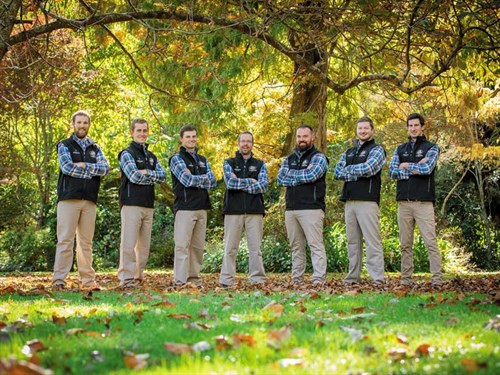 With Logan Wallace taking the overall win, second place went to Cameron Black, a Christchurch-based rural consultant for New Zealand Agri Brokers.
Bay of Plenty contract milker Josh Cozens took out third place and the agri-knowledge challenge.
Challenge winners
AGMARDT Agri-business challenge: Patrick Crawshaw
Massey University Agri-growth challenge: Logan Wallace
Ravensdown Agri-skills challenge: Logan Wallace
Agri-sports challenge (supported by Worksafe): Logan Wallace
Meridian Energy Agri-knowledge quiz and speech challenge: Josh Cozens 
FMG People's Choice Award: Patrick Crawshaw
An edited version of the 50th grand final is available on digital streaming service ThreeNow.
Keep up to date in the industry by signing up to Farm Trader's free newsletter or liking us on Facebook