Ageing infrastructure poses threats on freshwater
---
The latest government report sheds light on the threats to New Zealand's water quality, quantity and biodiversity
Among the flurry of recent reports, 'Our Freshwater 2017' was the first to detail the pressure humans are putting on our freshwater environments. Not cows, not irrigators, but people.
'Our Freshwater 2017' outlined, in detail, the effects of land-based human activities on our waterways.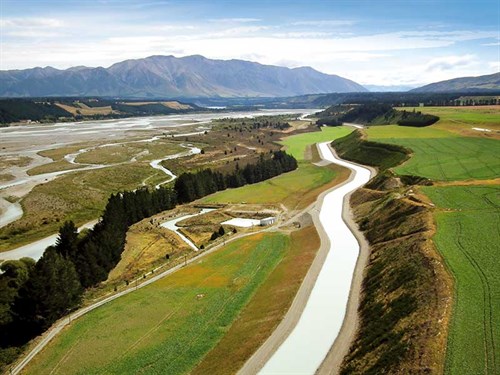 In urban environments, it showed contaminants entering water bodies mainly through storm water and wastewater networks, illegal connections to these networks, and leaky pipes, pumps, and connections.
It found nitrate-nitrogen concentration was 18 times higher in the urban land cover class and 10 times higher in the pastoral class compared with the 'native' class.
E.coli concentration was 22 times higher in the urban land cover class and 9.5 times higher in the pastoral class compared with the 'native' class. 
Yet people are still calling for a moratorium on cows.
If we're to have any hope of addressing the pressures on our freshwater resources, New Zealanders need to take a deep breath and have an adult conversation about investment. 
And by investment, I mean rates. There's no way around it. A few years' back, the government was talking about a looming 'tsunami' of old people; that soon, the over-65s would well outnumber the working age population.
I loathe to use the word 'tsunami' when talking about old dams, but the reality is, our ageing infrastructure isn't up to scratch. Auckland Council can't separate its storm water from its wastewater from its harbour.
A lack of investment in its municipal supply infrastructure was cited as a contributing factor to Havelock North's gastro outbreak earlier this year.
Last week, we watched as Hawke's Bay Councillors fought among themselves about investing in modern infrastructure that could potentially deliver millions of dollars in economic growth.  
Canterbury's situation
So, let's take a look at the communities who've invested in infrastructure. Canterbury – through Central Plains Water – is a good example.
Farmers are making money on the back of a secure water supply, the community has benefitted from its estimated $370 million contribution to economic growth, and the environment is being enhanced through groundwater recharge and catchment augmentation.
South Canterbury's Opuha Water supplies water for irrigation, electricity, and town supply. Investment in this infrastructure has added $124 million to the local economy, and through their 'adaptive water management' approach, ensured the river flows even in times of drought, and the community always has access to a reliable supply of water.
Councils need to step in
So here we have farmers and rural councils willing to invest in water infrastructure and upgrades because they can see it's good for their household income, their community, and their environment.
We have the government, through Crown Irrigation Investments and the Irrigation Acceleration Fund, willing to invest in irrigation infrastructure because it delivers tangible economic, environmental, and social benefits.
And then we have urban people, unwilling to invest in infrastructure because they don't understand the benefits and they refuse to acknowledge their contribution to New Zealand's water quality issues.
This is where Councils need to step up, urban ones in particular. They need to do a much better job at talking to their communities about the value of infrastructure and the need to invest in it and they need to be open and honest about the pressure being placed on our environment and our economy if they don't invest in it.
Keep up to date in the industry by signing up to Farm Trader's free newsletter or liking us on Facebook