Profile: Krone Comprima
---
The latest Krone Comprima net wrap unit is proving its worth to a Wairarapa dairy farmer, who has been trialling it since early last October
Lewis Herrick can use both net and net replacement film with the unit and has been trialling the film for the first time. Although he is still making tweaks to the unit to get it to a full 100% efficiency for local conditions, Lewis says film is proving a winner.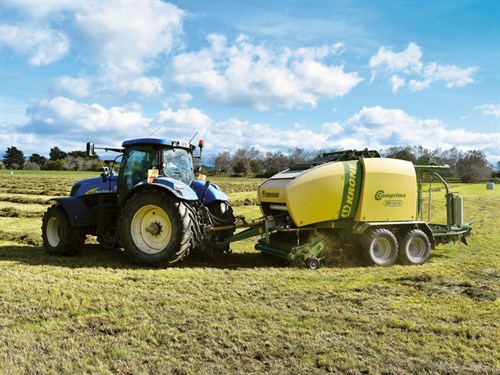 "I'm testing it in all kinds of weather conditions – in the wind and the damp – plus trialling it on different crops so I can have a play to see what suits. Out of the 1500 bales I've wrapped this year, I've used film on 500. Baling time is definitely quicker," he says.
"I've been feeding out since December, and it's much easier to unwrap film than net. Also, film doesn't get caught in the bearings, as can happen with net."
Lewis says early indications are that the bales are in better condition with film, and there will be less spoilage in the longer term. As the bales are packed extremely tightly, less air can get in, plus, it's harder for rodents or birds to create too much damage.
"We'll have to see how it keeps in the longer term, but I see the bales being able to stay wrapped for a couple of years," he says.
Lewis adds that he is already making savings, as he's using only four layers of film rather than the usual six layers, as the film put on in the chamber offers more protection than net. When he does want to use net, it is simple to change from film to net and vice versa.
The only issue he has experienced is that occasionally, the film wraps around the roller, delaying the process. On one occasion, in very windy conditions, four bales out of 40 had to be cut off the roller.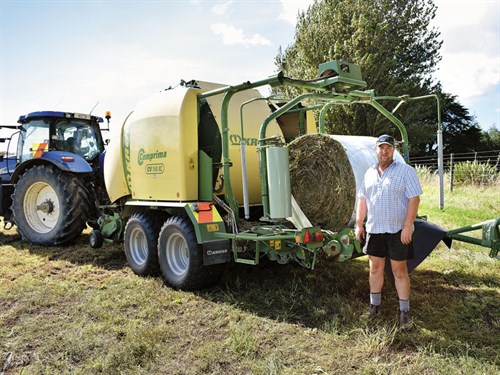 "But this will be fixed with a few adjustments. We're still in trial mode, and it won't take long to get it all sorted. I certainly don't want to go back to not using film. The new system will mean farmers can look to bale themselves rather than getting contractors in," Lewis says.
Krone has released a kit that is being trialled in Southland, which has shown to reduce the effect of windy conditions when the wrap is being used.
John Tulloch of Tulloch Farm Machines says farmers in Southland and a contractor in New Plymouth were also having success in trialling the film wrapping. The fact that less air could get into the bales, meant that along with less spoilage, the quality of silage was improved.
"The film wrap will see the quality of silage improve for farmers and contractors using it," he says.
Keep up to date in the industry by signing up to Farm Trader's free newsletter or liking us on Facebook