Comfort in the combine cab
---
Farm trader offers an in-depth report on what life is like inside the cab of some of the biggest names in harvesting machinery
In order for operators to stay alert and drive efficiently, it's vital manufacturers provide a comfortable working environment.
A comfortable cab is one with a good seat, excellent visibility, easy control access, low noise levels, and with sufficient ventilation.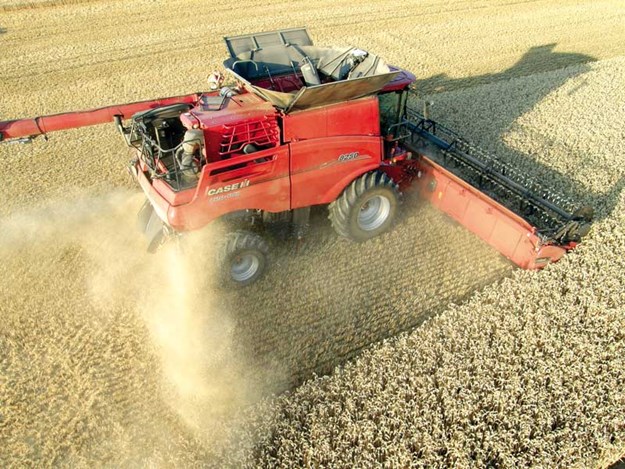 Operators come in all different shapes and sizes, therefore, combine cab manufacturers try to ensure cabs accommodate at least 90% of the driver population comfortably.
This means the location of the seat, as well as hand and foot controls, need to suit operator demands, also ensuring he or she can access them from a comfortable position.
As operators can spend 15 to 20 hours in a cab per day in peak harvest season, they need to be comfortable and alert. Good cab design can help by allowing easy and free access to all the controls, as well as the freedom to get in and out of the seat and the cab itself.
Other important aspects to ensure a comfortable in-cab working environment are ventilation and air conditioning.
On hot harvest days, a lot of dust can enter the cab via the ventilation or air conditioning system, so these need to be manufactured with highly efficient filter systems that are easily cleaned.
Excessive noise levels are also a major health issue to combine operators and need to be below regulatory levels to increase operator cab comfort.
Taking all these factors into consideration, it's vital combine manufacturers ensure their cabs are as comfortable and efficient as they can be for optimum operator comfort.
We took a look at the latest cabs from three top global combine manufacturers to investigate how operator-friendly they are.
Operator comfort top of design agenda for Case IH
With 3.67 cubic metres of space and 6.3 square metres of glass area, Case IH says the cab on the recently launched Case IH Axial Flow 250 Series of combines offers operators the best environment to work in.
Behind the cab door is plenty of space and storage, with excellent comfort, thanks to an ergonomic layout, air suspended operator seat, low noise levels, and unrestricted views.
When harvest extends late into the night, halogen stadium lights fitted to the Axial-Flow 250 series roof illuminate the working area transforming night back into day; additional halogen and HID lighting options are available.
The essential functions are integrated into the right-hand 10.4-inch console and multifunction control lever. The most commonly-used features and the AFS Pro 700 monitor are close at hand and ergonomically laid out.
"The Axial Flow combine has been designed to give the operator a very comfortable environment," Sam Acker, Case IH flagship combines global product manager, says.
"The key points we believe make the Axial Flow competitive in the cab area are the spacious environment of 3.67 cubic metres with a 6.3 square metre glass area offering great visibility of the header and grain tank.
"The layout of the controls is intuitively laid out with the main buttons and switches easy to reach. Only one display is needed for all functions related to the combine and other functions such as Auto Guidance.
"A key design aspect of the Axial Flow combine is simplicity – simple to service and simple to operate. The cab is designed with this in mind," Sam says. 
"Armrest controls are grouped by function so they are easy to find and intuitive to use. The multi-function control lever contains all controls frequently used, including industry-exclusive grain tank cross-auger and pivoting unload spout controls."
This ease of use carries to the AFS Pro700 10.4-inch touchscreen display. Guidance functions and run screens are simple to understand and can be customised to operator preference.
The new AFS Harvest Command automation system includes a patented functional crop flow illustration of the combine, making settings easy to find and understand.
"The cab environment is very quiet, which is important to reduce fatigue on long harvest days. Seat and glass designs were developed with customer input to ensure visibility of the unloader spout, end of the header and feeding area.
"The steering column has dual pivots and a telescopic steering wheel so it can be positioned anywhere the operator wants it for comfort and visibility.
"Case IH offers two cab versions on its Axial-Flow 250 Series: the comfort cab and the luxury cab version," Sam says.
The comfort version features an ergonomic layout that designers say puts the operator in full control of all the functions before them. The Multifunction Propulsion control lever and the sliding AFS Pro 700 touchscreen monitor are both integrated into the right-hand console.
Generous legroom, a clear vision, and an air suspension seat, all contribute to an optimum operator comfort that aid productivity. The comfort cab comes equipped with manually adjustable mirrors, a PVC steering wheel, and a storage shelf behind the operator's seat. There is extra storage behind and under the passenger's seat as well.
In this specific cab, the passenger has access to a metal armrest on the left-hand door. In-cab comfort is also boosted by standard air conditioning with heating to provide the ideal environment.
If operators require a little bit more comfort, they can opt for the luxury cab which, in addition to the features of the comfort cab, offers electrically adjustable heated mirrors, more storage options, and an actively cooled cool box to keep lunch or drinks fresh.
The luxury cab also comes with a leather-wrapped steering wheel, three storage bins, two storage shelves, and the removable cool box, which sits under the instructor's seat. 
In addition, the armrest on the left-side door is padded and there are window shades on the left and right windows along with a high back leather chair.
New cab a major feature on John Deere S700 Series combines
John Deere billed its latest S700 Series combines as the most advanced grain harvesting technology from front to back in its combines and headers. The S700 Series includes four new rotary combine models – the S770, S780, S785, and S790 – which Deere says incorporates the latest in automated harvesting technology.
While the combines are full of new features, it's in the cab that customers will see the main physical difference compared to the S600 Series that the new range replaces. The new CommandPRO joystick incorporates up to seven individually programmable shortcut buttons for customising the most useful functions.
The CommandPRO hydro handle was designed following extensive research into a wide range of controllers from games consoles to aircraft controls. The result is a new controller with 30% more functions than any other combine controller, according to John Deere.
Existing John Deere operators will recognise this design from the new 6230R and 6250R tractors, while newcomers should appreciate the joystick's intuitive colour-coding and backlighting of the controls.
This S700 Series cab (better defined as the operator's office) offers more space, better visibility, and a touchscreen colour display designed to ensure all controls are integrated into one place, so operators don't have to search around the cab for various displays or switches.
The Generation 4 10-inch touchscreen display has been redesigned and is used in a similar manner to a smartphone by swiping between screens and using apps to run it the way the operator wishes.
Deere says the cab's new GSD 4600 display is easy to use. "The premium cab on the S700 Series combines has been designed to deliver the most ergonomic and intuitive work experience of any harvesting machine on the market," says John Deere Limited's combines product sales specialist Charles Grey.
"It provides a larger, quieter working environment with a best-in-class volume of 3.36 cubic metres and more convenient storage that allows the operator to organise and utilise all the cab features more comfortably.
"It also delivers superb visibility, huge amounts of operator and storage space, as well as exceptionally low noise levels down to 71.5db. In addition, operators experience intuitive and smooth operation from the new CommandPRO hydro handle, Generation 4 CommandCentre 4600 Display, and JDLink telematics system.
"Taken all together, this allows operators to be more productive and experience less fatigue during long harvesting days," he says.
Operators have clear views both ahead of them to the header and to the side as slimmer corner posts allow for an unobstructed view for easier grain unloading. An exclusive underfloor heating system ensures the operator has a constant working temperature if required.
The operator's seat now swivels 7.5 degrees to the left side to help with visual checks when unloading without having to stretch over to look out the window and 15 degrees to the right. As the cab is one of the widest on the market, there's also a spacious passenger seat to the side.
Customers have a choice of an optional leather package, which includes a leather steering wheel and air-cooled seat. Practical comforts include five cup holders, two closed compartments, a number of storage areas, power outlets, and a 37-litre fridge.
The S700 Series comes with standard cab lighting, including eight cab roof-mounted halogen lamps: four overhead work lights, two high-beam driving lights, and two low-beam driving lights.
Claas Lexion cab keeps operator in the picture at all times
A three position adjustable steering column and super soundproofing are just some of the features that ensure Claas Lexion 700 Series operators have a comfortable cab in which to work for hours at ease.
Claas says its latest generation Lexions gives the operator greater freedom of movement, a clear control layout, and excellent visibility on all sides while the air conditioning maintains a consistent, comfortable atmosphere.
The working area ahead of the combine is well illuminated by up to 12 work lights on the cab roof and a long-range work light with extended range for lighting up large areas.
Claas places great emphasis on its Cebis electronic on-board information system, which is distinguished by its clear, logical organisation of functions in the menu structure.
A brief glance at the 8.4-inch Cebis display gives an overview of the current processes and conditions. All relevant information for driving or harvesting is summarised clearly on the screen. Warning messages are given audibly as a buzz tone and visually as icons and text to keep the operator fully aware of any issues.
Claas says its Lexion 700 Hybrid and 600 straw-walker combines are now available with a new 12-inch touchscreen version of the Cebis Mobile terminal.
For main controls, the CMOTION multifunction control lever is integrated in the right armrest of the operator's seat and plays a key role in making the Lexion so user-friendly.
Specially developed for ergonomic operation, the innovative, three-finger control concept allows several functions to be controlled intuitively without having to reposition one's hands.
Another toggle switch on the back of the multifunction control lever has three functions assigned to it. This switch enables either manual lateral control of the cutterbar, changes to values in the hotkey menu or manual adjustment of the Vario cutterbar table.
The cab interior measures 1.61-metre high by 1.495-metre deep and 1.64-metre wide and has enhanced operator visibility thanks to narrow side beams.
On the back wall of the cab, a large horizontal grain tank window makes it easier for the operator to see the grain as it fills into the tank, acting as an extra visual check on combine performance.
In terms of storage, there is a climatised storage compartment in the cab roof, an armrest compartment, a drawer under the operator's seat, a bottle holder, mobile phone compartment, and a net behind the seat.
The full-size passenger seat with backrest folds down to form a table. An additional 43-litre storage compartment can fit a fridge.
Three different seats are available for the Lexion cab: the comfort seat, the comfort seat with leather, and the Actimo Evolution Premium seat, which has more lumbar support and climate control than the other options.
Adam Hayward, Claas combine product specialist, says, "In addition, there a total of 16 work lights on the cab, all with high-end LED bulbs, which provide a bright working environment for the operator.
"Our key features in the cab that set us apart from the competition include a simple and user-friendly design to fit all sizes of operator. Plus, the cab is easy to clean, to look after, and is very functional."
Keep up to date in the industry by signing up to Farm Trader's free newsletter or liking us on Facebook