Exciting leadership at MobileTECH in Rotorua
---
Some of New Zealand's most promising young leaders head the line-up at the upcoming MobileTECH 2018, alongside the country's agritech community
One of the key highlights at the upcoming agritech event is the 'Meet the future leaders' panel.
"In addition to unveiling the latest agritech innovations, we have lined up three emerging leaders to share their visions on just where the technology is heading, what areas they see as the most beneficial to their businesses and how it will impact on the sector's future," Ken Wilson, programme manager for the MobileTECH 2018 event, says.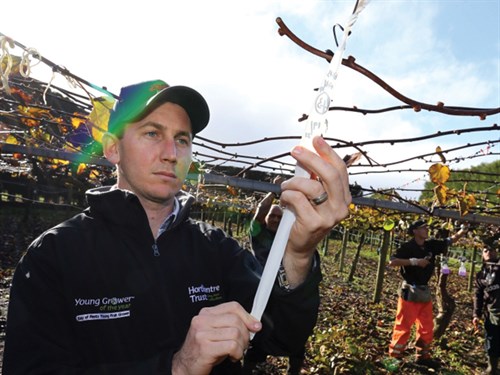 The MobileTECH 2018 young leaders will include Rachael Phillips, Hamish Best, and Patrick Malley.
"Rachael, Hamish and Patrick have all grown up with technology and there's no doubt they will be early tech adopters and the future for the primary sector," Ken says.
A fourth-generation dairy farmer from Te Awamutu, Rachael Phillips is in her first season 50/50 share milking 240 cows on a 70-hectare dairy farm owned by her parents. She has been involved in New Zealand Young Farmers for the past nine years and is a Waikato/BOP regional finalist in this year's Young Farmer of the Year.
"I believe the use of technology is essential in ensuring that New Zealand remains as a world leading exporter. It will continue to help increase efficiencies of production at both farm and processing levels," she says.
Hamish Best is the vice chairperson for NZ Young Farmers and was the runner-up in the young farmer of the year in 2017. He also won the 2010 Massey University Agriculture Student of the year award.
"I'm excited to be given the opportunity to be able to speak on the Young Leaders panel and look forward to seeing the line-up of speakers at the MobileTECH conference," he says.
"Technology plays an important role in our industry and it will be disruptive, however, there are opportunities for those who are willing to embrace technology and adapt.
"Technology is always changing and our generation needs to be at the forefront of the next wave of technology change."
Patrick Malley is a passionate Northland horticulturalist and works in his family's horticultural business, Maungatapere Berries.
He also co-founded of a start-up horticultural software company and won the Young Grower of the Year 2014 and Young Horticulturalist of the Year 2014.
"I am really enthusiastic about the use of technology in horticulture, in order to see our industry in New Zealand continue to grow and thrive. But with the speed that technology is changing, growers need to be constantly adapting and looking at what new opportunities are out there," he says.
Each young leader will open with a short presentation to outline their views on digital technologies and its use within the primary sector. They will then drive the conversation, with a key question being how tech developers can better collaborate with the next generation of primary producers.
MobileTECH 2018 runs on 27 and 28 March 2018 in Rotorua, New Zealand.
Read more industry-related news on Farm Trader.
Keep up to date in the industry by signing up to Farm Trader's free newsletter or liking us on Facebook