Test: Cosmo Bully UHH120 Rotary Hoe
---
Fieldmaster recently launched the Cosmo range in New Zealand. Farm Trader puts the UHH120 rotary hoe through its paces.
Fieldmaster has been building and importing agricultural machinery in New Zealand for more than 60 years and so has plenty of experience in knowing what is required from a machine to handle our conditions.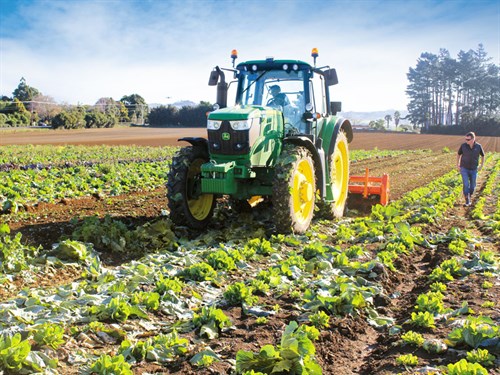 After much research into quality and suitability for Kiwi conditions, Fieldmaster recently began importing a wide range of Cosmo Bully machinery into New Zealand. Cosmo machinery is designed and tested in Italy but built in a modern facility in India – a combination of excellent design and efficient manufacturing. 
Recently, I got a first-hand look at a new Cosmo Bully UHH120 rotary hoe being used by a grower in Pukekohe (not far from the Fieldmaster main office). Hitched up behind a John Deere 6140M, which handled it with ease, it was put to work getting cauliflower waste ready for the next crop to be planted.
Thanks to an excessively wet week prior, the ground was a little damper than ideal, but it still did a reasonably good job burying the vegetable waste and working up the soil. The three-metre working width also allowed it to cover a decent amount of ground.
Construction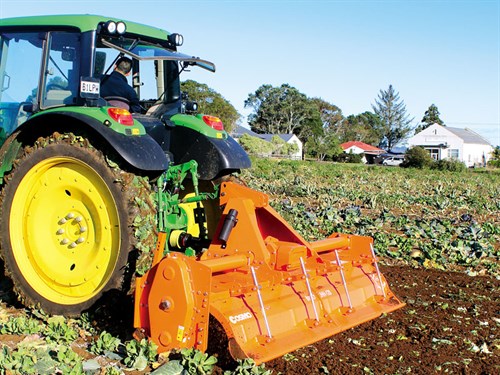 The build quality is probably the first thing that will catch most people's attention. From the robust headstock with CAT II pins throughout the body of the machine, there is some seriously heavy plate steel used in the construction.
It is all neatly folded, welded, and finished in a striking orange powder coat paint. Backing this up is an overall weight of almost 1200kg, reassuring that there's plenty of steel there.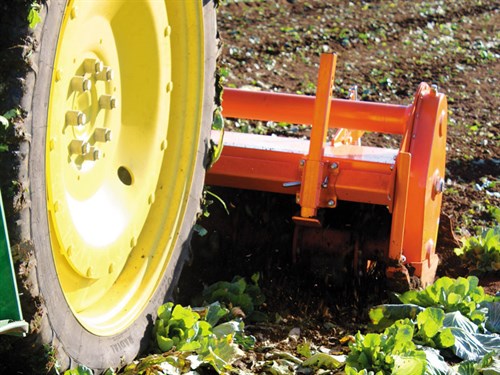 It is good to see a parking stand on the front, useful for preventing the machine falling over when it's not on a tractor. Heavy-duty replaceable side skids can be easily adjusted to set the depth of the machine, and it is good to see it comes with a toolkit of spanners, making sure all adjustments are done with ease.
Driveline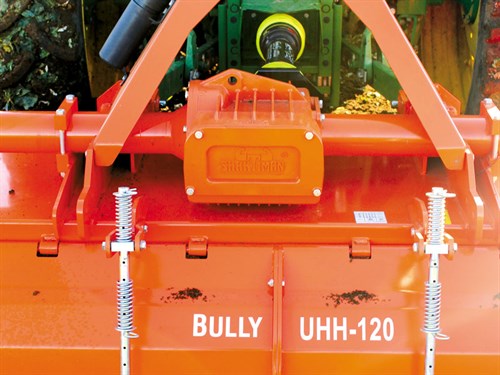 Drive to the machine comes via a heavy Bareco PTO shaft, with a friction clutch to prevent damage to the tractor. A large right angle gearbox sits in the centre. Oil filled, it has a combined oil filler bung with a breather and dipstick to ensure it's kept at the correct level.
Inside the gearbox, interchangeable gears cope with different input speeds and change rotor speeds to match the machine to its intended usage. Drive is transferred to the rotor shaft through a second slim gearbox on the right-hand side. The oil level is easily checked with a level bung at the right height.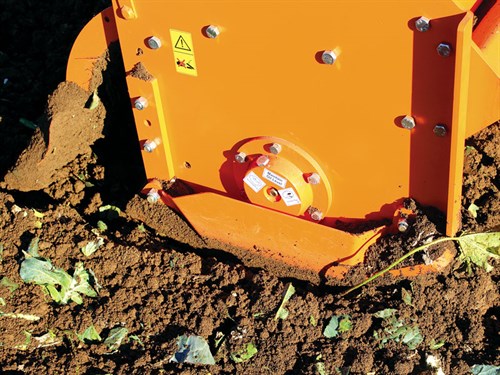 On the opposite side, at the other end of the main rotor shaft, is another sealed oil filled bearing. The lack of an oil cooler on the main gearbox might prove to be an issue, although, I'm told this hasn't been a problem in Australia where the machines have been tested vigorously in some of the hotter parts.
Rotor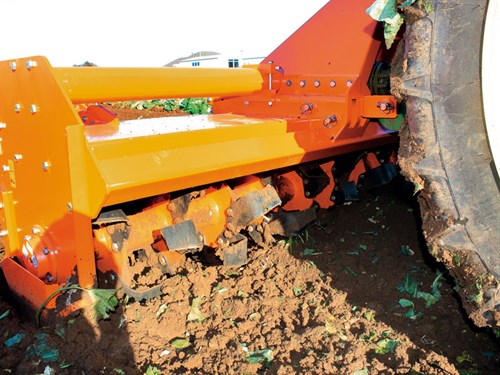 The main rotor is made up of a heavy-duty 115mm shaft, which runs across the width of the machine. With 12 welded flanges spaced across it, each flange has six L-shaped 90x8mm blades. These are easily changed, being fixed to the flange with two bolts.
I'm told these blades are generic, readily available, and relatively cheap, which is great to help keep running costs low. Although not on this particular machine, curved speed blades can be fitted as an option and are favoured by many growers for the slightly faster forward speed.
The rotor has a maximum diameter of 530mm. This gives a maximum working depth of around 250mm and spins between 224 and 274rpm depending on the input shaft speed.
Rear hood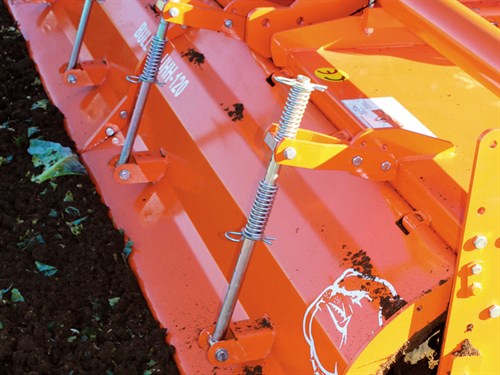 At the rear of the machine is an adjustable spring-loaded rear hood, which controls how long the soil is held, ensuring it is broken up and the surface is left smooth and level. Adjustment is easy with simple R clips that alter the minimum and maximum heights up and down.
Steel springs on the adjusters keep the hood firmly down while allowing some movement if a foreign object passes through the machine. Although not fitted to the machine, there is the option of a factory-fitted rear cage roller to further break up clods and help consolidate the ground. 
Verdict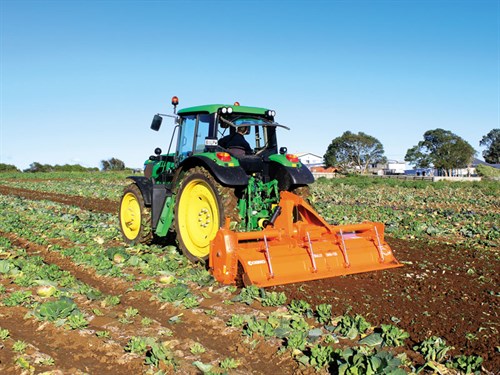 The Cosmo Bully UHH120 is surprisingly well built and well finished. Attention to detail in the construction ensures there is plenty of steel where it's required. The driveline, a major component of any rotary hoe, needs to be able to handle the amount of torque being transferred through it, and the inclusion of a friction clutch offers protection to the tractor.
While it may be a little unknown here, there are good reports from Australia where these machines have been operating for some years. I also noted how pleasingly quiet the Cosmo Bully was when operating. However, the standout point of difference definitely has to be the price tag (which starts at $18,000 excluding GST) for a three-metre machine, offering exceptional value for money.
Cosmo Bully UHH120 Rotary Hoe Specifications
| | |
| --- | --- |
| Working width | 3050mm |
| Rated horsepower | 140hp |
| Max working depth | 250mm  |
| Weight  | 1167kg |
| Number of blades | 72 |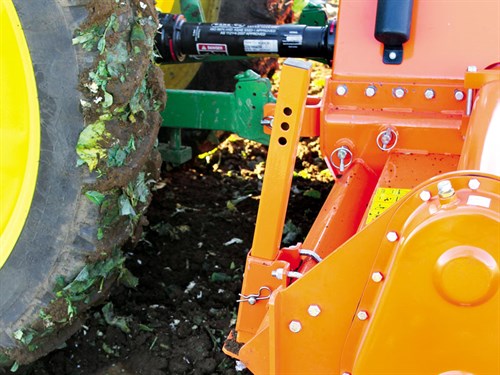 Pluses
Heavy-duty plate steel construction
Friction clutch on the drive shaft to prevent damage
Adjustable depth and rear hood to suit conditions
Uses economical generic blades
Minuses
No oil cooler on the 
main gearbox
Keep up to date in the industry by signing up to Farm Trader's free newsletter or liking us on Facebook