Cover Story: Allen Custom Drills C-D 5000
---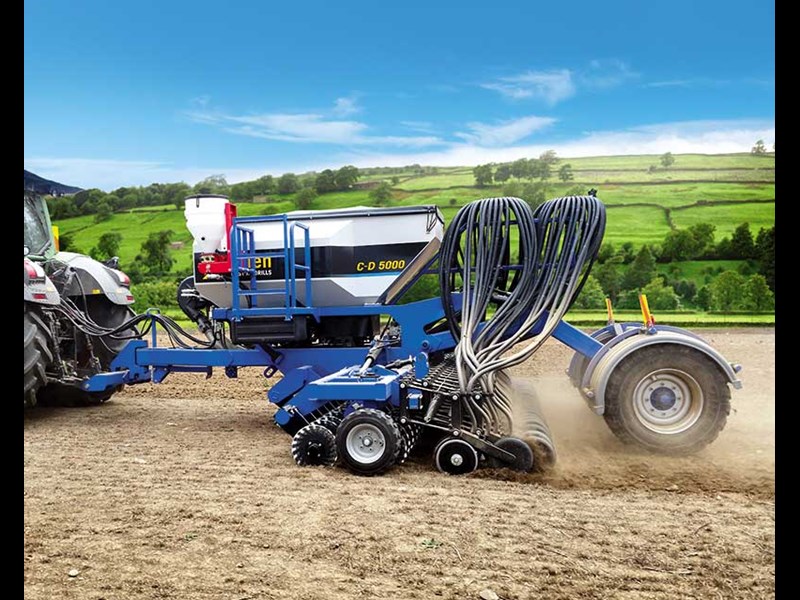 The C D 5000 in full flight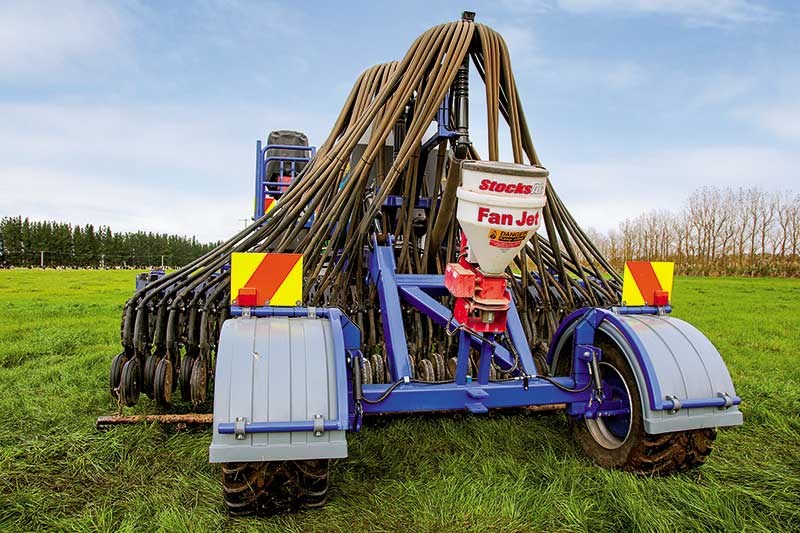 Hydraulic brakes and mudguards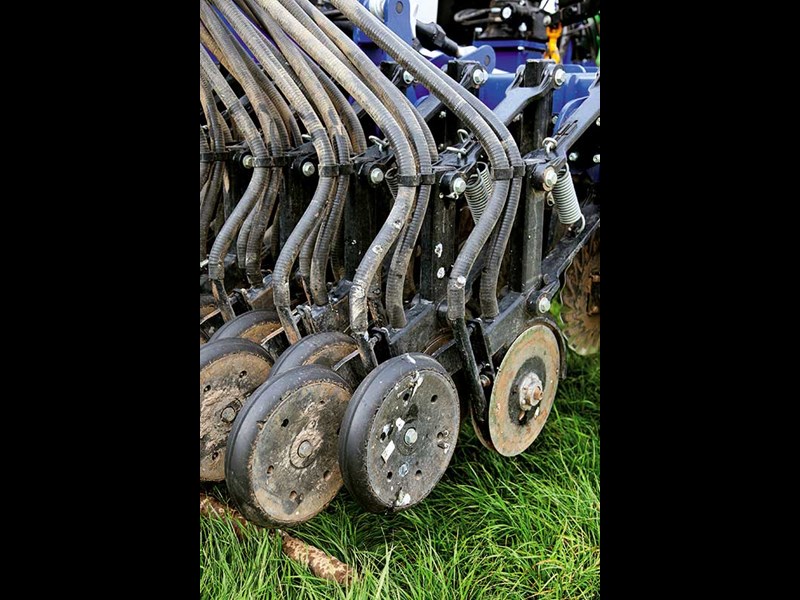 The seeding legs move independently on parallelogram system with press wheels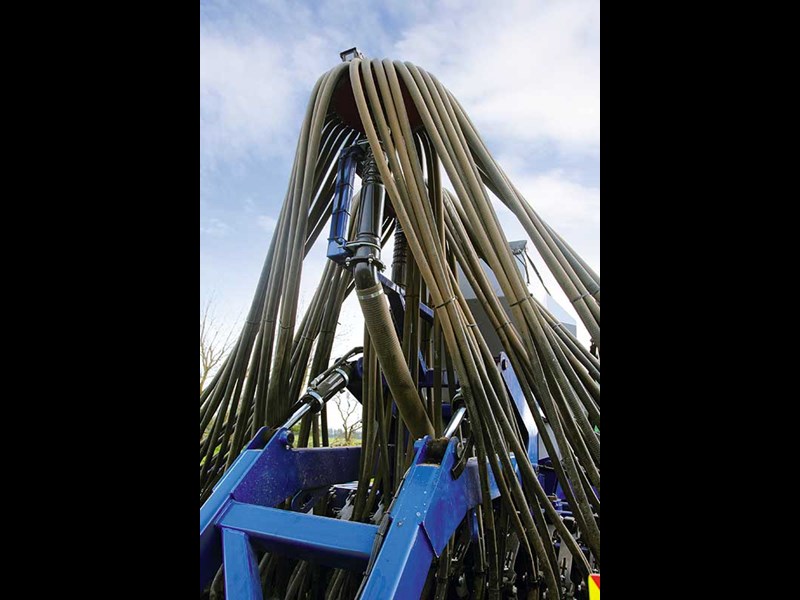 Separate seed and fertiliser distribution heads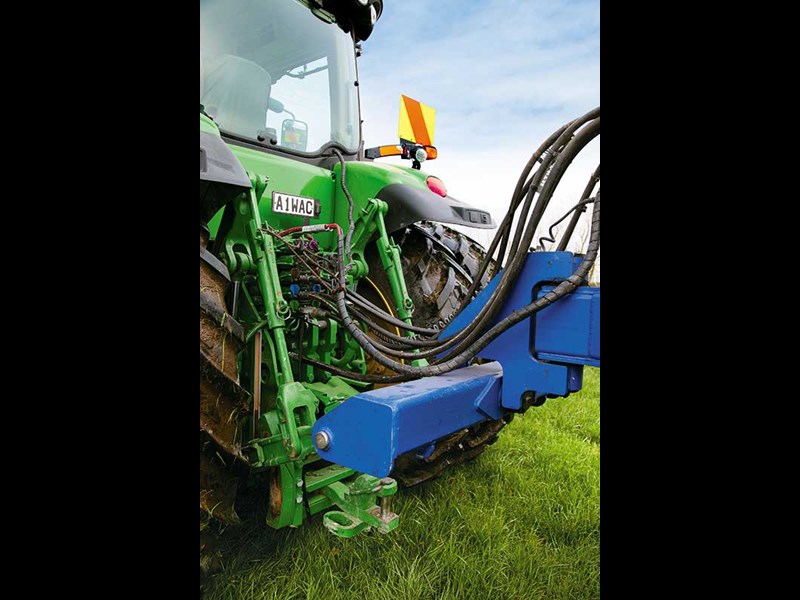 Two point linkage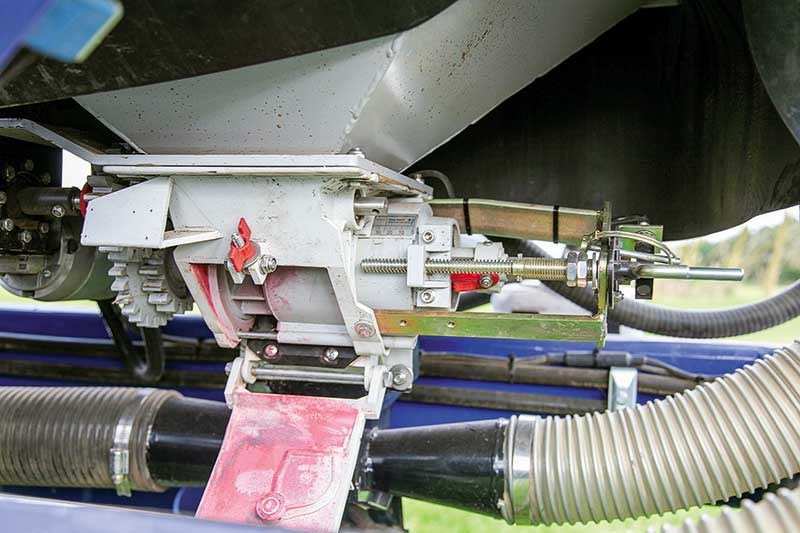 The Accord metering system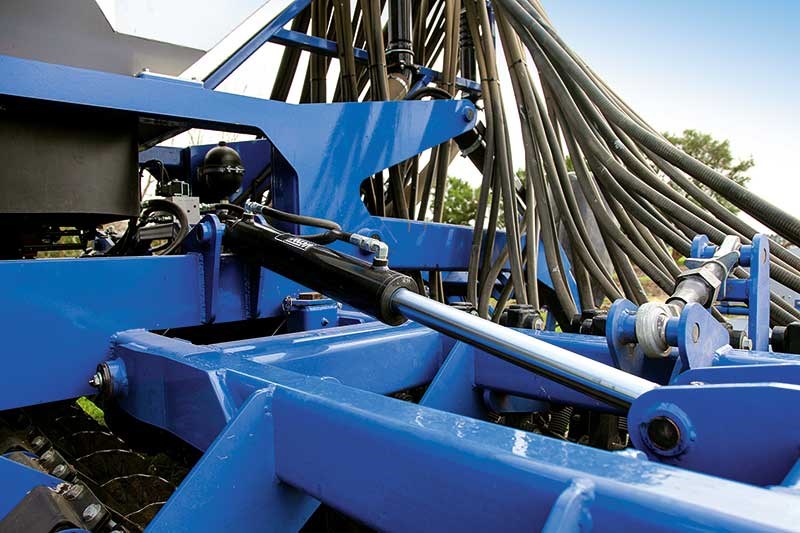 Active hydraulic down pressure on folding wings gives superior contour following

Farm Trader checks out the Allen Custom Drills C-D 5000 to find out that it works on all terrain and in a variety of conditions
This is where a machine that can work well in a variety of conditions and cover the ground quickly is the life blood of a contractors drilling arsenal.
In situations like this, New Zealand-designed and engineered machinery really comes into its own. The Allen Custom Drills C-D Series sits alongside the equally successful H-D Series, and behind the brand is decades of experience crafting quality machinery built to handle the most rugged and challenging terrain.
Craig Allen developed the C-D 5000 in response to demand for a wider machine that folded up to three metres for road transport. Additionally, it also needed to apply fertiliser and have narrower (five inches) row spacing.
"Basically, contractors wanted to cover more ground and get the job done quicker, and being a triple disc direct drill, it can do pretty much everything they want it to," Craig says.
To see what all the fuss was about, we headed off to the sunny Hawke's Bay to catch up with Rod Parsons, owner of Middle Hills Contracts and just one of many who have chosen the C-D 5000 direct drill.
"It was the best drill on the market for us; ruggedly yet simply built and easy to operate. It's the best drill we have owned with another bonus being that it's New Zealand-made," Rod says.
Middle Hills Contracts, with 25 years in the business, offer a comprehensive contracting service that goes all year round, from ploughing through to full cultivation, cropping and harvesting, silage, grass, cereal, and contract maize silage for the dairy industry.
They also run a rural transport operation. The purchase was a decision Rod had been weighing up for a while. This drill is an investment where he says the benefits for his operation are already apparent.
Middle Hills Contracts required a drill that could fulfil their diverse cropping needs and because Allen's drills offer a custom-made service, they got exactly what they wanted.
The C-D 5000 came fully spec'd with everything they asked for – built at five-metre folding width, with the crane on the side to lift 500kg or 1000kg bulk bags of fertiliser and seed (thus eliminating the need for a telehandler), five-inch row spacing, four-seed boxes (which also allows them to broadcast clover across the front) and slug bait applicator on the rear.
Features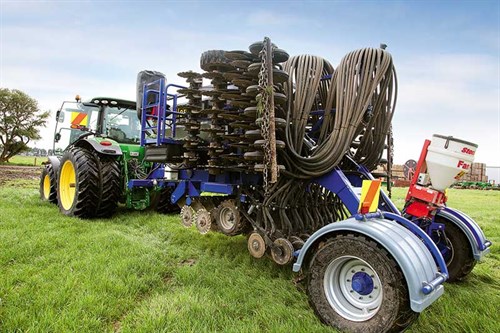 A key feature on any triple disc drill is its ability to penetrate hard ground, which is often the case in the Hawke's Bay. A great feature of the Allen Custom Drill is the weight of the machine, which can be transferred to the wings with a hydraulic accumulator system, allowing them to follow the ground well before readjusting to its original setting, and giving consistent pressure.
Rod's drill operator Mike Foster is a huge fan. Allen Custom Drills has a reputation for machinery that is accurate, simple to operate, durable and reliable, and both Rod and Mike are quick to acknowledge the importance of this.
It's a big call, but for Mike, with 15 years' experience under his belt, the C-D 5000 direct drill is one of the best machines he's ever operated.
"It may look complex but it's very easy to operate it and since we got it last year, we've had no teething problems.
"It's robust, follows the ground well, is easy to calibrate and being electronic, is extremely accurate. In fact, it's never wrong. The crane is a big plus, as it saves using any additional operation method in the field. Whatever operation you require, it's all easily enabled."
Mike also likes the fact that the drill coulter has three settings for down pressure depending on the type of ground being worked as well as three turnbuckles for adjusting drilling depth across the whole machine.
Being able to deal directly with Craig is also a bonus he says, although they've not had any problems. Craig, who heads design and sales, works closely with his wife, Deb Allen, who is Allen Custom Drills' business manager.
"We've drilled more than 1200ha this year and the only thing we've had is one small blockage and that was due to working on muddy ground," Mike says.
"The easiest thing for us about this direct drill is the ease of operation and the trust. If you talk to any drill man, they'll say you have to trust your drill. With this one, there's no need to keep jumping out and checking all the time. It gives you peace of mind that it's getting the job done as it should be," Mike says.
Metering system/in-cab monitor
Hopper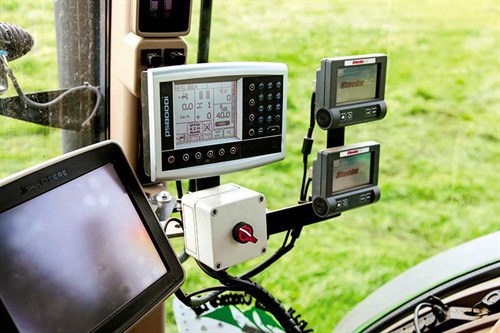 Like all other Allen Custom Drills, the machine features Accord metering and distribution system, which has been further enhanced with RDS Artemis electronic rate control with auto calibration, making it simple to calibrate accurate seeding rates from under 500g to more than 400kg/ha.
The digital controller in the cab has a large easy-to-read screen with an easy and uncomplicated menu and a keypad for typing all of your info.
Main features include covering fan RPM, ground speed, sowing rates, and hectares drilled as well as a cumulative total.
A monitor for each of the stocks AG small seed box and the slug bait box are also neatly mounted in the cluster of monitors.
However, new this season, all Allen Custom Drills are using the latest RDS iSOCAN terminal with a seven-inch touchscreen, which can control the Stocks AG applicators and optional blockage sensors, all through one screen, saving space in the tractor cab.
Front discs/rear seed coulters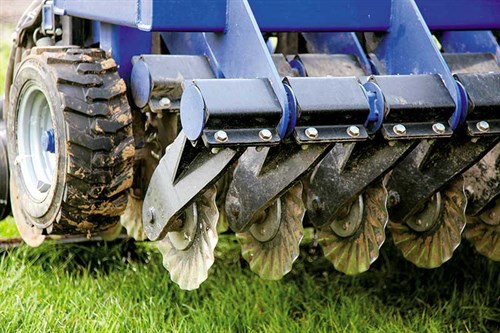 The triple disc system with the front turbo disc creating the tilth and the rear double discs angled to create a groove that the seed and fert are dropped into and press wheel closing the slot are a simple and effective operation.
The harrows on the back smooth out any bumps in the paddock that the drill leaves.
The front turbo disc system is using the tried-and-tested rubber torsion system, with no bushes to wear out and no springs to break, ensuring maintenance is reduced to a minimum.
The seeding legs move independently on a parallel linkage with a 13x3 inch press wheel limiting the depth for each. Seed depth is adjusted with turnbuckles on each section (3x sections), so no independent adjusters to wear out on every run. As with all machinery, the less moving parts the better.
Additional options and accessories
Bin size options can be portioned for seed and fertiliser, insecticide and slug bait.
Crane options for 500kg and 1000kg bags Blockage sensors on all seeder heads
Drilling widths – 3m, 3.5m, rigid or 4m, 5m, 6m hydraulic folding to 3m transport width
Oil cooler/heat exchanger
Rear tow bar
Hydraulic brakes
Chain harrow bars
Camera in bin
Mud guards/tail lights/oversize panels
Two-point linkage mounted for better contour following and tighter turning circle for tractors with duals
Verdict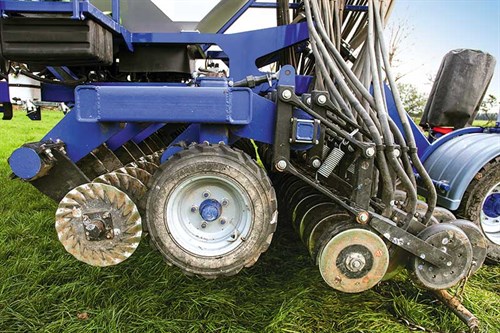 I am a firm believer that you pay for what you get. While these custom drills are not the cheapest out there, the operative word being custom means the customer gets exactly what they want rather than being pigeon-holed into a drill to suit the dealer's product availability.
Balking at the cost of initial outlay is also a short-term approach.I was recently discussing Allen Custom Drills with a contractor, who runs Fendt tractors.
It is commonly acknowledged that Fendt tractors are not cheap but there is a solid argument in terms of ongoing running costs and the overall cost of ownership. I said the Allen Custom Drill is the same.
Because it is New Zealand-made, you know it will have more steel in it than the Rakaia railway bridge. The other benefit is that common parts are used, making life so much simpler if any replacement parts are required.
Plus, you have the Daddy of custom drills to use in the meantime, which is exactly why they are purchased in the first place.
"Having low running costs is one of our key areas that we definitely deliver on. It's a good, solid machine and they can keep doing the hectares. We've got machines out there with more than 20,000 ha on them, still doing the job. Requiring minimal maintenance over winter ready for another season, that seems to be what the customers want," Craig says.
Allen Custom Drills C-D 5000 Specs
Runs: 39
Transport width: 3m
Height: 3m
Length: 7m
Weight unladen: 8000kg
Chassis beams: 200x100x9mm RHS
Row spacing: 127mm (5ich)
Sowing width: 4.95,
Hopper capacity: 1500L seed, 1700L fert
Keep up to date in the industry by signing up to Farm Trader's free newsletter or liking us on Facebook