Hi-Vis girls take on the industry
---
Girls with Hi-Vis is an initiative that gives young women the information and tools to pursue a career outside of the traditional gender roles
More than 350 women throughout the country took the opportunity to experience the infrastructure industry hands-on in June.
The annual Girls with Hi-Vis (GWHV) initiative saw companies in the civil, energy, telecommunication, and waters industries open their doors for a day specifically to women interested in knowing more about what they do and the career opportunities available.
GWHV is organised by Connexis, the Industry Training Organisations (ITOs) for the Infrastructure sector.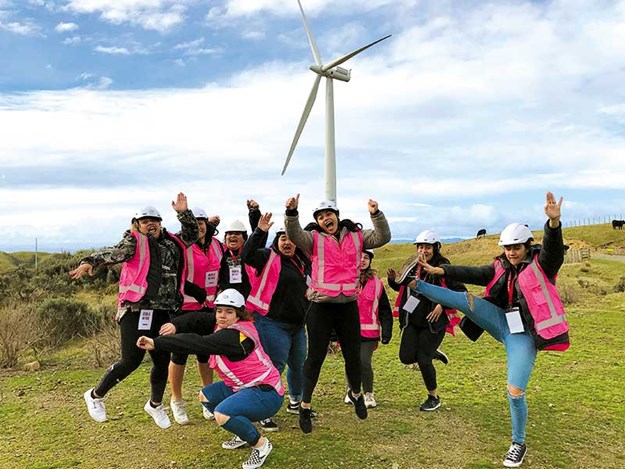 "It's been fantastic to see the industry embrace this event," Connexis chief executive Peter Benfell says. "Throughout the month, we've had more than 350 women experience a taste of the infrastructure industries, which is a huge achievement. I would like to thank every company involved and all the individual people that helped spread the word about this initiative."
He adds that rewarding trade and technical careers for women are there for the taking within the infrastructure sector, but the problem is that women don't always know about them.
Addressing this recruitment challenge is a driving factor behind GWHV. Females only account for about four percent of employees in the infrastructure industries in general – an incredibly low figure given that females make up 50% of the population, meaning they are well under represented in the industry Feedback from the partners who hosted GWHV open days throughout the country has been positive.
The team at Meridian were delighted to host a group of young women to West Wind farm in Wellington as part of the GWHV programme. Guy Waipara, general manager generation and natural resources, says the group learned about wind energy and entered a turbine to better understand how they work.
"All those attending the day found it fun and informative. Meridian is proud to be involved with Girls with Hi-Vis – a great initiative giving young women the information and tools to pursue a career that is outside of traditional gender roles," he says.
Fulton Hogan Canterbury training manager Andrea Wilson adds, "We wanted to open their eyes to the possibilities and help them understand that their career pathway will be supported with training, that they can earn while they learn with Fulton Hogan and the opportunities for advancement are not limited."
GWHV had the biggest involvement from industry partners this year and this number is expected to increase for 2019.
It included strong involvement from the civil sector this year and other ITOs, as well as the Minister of Women and National Association of Women in Construction. The Otago mayor also got right behind GWHV attending a local Contact Energy event.
"Girls with Hi-Vis is a great initiative aimed at encouraging women to work in the infrastructure industry. It's a sector with plenty of job opportunities and a great career path for women – they just need to realise it exists."
Keep up to date in the industry by signing up to Farm Trader's free newsletter or liking us on Facebook