Fairbrother releases new Series 5
---
The new Series 5 is simple to use, stronger than comparative models, and user-friendly, resulting in faster, happier fencing contractors
Those who know Jim Fairbrother will know that he doesn't do things by halves. That's why when rumours of Fairbrother Industries releasing a postdriver that could rotate 180 degrees started circulating, contractors throughout New Zealand, and the rest of the world, were happy to wait, as they knew that the resulting product would be worth it.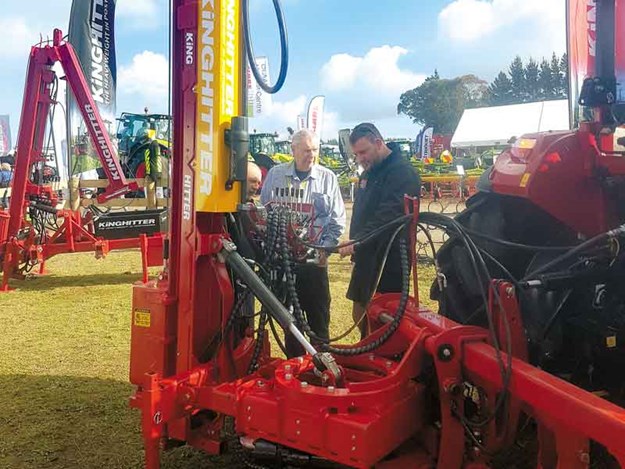 After 36 months of rigorous designing, testing, and perfecting, the newest addition to the Kinghitter family has been released – the Series 5. Simple to use, stronger than comparative models on the market, and user-friendly, the Series 5 results in faster, happier fencing contractors.
When coupled with the Kinghitter Expander mast, which means no hinge to lower, the mast expands from being nice and compact behind the cab of the tractor to a towering 5.1 metres. With the 340kg lead-filled hammer producing more than 25,000kg of driving force, it makes any number one sized strainer post quake in its boots.
Fairbrother's sales rep Sam Ryburn wishes he had one of these machines when he was fencing. "I've owned and used postdrivers from all the major postdriver manufacturers in
New Zealand when I was a contractor, and nothing came close to the ease of use of the Kinghitters," he says.
Simple 180-degree rotation can be achieved without leaving the seat of the tractor, with a cab rotate option, which will come as a standard feature on the first machines produced. With the mast in a vertical position, an outstanding operational area of more than four square metres is achieved.
Hydraulic legs are included for stability and adjustable wear pads and plastic slides for longevity, both standard. And, it's also compatible with Kinghitters Rockspike and auger kits.
Jim Fairbrother has been manufacturing postdrivers in New Zealand for more than 40 years, and Fairbrother Industries still supply spare parts to those first original postdrivers via its nationwide dealer network. This network means you're dealing with your local tractor dealer rather than a manufacturer at the opposite end of the country in a different island.
Keep up to date in the industry by signing up to Farm Trader's free newsletter or liking us on Facebook