NZ's first hydrogen cell electric farm bike
---
An Auckland innovator has developed a potential game changer — New Zealand's first hydrogen fuel cell electric farm bike
With plenty of respected brands and options for farm bikes, there are few truly innovative newcomers into this marketplace. However, alternatives to traditional diesel and petrol farm bikes are slowly emerging.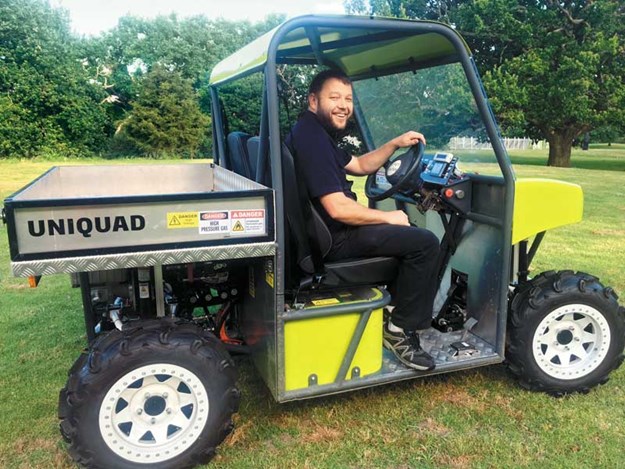 UBCO's two-wheel drive electric bike won the International Innovation Award at this year's New Zealand Agricultural Fieldays®, recognised for being e-smart and eco-friendly.
At the same time, the finishing touches were being put to the UniQuad, a sustainably powered ATV designed and developed at Unitec by former Auckland Unitec student and lecturer Simon Hartley.
Eco-friendly alternative
The UniQuad represents thousands of man-hours (and sleepless nights) and was recently launched at the EVworld NZ Expo in Auckland.
"It was developed to be a safer alternative to quad bike use on farms, which result in many injuries and deaths in New Zealand every year and cost more than $10 million in ACC claims annually," Simon says.
His determination to successfully create a hydrogen fuel cell electric vehicle has seen him working on the project relentlessly, refusing to give up on the challenge despite its complexity.
The mammoth undertaking stems back to his early years as a Unitec student. "I researched this topic during my Unitec degree in Bachelor of Applied Engineering and was fascinated by its possibilities," he says.
Building on Unitec engineering associate professor Jonathan Lever's knowledge of hydrogen as a disruptive technology, Simon focused on the design and development for his Masters of Design degree, for which he received Distinction from Unitec.
"The biggest challenge was the scale of the project. Because I tried to do it all myself, it took 10,000 hours and it was relentless. Working full-time and studying full-time and doing the UniQuad meant I was up at 6am and often going to bed at 3am for a couple of years. That was extremely exhausting."
However, with the prototype now a success, he concedes the effort was worth the achievement.
The power source
The batteries of the UniQuad can be charged overnight from mains, but the hydrogen gives the "on-board fuel" the extra distance required between charges. With a range of 100km when running solely on battery power, the hydrogen fuel cells boost this to an impressive 600–700km.
Safety first
With a low centre of gravity and computer-controlled suspension, the UniQuad is a four-wheel farm bike like no other. Active self-levelling suspension enables it to tackle terrain often too steep to walk (like 45-degree slopes). Torque vectoring (intelligence AWD) allows individual wheel speeds to be adjusted.
Designed for the New Zealand farming environment, the chassis and roll cage are designed to motorsport standards and unlike conventional bikes, it has auto tensioning seatbelts and accident crash sensors.
"It is also wider and longer than most standard quad bikes, with more than 10 times the traditional load rating (600kg in comparison to the usual 60kg)," Simon says.
"I have family involved in farming and don't want them to be victims of quad bike accidents, which drove me to keep going despite the hurdles. One of the hardest parts was getting components fit for purpose and compatible with other components. The hydrogen cylinder and high-pressure regulator took more than 18 months to source."
The UniQuad represents all of Simon's interests: engineering, automotive, and motorsports along with renewable energy, artificial intelligence, and robotics.
The quad bike drives more like a car, with a steering wheel and brake pedals. With adjustable ride height, active self-levelling suspension, and four-wheel disc brakes, Simon says it 'is practically unable to roll over'.
With intelligent all-wheel drive (AWD) able to adjust individual wheel speeds if the wheels are spinning and unable to get a grip on the ground, the UniQuad also features zero radius turning, allowing it to turn around on the spot.
The prototype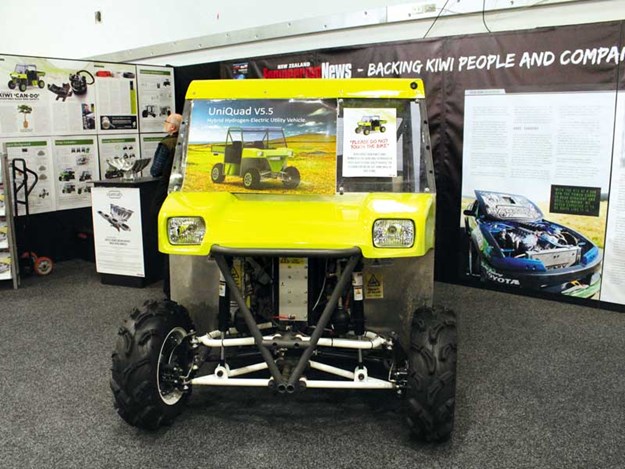 The UniQuad has zero GHG emissions – just pure water when the fuel cell is running. Most of the quad bike was virtually prototyped (modelled and tested) using computer-aided design in an interaction much like virtual reality.
"Once I was happy, many of the parts were 3D printed on a smaller scale to be peer reviewed and tested. In manufacturing the vehicle, some parts were 3D printed and used as is in plastic, while others were then taken to a foundry and cast in steel."
The UniQuad was supported by Unitec and a New Zealand tech investor from a strong farming background who is committed to sustainable energy.
The prototype (proof of concept) design is registered and Simon plans to license the technologies to existing manufacturers. Unitec owns the vehicle and Simon is now partnered with the project as an independent researcher to commence R&D on the suspension.
Hydrogen – the fuel of the future?
Despite his success in creating a working model, Simon doesn't see hydrogen-powered vehicles in New Zealand as an option in the foreseeable future.
"(Right now) we don't have any infrastructure for hydrogen vehicles, and the government is not forward thinking in this area. However, I do predict an increase in electric vehicles being used on farms," he says.
Also, rolling out the UniQuad for general use won't come cheaply – yet. Simon reckons the cost of building the UniQuad today in mass production to be approximately $80,000 per unit.
"That could drop to about $30,000 in five years. The biggest cost is the hydrogen fuel cell system at $45,000 and the battery pack at $10,000," Simon says.
"Globally, there is a massive acceleration of production of hydrogen, for both private and long haul commercial use. A vehicle like the UniQuad helps the local industry understand the potential and think about how we prepare for the inevitable."
UniQuad farm bike specifications
| | |
| --- | --- |
| Width | 1500mm  |
| Height | 1800mm |
| Length | 2800mm |
| Weight | 700kg  |
| Load rating  | 600kg |
| Power | 48kW peak |
| Torque | 1300Nm |
| Speed | 220kph top speed limited to 60kph |
Keep up to date in the industry by signing up to Farm Trader's free newsletter or liking us on Facebook