Farm advice: Keep your staff safe
---
Calving is the season when your team are most prone to sprain and strain injuries. DairyNZ shares a few tips on how to avoid injury.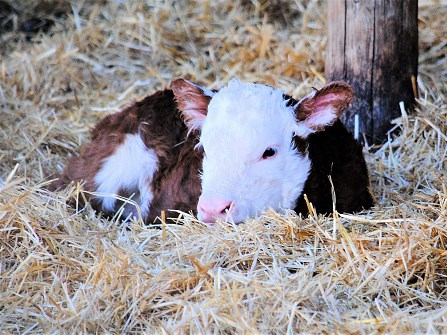 With calving approaching, many farmers will be focused on getting ready for the busiest time of year. It's a time when you need all hands on deck and everyone in good health.
However, calving is also the season when your team are most prone to sprain and strain injuries, as one-quarter of dairy farm injuries are associated with working with calves.
At DairyNZ, we've partnered with ACC through their Workplace Injury Prevention programme to understand the causes of sprain and strains on dairy farms and how to reduce them.
We surveyed 370 farmers and employees on farms where injuries occurred, and those where they hadn't.
Farmers told us one-third of injuries occurred in the paddock. Back injuries from lifting calves or buckets of milk, ankle damage from uneven ground, and two-wheel motorbike injuries were commonly reported. The milking shed was another high injury area from slippery surfaces or tripping on hoses.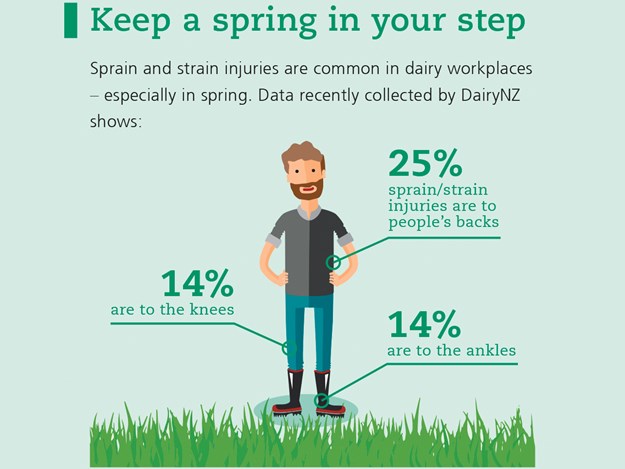 Sprain and strain injuries can have a major impact on farms. Where people were injured, they took 12 days off work on average and around 27 days to fully recover.
Many farmers surveyed saw sprains and strains as preventable and were already taking action to help reduce injuries.
Taking time to identify risks can reduce the chances of a strained back, twisted ankle, or stiff shoulder affecting staff this spring, when you need them most.
Our DairyNZ team is now using the survey results to work with farmers, workplace design experts, and engineers to develop easy solutions farmers can use to reduce workplace injuries.
For more information on keeping your team safe over calving, visit dairynz.co.nz/calving-success.
Tips from farmers on how to avoid injury
Some of the ideas shared by farmers who had avoided injuries on their farm over calving included:
having two staff pick up calves together
using a specialised trailer to transport calves
piping milk to calves instead of using buckets
tucking hoses away after use in the milking shed
investing in the right footwear
Farmers also suggested holding quick weekly team meetings to identify risk areas on the farm. For example, any holes or dips on-farm that could be a hazard for staff working at night during calving, or how to make calf pick-up easier and avoid heavy lifting.
Find new and used farm machinery for sale in NZ 
Keep up to date in the industry by signing up to Farm Trader's free newsletter or liking us on Facebook